GLOBE Students' Journey to Wadi Rum with NASA's Charles Bolden
Nov 16, 2018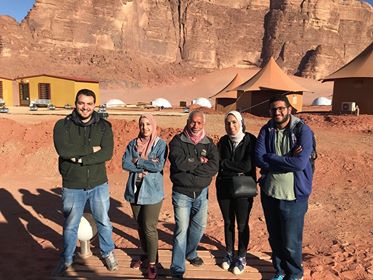 Wadi Rum, situated in southern Jordan, features a great variety of desert landforms, including sandstone valleys, natural arches, gorges, cliffs, landslides, and caverns. It was here, at a remote desert campsite, that GLOBE student Mohamad Fayed (of Irbid Jordan of the King Abdullah II School for Excellence), along with three fellow students, Sarah Al-Omari, Rima, and Ihab, experienced a memorable encounter with a NASA astronaut.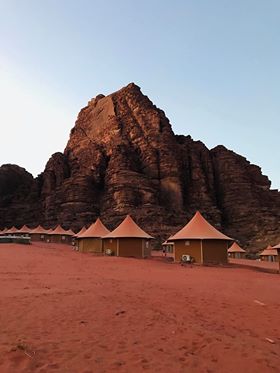 It all began with a phone call from the students' teacher and mentor Wejdan Melhem who told them about a competition called "From Wadi Rum to Mars." The competition invited students to come up with ideas for exploration of the planet Mars. The prize would be a face-to-face meeting with visiting Nasa Administrator and former astronaut Charles Bolden.
The students, eager for this opportunity, met with GLOBE Near East and North Africa Regional Coordinator Mrs. Salma Al-zou'bi in Amman to learn more about the competition. Everyone came away very excited; they immediately spent four hours brainstorming ideas. They were aware of the technical difficulties of driving rovers on the dusty Martian landscape, which is not entirely unlike Wadi Rum, which inspired them to come up with the idea of releasing drones for above-surface exploration.
The group of students created a short video describing their ideas and entered it in the competition. Happily, theirs was one of the projects selected. The students were invited to meet with Charles Bolden at the U.S. Embassy in Amman.
"The thing that surprised and impressed me the most," Irfan said, "was that he knew our names, our college majors, and our projects! After a few 'hellos' and talk about the chilly weather, he started asking about our ideas and projects."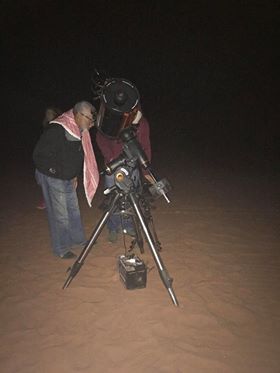 In a little caravan of vehicles, the students and Dr. Bolden traveled four hours to the Wadi Rum campsite. Throughout dinner, tea, and stargazing, the conversation drifted to…" anything and everything from science to politics to religion and economics."
The night ended as the weather got cold, then it was time to turn in. In the morning, following a hot breakfast and warm farewells, everyone went their separate ways, full of unforgettable memories of a special night in Wadi Rum.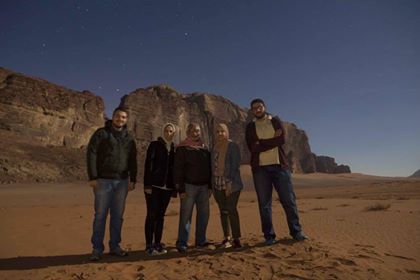 Comments