Bhutan Mentor Trainer Workshop
Aug 23, 2023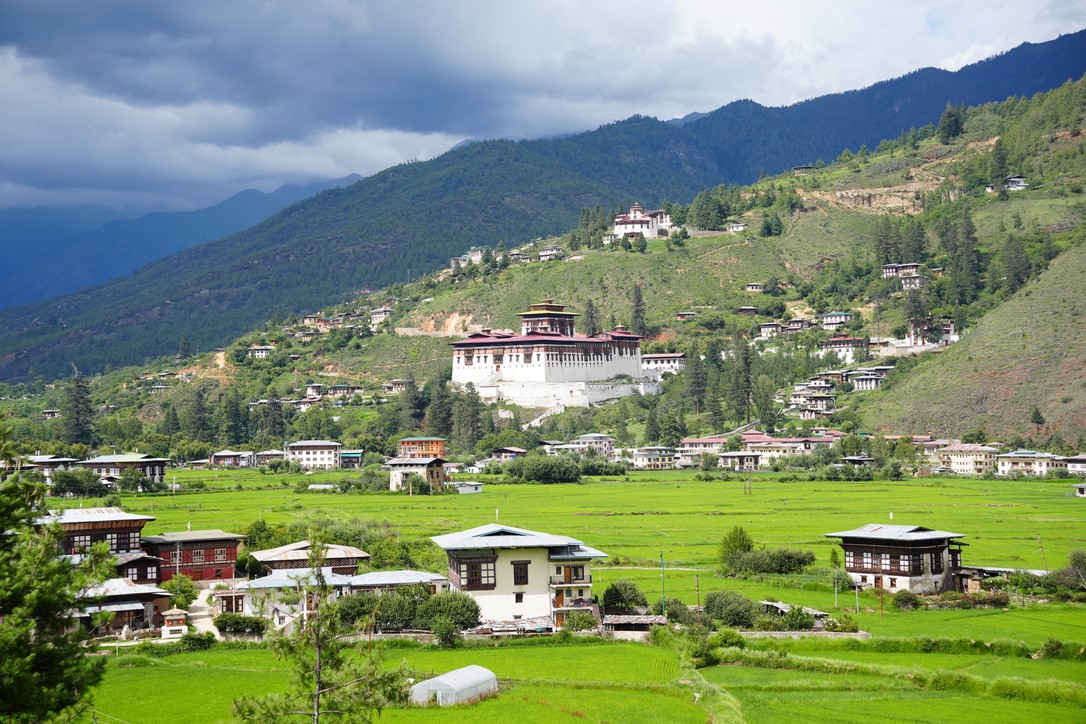 The first in-person Mentor Trainer training event in Bhutan took place in Paro from 31 July to 4 August. Participants convened at the Tashi Namgay hilltop hotel complex overlooking the Paro Chhu river and the Rinpung Dzong monastery, which now serves as an administrative center. Introductions and greetings to GLOBE Implementation Office (GIO) Director of Community Engagement and Program Strategy Dr. Tony Murphy and Asia and Pacific Regional Coordinator Dr. Desh Bandhu were given by Mr. Chungdu Tshering, Officer of the Ugyen Wangchuck Institute for Forest Research and Training (UWIFoRT) in Bhumtang. Dr. Murphy's introductory remarks highlighted the potential for a strong and enduring partnership between GLOBE and Bhutan, given their shared commitment to environmental awareness and education.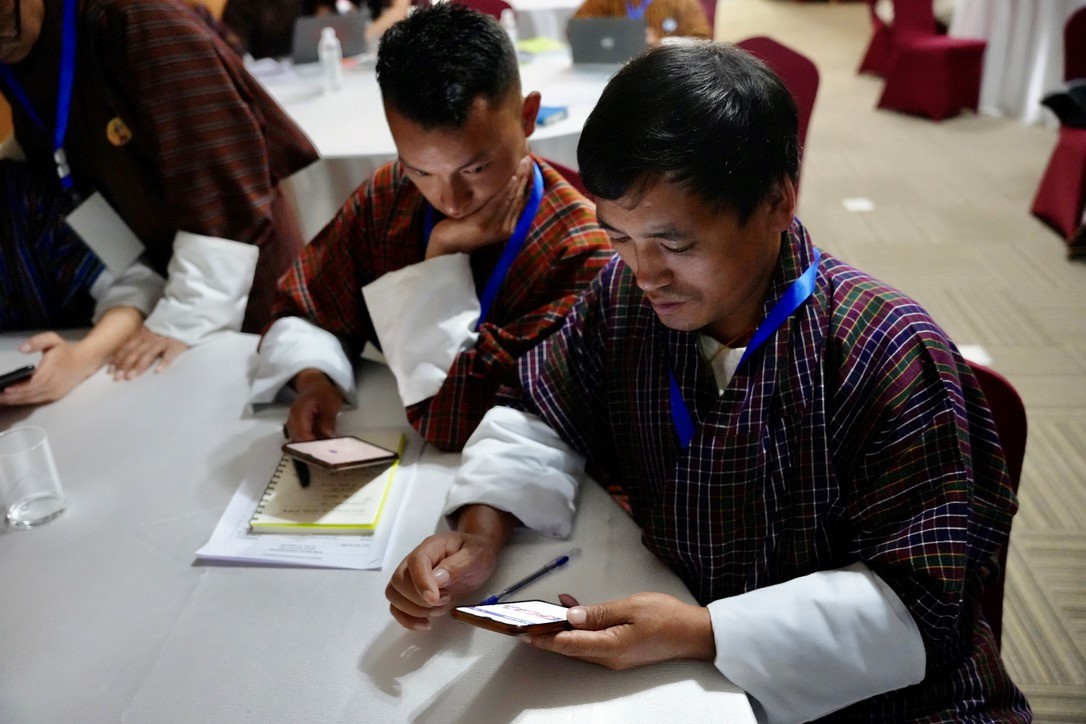 Dr. Sangay Tiger, the newly appointed Bhutan Country Coordinator, conveyed a sense of goodwill and excitement for the upcoming week. He stated, "As the Country Coordinator of one of the youngest members of The GLOBE Program, I can confidently affirm that our GLOBE mentors and educators will engage in GLOBE activities, produce valuable data, and contribute to a better understanding of our planet. GLOBE aligns with our government's emphasis on STEM subjects in schools, and we're excited to inspire our children's interest in learning about the natural world." The audience included six Bhutanese educators who had previously undergone online training and would progress to Mentor Trainer status during the event, as well as thirteen new educators beginning their GLOBE journey.

Bhutan's Legacy of Environmental Stewardship: Bhutan, recognized as one of the 'greenest' and 'happiest' countries globally, joined GLOBE in 2021. Rather than solely focusing on economic output, Bhutan prioritizes Gross National Happiness (GNH), emphasizing the holistic well-being of its citizens. This concept of 'happiness' derives from Bhutanese contentment with life, influenced by Buddhist values of simplicity and compassion. Bhutan's policies and development plans must align with GNH principles, with environmental conservation forming one of the four pillars of its Gross National Happiness philosophy.
Mandated by its constitution, Bhutan safeguards 60% of its land under forest cover. This substantial tree cover allows Bhutan to absorb more carbon dioxide (approximately seven million tons annually) than it produces (only two million tons), rendering Bhutan the sole carbon-negative country globally. Bhutan's Low Emissions Development Strategies target the transportation, industry, human settlement, and food sectors to maintain low carbon emissions.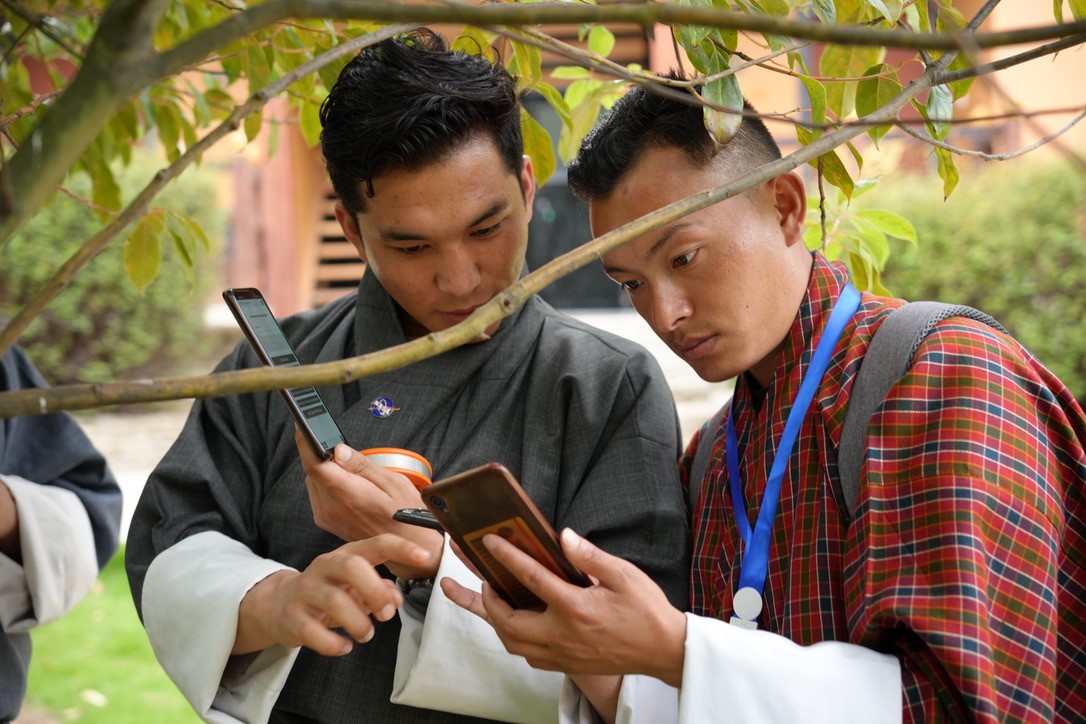 GLOBE Training: Given Bhutan's commitment to environmental conservation and reduced carbon emissions, the GIO staff and mentor trainers participating in this event weren't surprised by Bhutan's enthusiasm for The GLOBE Program. However, the exceptional level of preparedness and dedication demonstrated by Bhutan exceeded expectations. Daily training sessions often extended beyond their scheduled time as educators and candidate trainers diligently absorbed the information being shared. Mentor Trainers leading the weeklong workshop, which covered instrumentation as well as its calibration, an introduction to spheres (Atmosphere, Biosphere, Hydrosphere, Pedosphere), and GLOBE protocol teaching, included Todd Toth and Peggy Foletta from the United States, Joan Calliope and Rod Allan De Lara from The Philippines, and Watcharee Riurien from Thailand. Dr. Tony Murphy provided insights into the history of GLOBE, the GLOBE International STEM Network (GISN), citizen science, types of campaigns, the GLOBE International Virtual Science Symposium (IVSS), and student reports.
Technical support, including an introduction to the GLOBE website and GLOBE Observer app, and account creation, was offered by Eslam Khair. Jan Heiderer reported on the GLOBE Student Vlogger Project, GLOBE Learning Expeditions, and Agents of Change films and managed event documentation including the Week in Review in pictures.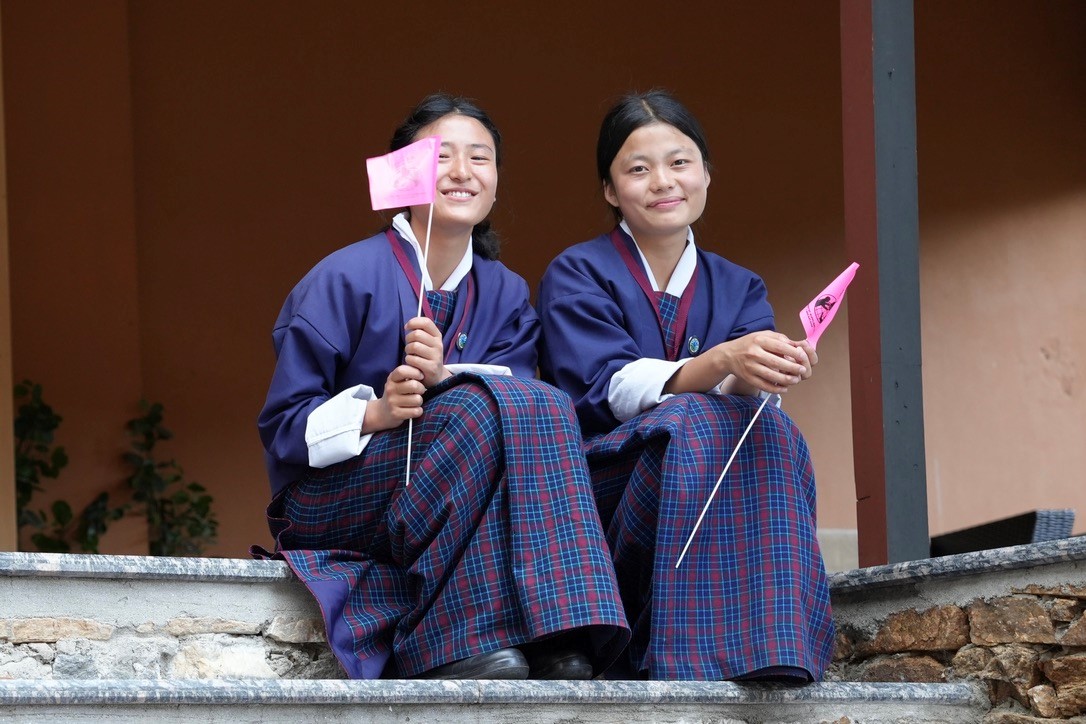 GLOBE Student Vloggers: Dawa Zam, Sonam Lhamo, Wangchuk Zangmo, and Karma Norbu Rinchen from Drukgyel Higher Secondary School in Paro learned about GLOBE during an afternoon session and also spoke at the final event.
Acknowledgments: Financial support was provided by the U.S. Department of State, for this project which is part of a broader effort involving NASA's SERVIR and DEVELOP programs. Following two virtual workshops during 2021-2022, GIO organized this GLOBE Educator/Mentor Trainer workshop, while Bhutan's central government agencies and supporting organizations enable the implementation of The GLOBE Program in Bhutan. The GIO extends gratitude to the following individuals for organizing this inaugural in-person training:
Dr. Kaka Tshering, Head Specialist, Ugyen Wangchuck Institute for Forest Research and Training, Department of Forest and Park Services (DoFPS)
Changa Tshering, Former Country Coordinator of GLOBE Bhutan
Lobzang Dorji, Director, DoFPS, Ministry of Energy and Natural Resources, Royal Government of Bhutan
Ministry of Education and Skills Development, Royal Government of Bhutan
The GIO expresses appreciation for the educators achieving certification during this training event:
GLOBE Mentor Trainers
Chungdu Tshering, UWIFoRT Biosphere
Arun Kumar Chhetri, Pelrithang HSS Biosphere
Pema Wangchuk, Tendruk CS Atmosphere
Rinchen Khandu. Drukgyel HSS Hydrosphere
Duba Tshering, Tsangpo PS Pedosphere
Sherab Chezang, Tangmachu CS Pedosphere

GLOBE Educators
Cheda Jamtsho, Tangmachu CS School
Chimi Lhamo, Tangmachu Primary School
Yeshi Dorji, Rangjung PS
Ugyen Lhamo, Rangjung Central School
Sonam Dorji, Tsangpo Primary School
Thinley Lhendup, Thrimshing Central School
Sonam Zam, Nobding MSS
Sonam Wangchuk, Bjishong CS
Sangay Chedup, Tendruk CS
Tshering Penjor, Sherabgatshel MSS
Sonam Lhaden, Chimong PS, P/Gatshel
Karma Rinzin, Yurung Central School
Namgay Shacha, UWIFoRT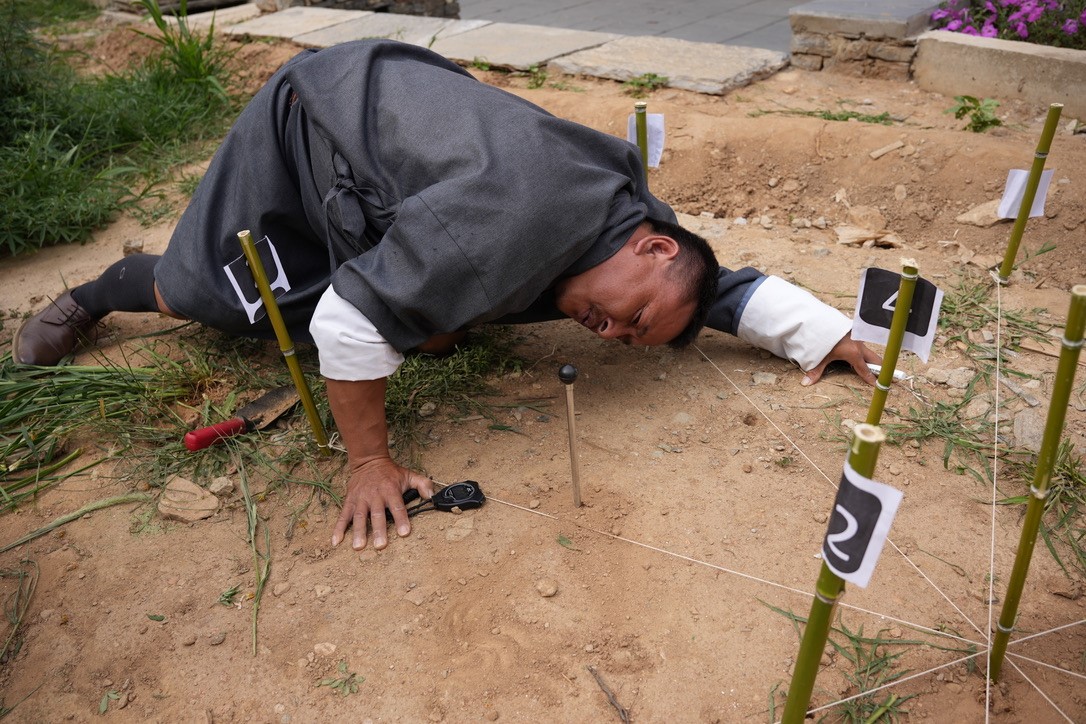 Chungdu Tshering, Assistant Country Coordinator, eloquently captured the sense of community and the learning, growth, and lasting connections established during the time together in Bhutan. He closed the event by assuring that the training's conclusion marked not a farewell but the start of what promises to be an ongoing journey. He shared, "In the land of Gross National Happiness, we believe in the interconnectedness of all beings, and that includes our responsibility to the environment and future generations. I have witnessed this shared belief echoing in our discussions, in the exchange of ideas, and in the bonds we have formed here as GLOBE community … May our paths intersect in the future as we continue learning, sharing, and growing together. Thank you all, and may your journey be filled with joy, purpose, and profound impact. Tashi Delek!"
Images courtesy Jan Heiderer, Communications Coordinator, GLOBE Implementation Office.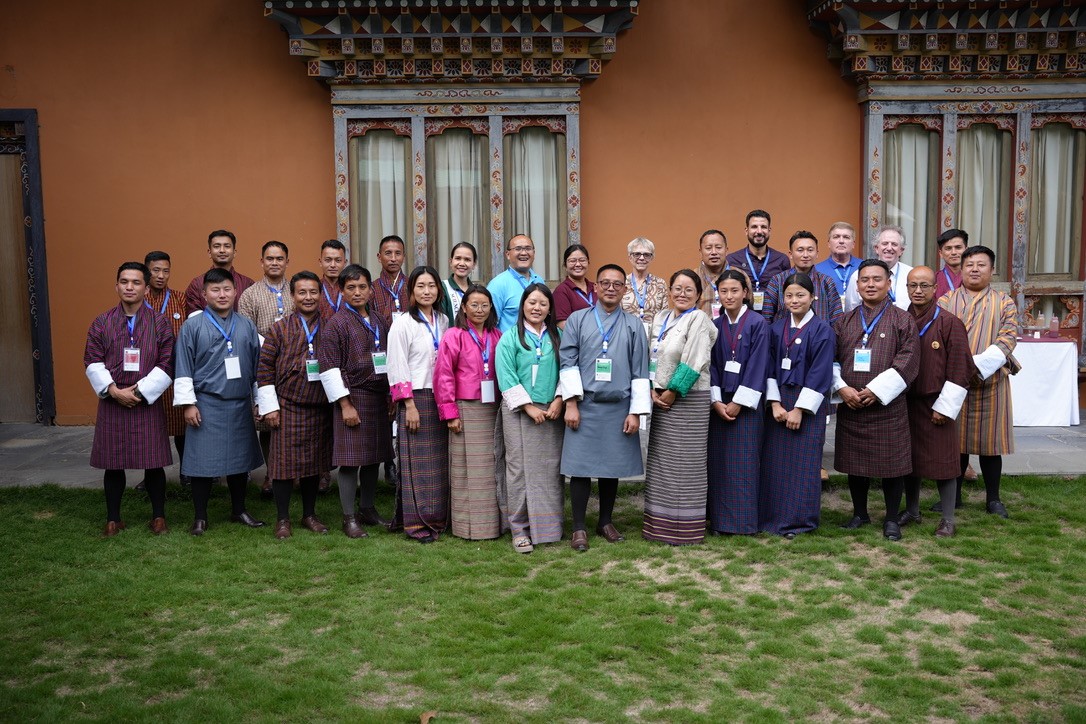 Comments