GLOBE Weather Station Installed During Teacher Training in Ghana
Jan 26, 2017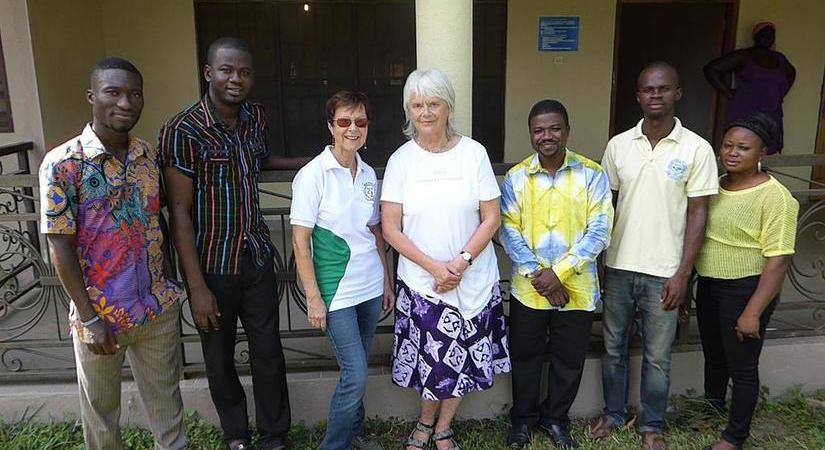 A teacher training was held in Ghana from 11 - 27 November 2016 and was organized by Ylliass Lawani, country coordinator for GLOBE West Africa from Benin, Emmanuel Adjei-Boadi, coordinator of GLOBE Alumni in Ghana and Mrs. Anna Heyne-Mudrich from GLOBE Germany.
During the course of the trainings a new weather station was built and successfully installed on the roof of the Oyoko Westphalian Senior High School's new laboratories. Heyne-Mudrich brought the weather station, which was sponsored by the Gymnasium Schloß Neuhaus in Paderborn, Germany.
"The Oyoko Westphalian Senior High School was a good place to develop the new GLOBE project," said Heyne-Mudrich. She continued: "The school is working well, students and teachers are supported by Westphalian sponsors and [are] well equipped. We hope to send a visible sign to other high schools in Ghana to join GLOBE and to collaborate on GLOBE projects."
After installation and training, the new weather station was officially opened. The data collected were put all at once into the GLOBE database and the high school hopes to be a part of the Ghana weathernet.
This training, and installation, will help to bring together students from all over Africa, Europe and the world to collaborate with GLOBE. This is also an opportunity to reactivate the GLOBE community in African countries. The African-European group have plans to start collaborating in spring 2017. The central goal is for a German-African project on atmosphere which may become part of the science lessons taught in Oyoko and in Paderborn.
"I have been working with GLOBE for several years and have always enjoyed the partnership with different countries around the world. This new experience on the African continent will complete my knowledge about the possibilities of cooperation with different cultures," said Heyne-Mudrich.
She concluded: "We say thank you for the excellent cooperation with the head of the childrens`village organization, Mrs. Zumdiek and the manager, Mr Sampson Owusu-Boampong. We hope to develop a good and successful future for these projects after this excellent start on the 21st anniversary of the Westphalian Senior High School in Oyoko."
GLOBE Star contributed by: Mrs. Anna Heyne-Mudrich.
Comments