Mira Hrvatin -- STEM Stories: GLOBE Croatia
Apr 17, 2017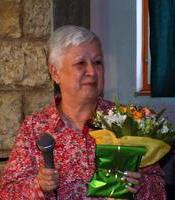 Mira Hrvatin had been teaching chemistry at Srednja Škola Mate Blažin High School in Labin, Croatia for 17 years when she first became involved with the GLOBE Program in 1998 as a GLOBE teacher.
"The GLOBE Program helps students develop the ability to identify changes in natural processes and make conclusions based on objective measurements and experimental verification," stated Hrvatin.
Beginning in 2000, Hrvatin and her students were faithful participants in the
GLOBE at Night campaign
. It was their analysis of the effects of city light pollution that gained the attention of representatives from the Istrain-Venetia (Istria) of Trieste and from representatives of the
Association of Local Democracy Agencies
(ALDA) from Brtonigla. As a result, Hrvatin and her students' study initiated changes on both the local and national scale. In 2007, a Law on Protection Against Light Pollution was passed by the Croatian Parliament.
She added: "Being a part of the GLOBE Program helped me to recognize the things I wanted to provide for my students, such as exploring the relationship between man and the environment. I found that with the GLOBE Program I was able to instruct my students on man's effect on their environment and how important they are to the Earth's future."
Hrvatin retired from full-time teaching in 2016, but still continues to work as a GLOBE teacher at her school and participates at seminars to help train new GLOBE teachers in Croatia.
"Today's generation of students will build a new society and create new technologies. They will make their lives in harmony with nature, not at the expense of nature," Hrvatin concluded.
Resources:
Comments