National Child Club Conference in Nepal
Jul 19, 2017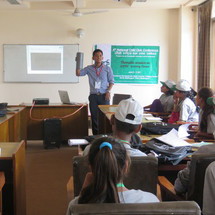 103 participants recently took part in the 4th Annual National Child Club Conference conducted by the Environmental Camps for Conservation Awareness (ECCA) in Jwagal, Lalitpur, Nepal.
The theme for the conference was "Future Now for Sustainable Education and Environment."
The purpose of this conference was:
To create a platform for children's clubs to share their knowledge, experiences and best practices for club activities
To ensure the sustainability of the clubs by strengthening the children to become self-sufficient
To expose the children to environmental and social issues (such as climate, children rights, school environment, water and sanitation, etc.)
To integrate the children's participation in community development and advocacy
During the conference, participants were introduced to the GLOBE Program and its environmental investigations.
"We wanted to instruct the participants on how the GLOBE Program is an international program and how they could benefit from participation with the program," said Yogendra Chitrakar, who is the Executive Director for ECCA Nepal.
During the conference the students learned how they can take part in practical science and how to view and analyze data collected from around the world.

Chitrakar continued: "The students were very interested and excited to learn about the GLOBE Program. With GLOBE, students know that science can be more than just a subject; that practical experiments are fun and a way of understanding environmental conditions."
"Bringing students and schools closer to environmental conservation and understanding has always been one of our mottos. The conference, in itself being a huge event, was a perfect platform to make school stakeholders aware about current environmental challenges and the need to connect with nature," finished Chitrakar.
GLOBE Star contributed by: Yogendra Chitrakar, Executive Director for ECCA Nepal.
Comments