Tzu-Ying Yang -- STEM Stories: GLOBE Taiwan
Jun 15, 2017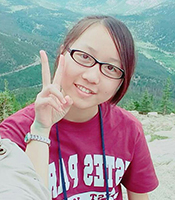 Tzu-Ying Yang was first introduced to The GLOBE Program as a 10th grade student at the National Taichung Girl's Senior High School in Taichung City, Taiwan. She can still remember the day when her teacher first introduced her to GLOBE, and making weather observations.
"I have always been interested in atmospheric science -- since I was a little girl. And so I was really excited to start working with The GLOBE Program," said Tzu-Ying. She added: "We were the first group of students in our school to participate in GLOBE activities, and because of the Program we grew up a lot and learned so much from it."
With GLOBE, Tzu-Ying learned how to perform measurements using science equipment, identify different types of clouds, and discuss GLOBE questions with other classmates during observations.
"I was always looking forward to my observation day because it was not only interesting but also made me learn a lot.".
Additionally, GLOBE allowed Tzu-Ying to get closer to nature and taught her to apply what she learned in the classroom and practice it in the field.
Tzu-Ying stated, "Even though the field study was challenging, it stimulated us to think critically and taught us to learn to cooperate with others. I felt a sense of achievement during this process."
Tzu-Ying, and her science class partner, performed a GLOBE-data experiment that involved learning about the relationship between temperature, humidity and the lasting time of contrails. After conducting the experiment, Tzu-Ying, and her classmate entered their research into the GLOBE Virtual Science Symposia and then later presented their work at the GLOBE Annual Meeting in Estes Park, Colorado in August of 2016.
"We not only got to share what we learned and what we loved with participants from all over the world, but we also had the opportunity to listen to reports from many experts and other students. Everyone there showed great passion for GLOBE. This made me have even more enthusiasm for learning science and participating in science activities. GLOBE has inspired me a lot. I know now that I want to further study Earth science," said Tzu-Ying.
Tzu Ying applied to the Department of Atmospheric Sciences at the National Taiwan University, and was recently accepted
"I know that I will take the spirit of doing GLOBE with me even after I leave high school, and I'll put great effort into my STEM studies at university and beyond," finished Tzu-Ying.
Comments