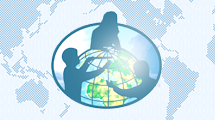 05/20/2009
5th Annual GLOBE Scientist Fair in the Kingdom of Bahrain Brings Student Focus to Climate Change
Enhancing on the Annual Activities conducted by the GLOBE Program in the Kingdom of Bahrain, The 5th Annual GLOBE Scientist Fair took place in the Kingdom of Bahrain on 22-24 March 2009. Focused on the theme GLOBE Research for the Effects of Greenhouse Gases, 20 research topics related to GLOBE's Student Campaign for Reseach on Climate were on display, with student researchers on hand to explain their projects to judges and participants.
>>
03/20/2009
Great Things are Happening in Bahrain
GLOBE Bahrain enjoyed an energetic schedule of 2008 events and, if the 26 January Teacher Training Workshop is any indication, is looking forward to an equally productive 2009. Along with conducting regular teacher trainings for both new and experienced GLOBE teachers, Country Coordinator, Mrs. Wafa Bin Dayna and her team from the Ministry of Education have been working hard to keep the discussion of climate research high on the program's list of priorities and to engage students in the process.
>>