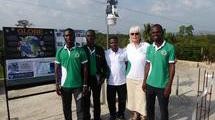 01/26/2017
GLOBE Weather Station Installed During Teacher Training in Ghana
Heyne-Mudrich brought a new weather station to the Westphalian Senior High School in Oyoko, Ghana. (This weather station was sponsored by the Gymnasium Schloß Neuhaus in Paderborn, Germany.) The weather station was successfully installed on the roof of the school's new laboratories.
>>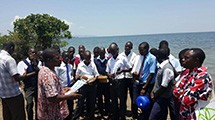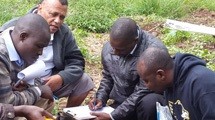 01/12/2016
GLOBE Teacher Training Workshop in Kenya
During December of 2014 the GLOBE Program in Kenya successfully conducted a five-day international GLOBE teacher training workshop. The workshop took place at the Centre for Mathematics, Science and Technology Education in Africa (CEMASTEA) in Nairobi, Kenya.
>>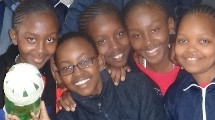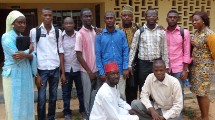 01/21/2015
Nigeria joins NASA's Global Precipitation Measurement (GPM) Field Campaign
Nigeria is onboard with GLOBE's Global Precipitation Measurement (GPM) satellite mission. Mr. Olawale Ayodeji Oluwafemi, a GLOBE Partner and scientist at the Nigerian Space Agency's Centre for Geodesy and Geodynamics, responded to NASA's request to scientists all over the world to join NASA's global awareness campaign about the GPM satellite mission.
>>
12/19/2012
Madagascar Celebrates 15 Years with GLOBE
Madagascar recently celebrated its 15th Anniversary with the GLOBE Program at a national teacher training event. Organized by the national environmental organization, "National Action for Education for Sustainable Development" (ANEDD), 25 participants attended the event. In addition to the celebration, the day was comprised of various presentations and brainstorming for ideas to help increase student involvement in environmental studies.
>>
09/17/2012
GLOBE Students in Gabon Share Research at Earth Day Event
On 28 April 2012, GLOBE Gabon, along with many other countries around the world, celebrated the 42nd Anniversary of Earth Day. This year, Earth Day's theme was "Mobilize the Earth," as deemed by the Earth Day Network to draw attention to crucial environmental hazards around the world that must be resolved.
>>
02/24/2012
South Africa Enhances Classroom Achievement through GLOBE Training
Teachers in South Africa are utilizing the benefits of GLOBE resources in innovative ways to complement their students' education as well as their extracurricular activities. The effort to expand Earth science education throughout the community was recently supported through a GLOBE teacher training workshop held in Johannesburg, South Africa from 19-22 December 2011. Ms. Mokgadi Madiga, Government Point of Contact and acting GLOBE Country Coordinator, stated, "Thanks to the work of these devoted teachers who believe in connecting with the Earth through interactive science study, more schools will connect to GLOBE throughout the coming year and environmental awareness campaigns will have a wider reach in our society."
>>