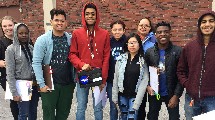 06/05/2018
Lexington School for the Deaf Students (New York, USA) Discover their Power to Contribute to Science in a Significant Way
In March 2018, GLOBE students at the Lexington School for the Deaf (located in East Elmhurst, New York, USA) began participating in the GLOBE U.S. Air Quality Student Research Campaign. Raising their focus to the sky, the high school students soon became adept at using GLOBE's atmosphere protocols and Calitoo sun photometers to gather their elevated observations. Along the way, they also discovered their ability – as individuals and as a team – to make significant contributions to science.
>>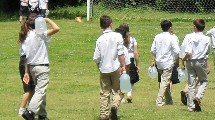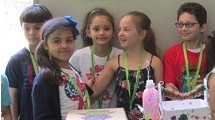 02/03/2016
Into the Woods with GLOBE New York Metro
On 12 June 2015, 900 students from twenty-eight elementary schools across New York presented projects on the environment at the "Into the Woods Science and Arts Symposium" hosted by Queens College.
>>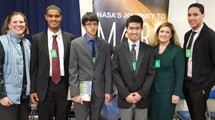 06/09/2010
GLOBE Iowa 7th Graders Continue Volga River Research Project
United States GLOBE Teacher Bruce Huckins' 7th grade class, at West Central Middle School in Maynard, Iowa, is conducting the second year of the Volga River Project. In 2008, Huckins' class created the project by measuring the Transparency, Nitrate, pH, Dissolved Oxygen, and Water Temperature of the Volga River four times throughout the year, beginning in November. Huckins' current class decided to continue the project and repeat the same tests every month starting in November 2009.
>>
02/07/2008
NSTA Conference in Denver Unites GLOBE Partners, Trainers, Teachers and Scientists in the Region
The 2007 Western Regional National Science Teachers Association (NSTA) Conference in Denver, Colorado, 8 - 10 November 2007, was well attended by the GLOBE community. The GLOBE Program Office booth was visited by an estimated 600 to 800 teachers each day. GLOBE Program Office (GPO) staff, including all members of the GLOBE Help Desk and Colorado GLOBE Partner Ms. Deanna TeBockhorst were on hand to share information about GLOBE.
>>
04/26/2007
Students in Norfork, Arkansas Predict the Arrival Date of Ruby-Throated Hummingbirds in their Migration Path North
At Norfork Elementary School in Norfork, Arkansas, Wade Geery, a trained GLOBE teacher, and his sixth grade students are anxiously waiting for the arrival of the first Ruby-throated Hummingbird, on the birds' spring migration path from Central America to Canada. The students have been collecting data on the Ruby-throated Hummingbirds for the past two years: observing the first arrival dates of each gender, noting the relative number of hummingbirds throughout each season, observing what flowers the birds visit and noting the departure date of the last hummingbird in the birds' fall migration to Central America.
>>
04/28/2006
Model School: Pennsylvania School Integrates GLOBE Protocols into Existing Science Curriculum
When High School science teacher Todd Toth returned from a weeklong GLOBE training back in April of 1995, he got a pleasant surprise: His building principal suggested he develop a new science elective based on what he had learned. Over the next few years, Todd developed what is now the "Environmental Research" course, which is sponsored by California University of Pennsylvania as an equivalent to their freshman level earth science course.
>>
10/14/2005
100,000 Points of Data
Recently, four juniors at Norfork High School; Renee L., Jacob M., Breanna V., and Kendra R. visited their former science classroom to celebrate the schools' achievement of reaching 100,000 points of data. The purpose of their visit was to share their enthusiasm for GLOBE with the present sixth graders and teach them how to take atmospheric measurements.
>>
09/08/2005
The GLOBE School for Environmental Research, Region 2 (East Bronx), New York City
The GLOBE School for Environmental Research opened its doors this September to 216 sixth grade students in the Wakefield neighborhood in East Bronx. This middle school (Grades 6-8) is one of 54 new small schools approved by the New York City Department of Education from more than 100 proposals, and represents a partnership among the Department of Education, Region 2, Queens College's GLOBE NY Metro Partnership, the YMCA of Greater New York, and the New York Botanical Gardens.
>>