2023 Annual Meeting - Colorado, USA
2023 GLOBE Annual Meeting (In-person)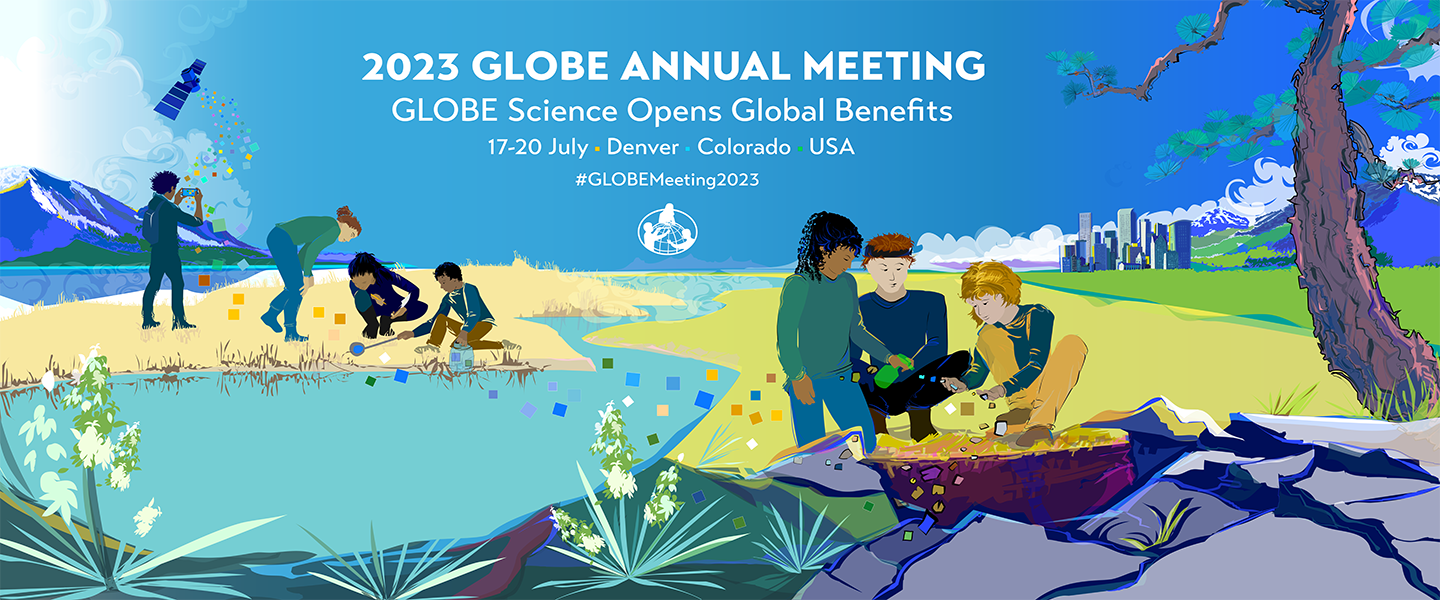 Event Dates: 17-20 July 2023
Location: The Curtis Hotel, 1405 Curtis Street, Denver, Colorado, USA
Theme: GLOBE Science Opens Global Benefits
Agenda: 2023 Annual Meeting Program Schedule (pdf)
Accommodations: Check out accommodations in Denver (pdf)
Registration: Registration is closed
Social Media: #GLOBEMeeting2023 (GLOBE will post Annual Meeting updates on Twitter, Instagram and Facebook)
Note: Before coming to the meeting, download the GLOBE Observer app.
---

An In-person Event
The 2023 GLOBE Annual Meeting will be the first in-person annual meeting since 2019, with representatives of the GLOBE community from around the world coming together in Colorado, USA.
The proposed theme for this year's meeting is "GLOBE Science Opens Global Benefits." Meeting participants will explore several strands of "Open Science", including:
In and Beyond Classrooms: How educators and students use GLOBE data in classrooms, and how that data can lead to change outside of schools.
Mobilizing Beyond Borders: A focus on the diversity of the GLOBE community, exploring how such diversity benefits both the research and GLOBE members.
Mapping Beyond Dots: Discover how researchers can tell a story through their data and visualizations.
Benefits for the Environment and Society: Examine how connections built among members and groups outside of GLOBE can change both the research and the researchers themselves.
Note: Information about the "Call for Presentations by GLOBE Community Members" will be posted here by mid-April.
---

Call for Session Presentations
The call for session presentations is now closed, however, you can still review the guidelines for submitted proposals on the Community Sessions Presentations page.
---

Tours and Volunteering Opportunities
Solar Array Tour: You can sign up to tour the largest solar array at the Auraria Sustainable Campus Program (one of the meeting co-hosts) in downtown Denver on Tuesday 18 July at 10 a.m. Spots are limited, so sign up soon!
Creek Clean-up: GLOBE community members can also join Auraria's monthly clean-up of Cherry Creek, which runs close to the hotel, on Wednesday 19 July, between 5:30 p.m. and 8:30 p.m. Volunteers can sign up for a 1-hour slot helping out this great local initiative.
NCAR Mesa Lab Tour: GLOBE will be offering transportation to visit the NCAR Mesa Lab in Boulder on Wednesday 19 July. Transport (taking about 45 minutes) will depart from the Curtis Hotel at 12:30 p.m. and return at 5:15 p.m. The UCAR Science Education team will offer 60-minute guided tours. Participants can also explore the beautiful surrounding area on a nature walk. Lunch will be available for purchase at the Mesa Lab cafeteria on arrival, and there will be afternoon coffee and cake provided before returning to Denver. If you wish to join the visit to Mesa Lab, there will be a sign up at the onsite registration desk.
---

For more information about the 2023 Annual Meeting, email globemeetings@ucar.edu.