Registration and Accommodations 2016
20th GLOBE Annual Meeting -- Estes Park, Colorado, USA
16 - 21 July 2016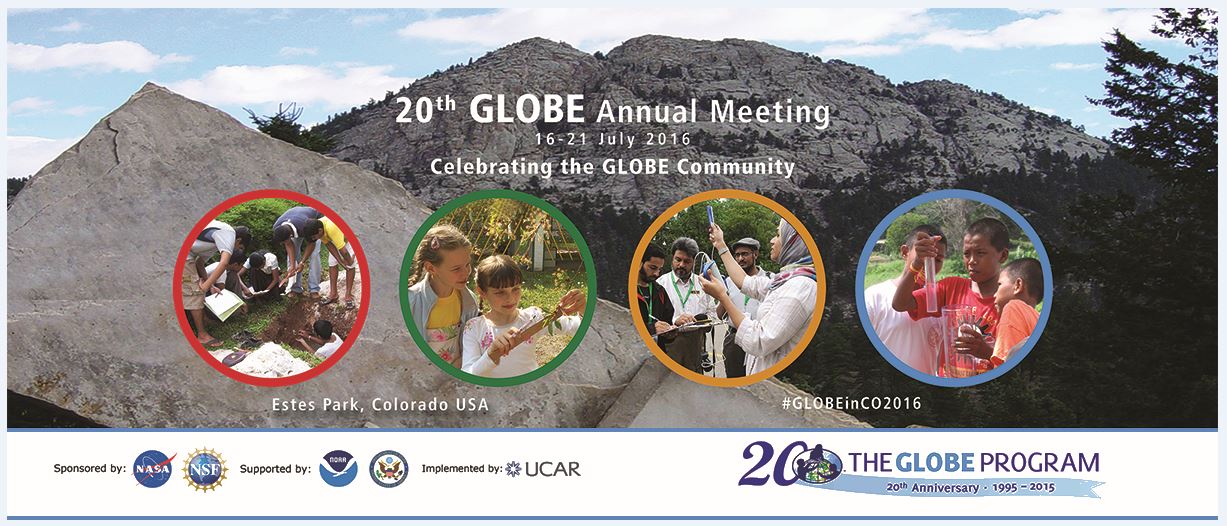 Registration and Accommodations
REGISTER NOW FOR THE 20TH GLOBE ANNUAL MEETING
REGISTRATION FEES:
Varies from $195 to $225, depending on your registration type.
Registration fees include the following:
Saturday 16 July – Opening Networking Event
Sunday 17 July – Light Breakfast, Breaks, Lunch, Poster Session Reception
Monday 18 July – Light Breakfast, Breaks, Lunch, (Dinner ON YOUR OWN.)
Tuesday 19 July – Light Breakfast, Breaks, Lunch (Dinner ON YOUR OWN.)
Wednesday 20 July – Light Breakfast, Breaks, Lunch, Closing Networking Event
Thursday 21 July – Light Breakfast, Break, Lunch
Transportation to meeting events and meeting-related activities (provided from/to the conference hotel)
All meeting materials
The student (K-12) registration fee of $195 includes everything listed above plus the Student Research overnight experience (more information below). Teachers and/or adults attending with students will pay a registration fee of $225, which will include everything listed above plus the Student Research overnight experience. Space is limited to 50 students and 10 Teachers/Adults. As a teacher or adult you can participate in the Student Research Experience only if you are attending the conference with students.
REGISTRATION FEE DOES NOT INCLUDE GROUND TRANSPORTATION TO/FROM AIRPORT/HOTEL
Please contact Estes Park Shuttle to arrange for transportation from Denver International Airport (DEN) to Estes Park, Colorado. https://www.estesparkshuttle.com/ The round trip cost is $85.00USD per person. IMPORTANT NOTE: The Estes Park Shuttle runs approximately every 2-3 hours from Denver International Airport to Estes Park beginning at 5:00 am and ending at 10:00 pm Mountain Time. When making your flight arrangements into Denver, please try to arrive during these hours as overnight arrivals could incur extremely long shuttle wait times. If this is unavoidable and your flight is scheduled to arrive after 10:00 pm or before 5:00 am, be sure to let us know.
Please contact the conference hotel directly to book your room. In order to guarantee the Special Conference Rate of $139/night, you must book your room by 23 June 2016. After 23 June, rooms may become unavailable or subject to a higher non-conference rate. There are a limited number of rooms available. We suggest you book your room now.
Rocky Mountain Park Inn
101 South Saint Vrain Avenue
Estes Park, CO 80517
1-800-803-7837
Online reservations can be made at www.rockymountainparkinn.com
(Click on "RESERVATIONS" button top right)
Under "BOOKING CODE" please enter: UCG
Per night group rates are:
Single: $139
Double: $139
Triple: $139
Quad: $139
Rates do not include 10.55% tax.
If you need help identifying child care resources, please contact the hotel directly.
The Rocky Mountain Park Inn GLOBE room block is full and is no longer available. Please consider the following options. Each of these hotels currently has availability and is on the Estes Park Free Shuttle Blue Route which is close to the Rocky Mountain Park Inn. Please be aware that you will be responsible for transportation to and from the conference hotel using the free shuttle offered. More information and route maps can be found here.
Mary's Lake Lodge +1-970-586-5958
Comfort Inn +1-970-586-2358
Best Western Plus +1-970-586-4476
Roadway Inn +1-970-586-5363
Olympus Lodge +1-970-586-8141
First Inn +1-970-586-3313
STUDENT RESEARCH EXPERIENCE:
Student Researchers (K-12 Students attending with a Teacher), Teachers (attending with students), Chaperones (attending with students) PLEASE NOTE:
Student registration fee is $195 and Adult Registration is $225. This includes the overnight research experience. Early Tuesday morning 19 July, you will depart the conference hotel to begin the Student Research Experience. You will collect data on Tuesday and you will spend the night at the YMCA of the Rockies. You will continue collecting data on Wednesday 20 July. During the afternoon of Wednesday 20 July you will be transported back to Estes Park to begin analyzing the data you have collected. Student Researchers will present their research on Thursday 21 July at the GLOBE Annual Meeting (details to be provided).
To participate in the Student Research Experience, you will check out of the hotel early on Tuesday morning and check back in on Wednesday afternoon for the remainder of the meeting. We will arrange for your luggage to be held in a secure location. Please plan to take an overnight pack with you on the research experience Tuesday 19 July.
Space is extremely limited on this excursion (limited to 50 students and 10 adults). Once you have reserved a space and paid the registration fee, if a cancellation is necessary, $45 of your $195 or $225 registration fee will not be refunded. After 3 July, no refund will be possible.
More information about the Student Research Experience can be found here. You will receive a packet of information (via email) directly from the Estes Institute once you register.
The 4th Student Research Exhibition will take place during the poster session of the GLOBE Annual Meeting on Sunday, 17 July in the evening. If you are presenting a poster or PowerPoint during this time, please provide the following information. (It is vital to provide ALL information requested.)
GLOBE School Name
Presentation Title
Presentation Abstract (100-word description, in English)
Student Name(s)
Teacher Name(s)
Indicate whether your presentation is in poster format or PowerPoint format.

Please provide this information via email to Katy Lackey by Monday 13 June 2016 to be considered for inclusion in the full program and to reserve presentation space (poster or table).
*Students presenting a poster will be provided a 122 cm X 244 cm (4' X 8') poster board surface and push pins. Students presenting a PowerPoint presentation will be provided a table and one power strip.
Registration fee for exhibitors is $500 and includes one meeting registration plus 1 6ft draped table and two chairs. The fee for an additional exhibitor registration with the same company is $225. Exhibitors may begin setting up on Saturday, 16 July at 12:00 (noon) and remain in place through the close of the event at noon on Thursday 21 July. Exhibitor door prizes or other conference incentives may be given away at the GLOBE Annual Meeting closing networking event on Wednesday 20 July.
This event presents a unique opportunity for exhibitors and sponsors to reach an international audience of current and future consumers and decision-makers in scientific, cultural, educational and technology markets. Additional information and details about exhibitor and sponsorship opportunities can be found here.
Estes Park, Colorado is located at 2,438 meters (8,000 feet) above sea level. Oxygen is approximately 45% less dense and there is 50% to 80% less humidity than sea level. Altitude sickness can affect anyone regardless of age or fitness level. Visitors from lower elevations may notice shortness of breath, fatigue, dizziness, headaches and/or nausea. It is important to remain hydrated (drink plenty of water), get lots of rest, eat lightly and avoid caffeine. Because of the altitude, you are also exposed to more UV radiation. Remember to bring a hat, sunglasses, and sunblock. More information about altitude sickness can be found here.
During the annual meeting, there will be field trips to learn how to do the GLOBE protocols for both adults and students. Daytime temperatures average around 31 degrees Celsius (88 degrees Fahrenheit) in July and afternoon thunderstorms are common. Evening temperatures average around 12 degrees Celsius (55 degrees Fahrenheit). Please remember to pack appropriate clothing for these outdoor experiences (including a light rain jacket and sturdy shoes).
LIABILITY FORMS:
As part of the registration process, you are required to complete, sign, and return several liability forms. If you have registered but have not returned the forms, please do so now. Once you arrive at the Annual Meeting, if you have not completed the signed forms, your registration process will be significantly delayed. You will be unable to receive your meeting materials until this task is complete. The forms can be found here. Please download and sign the forms and email or fax to Dawn Wright or fax to 1-303-497-2638.
PLANNING A VACATION BEFORE/AFTER THE GLOBE ANNUAL MEETING?
Click here for some information that may be helpful as you plan your stay in Colorado. Click here for an Estes Park Visitor's Guide.
TOUR OF ROCKY MOUNTAIN NATIONAL PARK
Estes Park Shuttle is offering two opportunities to tour Rocky Mountain National Park during the week of the 20th GLOBE Annual Meeting. These four-hour informative tours of the Estes Valley and Rocky Mountain National Park will take you to the Lawn Lake Alluvial Fan to learn about the famous flood that damaged most of the downtown Estes Park in 1982. Travel through the Park will also take you on a tour of the Hidden Valley Ski area site, Many Parks Curve, Rainbow Curve, Forest Canyon Overlook, Rock Cut, and The Alpine Visitor Center. The tour will stop several times to allow for picture-taking opportunities.
Each van holds 14 passengers. (Additional vans may be added depending upon availability and interest.) The cost is $59USD per person and is payable at the time of booking. The vans will load at Rocky Mountain Park Inn (RMPI), the conference hotel.
Call now to reserve a seat. Estes Park Shuttle Tours contact information: +1-970-586-5151 or send email to estesparkshuttle@aol.com. Mention "GLOBE" to be included in this special tour for GLOBE Annual Meeting Participants.
Estes Park Shuttle Tour dates/times:
Tuesday 19 July 2016 depart RMPI at 3:30 pm; return to RMPI at 7:30 pm $59USD Per Person
Thursday 21 July 2016 depart RMPI at 1:30 pm; return to RMPI at 5:30 pm $59USD Per Person
REGISTER NOW FOR THE 20TH GLOBE ANNUAL MEETING