2022 Annual GLOBE Meeting
The 2022 GLOBE Annual Meeting (Virtual)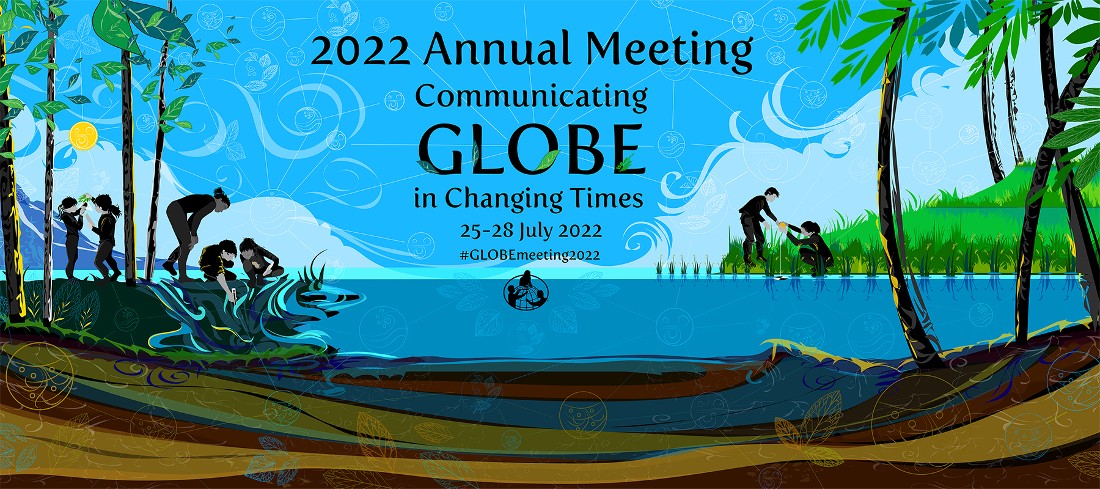 Graphic by Jenn Paul Glaser with Scribe Arts
Event Dates: 25 July 2022 - 28 July 2022
Theme: Communicating GLOBE in Changing Times
Location: Virtual
About the 2022 Annual Meeting
 
The Global Learning and Observations to Benefit the Environment (GLOBE) Program is a worldwide science and education community that currently consists of more than 126 U.S. Partners and 126 Partner Countries. It is a community of students, teachers, scientists, and citizens working together to better understand, sustain, and improve Earth's environment at local, regional, and global scales.
Learn more about GLOBE Annual Meetings and explore our past events
The 2022 GLOBE Annual Meeting will be held virtually from 25-28 July 2022. During the 4-day event, the GLOBE community will have the opportunity to take part in a variety of sessions. For example, participants are invited to propose talks based on the Community Presentation themes, and participate in sessions focused on learning about GLOBE protocols. Additionally, participants may join discussions centered on recent developments from various areas of the GLOBE Program. Finally, participants can attend keynote speeches from a NASA scientist and other GLOBE Sponsors, as well as support the Student Showcase, an exhibition where IVSS-selected students present their research using GLOBE Protocols and Data.
 
---

Registration
 
Important: Registration for the 2022 GLOBE Annual Meeting will open in early June. Participants selected to present at this year's AM will be notified next week (May 16 - May 21) and will be required to register for the event.
Early Bird: $95

Early Bird registration will open in early June 2022

Full: $125

Full registration ends on 1 July 2022

Late: $150

Late registration begins on 2 July 2022
 
---

Community Session Presentation Topics

Session 1: Building a Stronger GLOBE Community
This session examines the variety of communication strategies used by GLOBE members to connect and collaborate with each other and the larger community.
 
Session 2: Communicating Science in Changing Times
This session focuses on how GLOBE members communicate inside and outside their own networks to create awareness around system changes.

Session 3: Connecting Diverse Audiences in GLOBE and Beyond
This session examines how GLOBE members connect with each other and with groups outside of GLOBE in research. Furthermore, this session explores how these connections can drive behavior change to create a more inclusive learning environment.

Special Session: Collaboration within the GLOBE Community
In the past few GLOBE Annual Meetings, Country Coordinators and U.S. Partners have been developing ideas for cross-collaboration and identifying resources to support collaborative activities. This session will focus on highlighting key elements of successful collaboration activities undertaken by members of the GLOBE Community.
 
---

Agenda
 
The agenda for the 2022 AM is forthcoming. Check back soon for more updates!