2022 Annual GLOBE Meeting
Connect With GLOBE During the 2022 Annual Meeting (Virtual)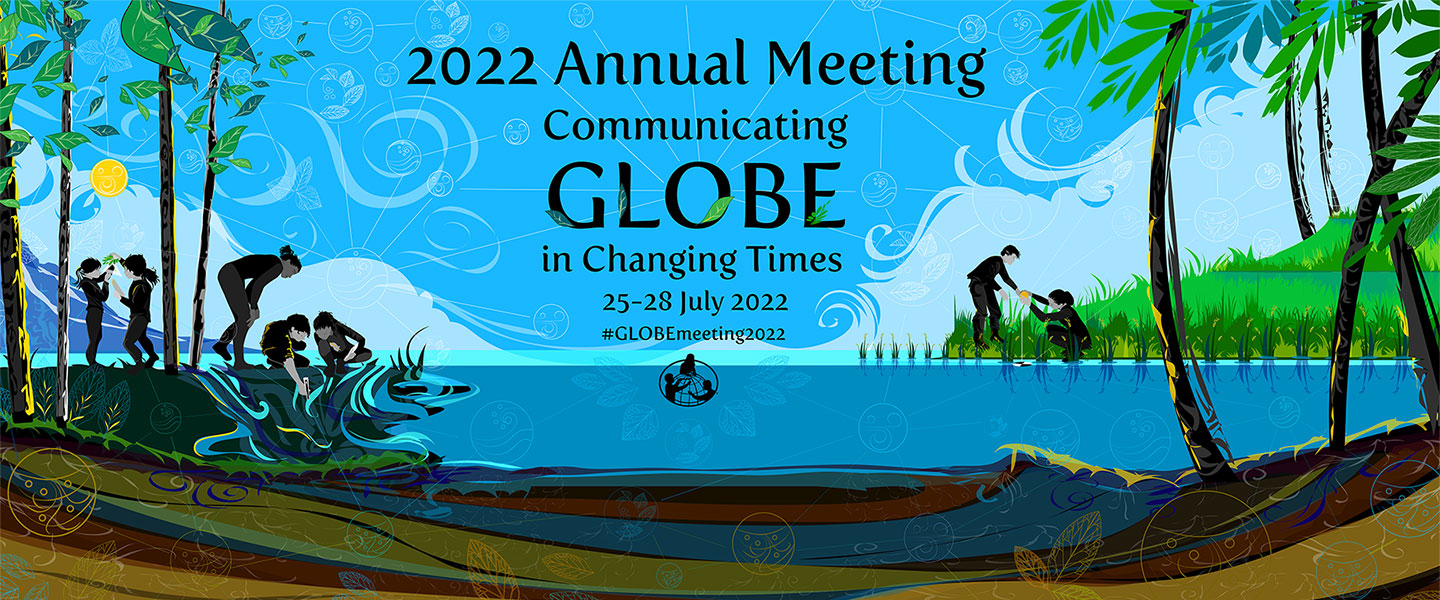 Graphic by Jenn Paul Glaser with Scribe Arts
Event Dates: 25 July 2022 - 28 July 2022
Theme: Communicating GLOBE in Changing Times
Registration: Registration for the 2022 Annual Meeting is now closed.
 
---
Annual Meeting Closing Reception
 
To see more recordings from the 2022 GLOBE Annual Meeting, visit the Annual Meeting 2022 playlist on GLOBE's YouTube channel.
---
Social Media and the GLOBE Annual Meeting
In addition to connecting with others on the Annual Meeting Virtual Venue, The GLOBE Program's social media team invites members to participate all week long on social media!
During each day of the annual meeting, people can participate on social media by posting a picture following the prompts below. Along with each post, be sure to tag The GLOBE Program (@TheGLOBEProgram or @globeprogram) and use the meeting hashtag: #GLOBEMeeting2022.
 
Monday
Prompt: What does your 2022 Annual Meeting look like?
Example Photo:

Tuesday
Wednesday
Prompt: The GLOBE Implementation Office loves the diversity of the international GLOBE community! For today's post, share some pictures of any cultural exchanges you have experienced with The GLOBE Program.
Example Photo:

Thursday
Prompt: Today, Annual Meeting participants heard from the GLOBE Student Vloggers during the final Keynote session. What has been your favorite Student Vlogger moment so far, and what would you like to see highlighted by the student vloggers in the future?
Example Photo:

All Week
Besides the daily prompts above, the GLOBE social media team invites people to share their Annual Meeting experiences on any social media platform. You may even see your post on one of the official GLOBE Program accounts!
 
---

Stay Up to Date
Keep following The GLOBE Program on social media after the Annual Meeting to stay up to date on all things GLOBE.
Facebook
Follow The GLOBE Program @TheGLOBEProgram
Look for posts and stories with highlights each day from the Annual Meeting
Share with your followers
Instagram
Follow The GLOBE Program @globeprogram
Watch our stories for highlights from the Annual Meeting
Share with your followers
Twitter
Follow The GLOBE Program @GLOBEProgram
Get updates for the Annual Meeting schedule and the start of each session
Stay connected with in-the-moment updates from the meeting
Share with your followers
 
---

Community Session Presentation Topics

Session 1: Building a Stronger GLOBE Community
This session examines the variety of communication strategies used by GLOBE members to connect and collaborate with each other and the larger community.
 
Session 2: Communicating Science in Changing Times
This session focuses on how GLOBE members communicate inside and outside their own networks to create awareness around system changes.

Session 3: Connecting Diverse Audiences in GLOBE and Beyond
This session examines how GLOBE members connect with each other and with groups outside of GLOBE in research. Furthermore, this session explores how these connections can drive behavior change to create a more inclusive learning environment.

Special Session: Collaboration within the GLOBE Community
In the past few GLOBE Annual Meetings, Country Coordinators and U.S. Partners have been developing ideas for cross-collaboration and identifying resources to support collaborative activities. This session will focus on highlighting key elements of successful collaboration activities undertaken by members of the GLOBE Community.
 
---

Agenda

Visit the 2022 Annual Meeting virtual venue page for translations of the agenda.