Teacher Presentations
GLOBE Teacher Watercoolers: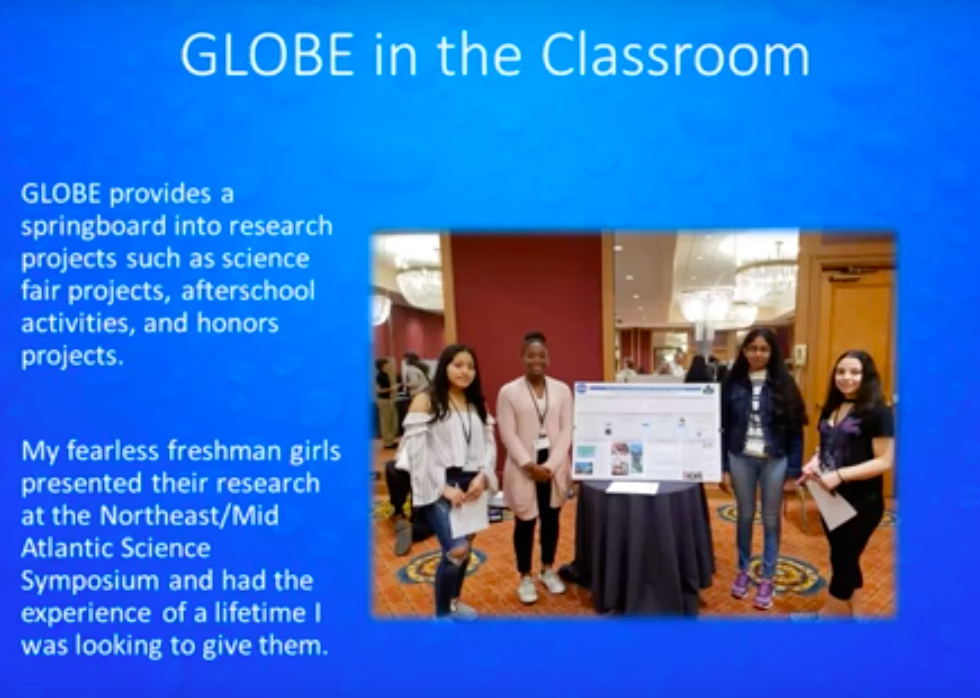 Sue Dougherty (CT) on GLOBE in her classroom - 13 March 2019
Teacher Sue Dougherty from Stamford High School in CT, talks about her experience with GLOBE in her classroom and at the SRS. She also shares resources she has used for classroom funding and professional development.

Kay talks about GLOBE in the elementary classroom, and her new role as the school's STEAM teacher.
From Learning to Research
During the From Learning to Research projects, teachers gave webinars about updates to their local climate student research projects. View the teacher presentations here.
| | |
| --- | --- |
| | Kevin Dickson, teacher from West Haven High School, discusses his students' climate project |
| | |
| --- | --- |
| | Angela Magars and Debbie Zafar, teachers from Montessori Academy of North Texas, discuss their students' climate research project |
| | |
| --- | --- |
| | Audra Edwards, Lisa Langford, and Kimela Walker, teachers from Hawkins ISD, discuss their students' climate research project. |
| | |
| --- | --- |
| | Jeff Lawrence, teacher from Lowrey Middle School, discusses his students' climate research project. |
| | |
| --- | --- |
| | Cheryl Williams, teacher from Palmer High School, and Richard Roettger, teacher from Ramey School, discuss their students' climate research project. |
| | |
| --- | --- |
| | Melinda Merrill, teacher from Park R3 School District, discusses her students' climate research project. |
| | |
| --- | --- |
| | Ray Bautista, Mario Duran, Gerardo Loza, and Luis Urquizo, teachers from Paso del Norte School, discuss their students' climate research project. |
| | |
| --- | --- |
| | Cheryl Rowlands and Raymond Yoh, teachers from Trinity Lutheran School, discuss their students' climate research project. |
| | |
| --- | --- |
| | Ekambaram Elumalai, teacher from Tucker County High School, discusses his students' climate research project. |
| | |
| --- | --- |
| | Jessie Minter, teacher from Crenshaw Elementary and Middle Schools, discusses her students' climate research project. |
| | |
| --- | --- |
| | Jennifer Taylor, teacher from Estes Park Middle School, and Bill Meyers, teacher from Alexander Dawson School, discuss their students' climate research project. |
| | |
| --- | --- |
| | Marcy Burns, teacher from Main Street Intermediate School, discusses her students' climate research project. |
| | |
| --- | --- |
| | R. Sharpe, S. Frantz, K. Carter, G. Popiolkowski discuss their GLOBE climate projects. |
| | |
| --- | --- |
| | Bob Connick and Tricia Jones discuss their GLOBE science project at Mahopac high school |
| | |
| --- | --- |
| | Tim Lundt, teacher from Mat-Su Career & Technical High School, discusses his students' climate research project. |
| | |
| --- | --- |
| | Gary Popiolkowski, teacher from Chartiers-Houston Jr/Sr High School, discusses his students' climate research project. |
| | |
| --- | --- |
| | Marcy Burns, Anne Guerriero and June Teisan discuss their GLOBE science projects |
| | |
| --- | --- |
| | Erin Barr, Ann Smart and Ranjana Robertson discuss their GLOBE science projects |
| | |
| --- | --- |
| | Carols Hernandez and colleagues from Sarasota School of Arts and Sciences in Sarasota, FL discuss their GLOBE science project |
| | |
| --- | --- |
| | Sarah Ellenberg and Michelle Hidlebrandt discuss their GLOBE climate project |
| | |
| --- | --- |
| | Mike Pilarski and Sue Zinger discuss their GLOBE science project |
| | |
| --- | --- |
| | Peter Dorofy discusses his school's GLOBE climate project |
| | |
| --- | --- |
| | Leigh Jenkins & Carol Coryea discuss their GLOBE science project |