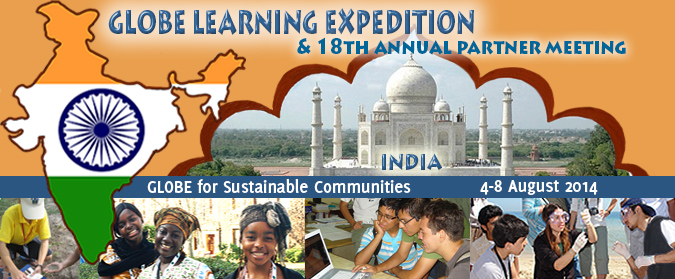 18th GLOBE Annual Partner Meeting
3 August 2014
The 18th Annual Partner Meeting was held on 3 August 2014, in conjunction with the 2014 GLOBE Learning Expedition (GLE) in New Delhi, India. The meeting provided opportunities for all participants to work toward nurturing and strengthening the GLOBE Program.
Highlights included:
Presentation: From GLOBE Program Office (GPO) to the GLOBE Implementation Office (GIO)

Working Groups and US Partner Forum

New GLOBE Program initiatives, including: NASA Missions, Rotating Scientists, GLOBE Distinguished Educator, Data, Annual Survey Report

Reengaging Alumni

New Protocol Training in SMAP
Letter of Invitation sent to the GLOBE Community here.