2023 Annual Meeting - Colorado, USA
2023 GLOBE Annual Meeting (In-person)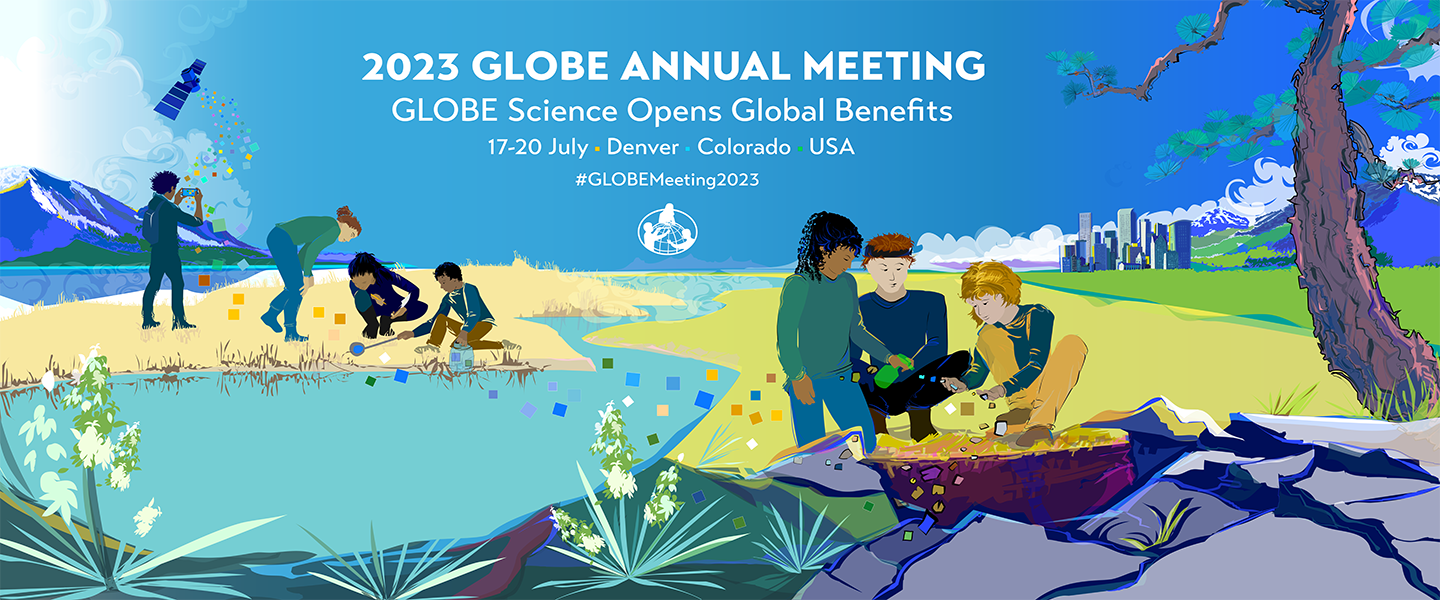 Event Dates: 17-20 July 2023
Location: The Curtis Hotel, 1405 Curtis Street, Denver, Colorado, USA
Theme: GLOBE Science Opens Global Benefits
Accommodations: Check out accommodations in Denver
Registration: Register on the Annual Meeting event page
Note: Early Bird Registration extended to June 16
 
---

An In-person Event
The 2023 GLOBE Annual Meeting will be the first in-person annual meeting since 2019, with representatives of the GLOBE community from around the world coming together in Colorado, USA.
The proposed theme for this year's meeting is "GLOBE Science Opens Global Benefits." Meeting participants will explore several strands of "Open Science", including:
In and Beyond Classrooms: How educators and students use GLOBE data in classrooms, and how that data can lead to change outside of schools.
Mobilizing Beyond Borders: A focus on the diversity of the GLOBE community, exploring how such diversity benefits both the research and GLOBE members.
Mapping Beyond Dots: Discover how researchers can tell a story through their data and visualizations.
Benefits for the Environment and Society: Examine how connections built among members and groups outside of GLOBE can change both the research and the researchers themselves.
Note: Information about the "Call for Presentations by GLOBE Community Members" will be posted here by mid-April.
 
---

Call for Session Presentations
The call for session presentations is now closed, however, you can still review the guidelines for submitted proposals on the Community Sessions Presentations page.
 
---
Proposed Agenda
Note: The agenda below represents the proposed schedule. Events may be added or removed from the schedule as preparations are finalized.
 
Activity

Date

Day One

Networking breakfast (breakfast provided)
Opening session
Plenary session #1
Keynote speaker #1 (working lunch provided)
Community presentations session #1
Plenary session #2
Opening reception and poster session

Monday 17 July

Day Two

Breakfast discussion session #1 (breakfast provided)
Learning about protocols session #1 (offsite, transport provided)
Student experience day #1
Program session #1
Keynote speaker #2 (working lunch provided)
Community presentations session #2
Plenary session #3
U.S. partner meeting
Country Coordinator meeting

Tuesday 18 July

Day Three

Breakfast discussion session #2 (breakfast provided)
Learning about protocols #2 (onsite)
Student experience day 2 (Boulder)
Workshop #1
No lunch for onsite participants
Free afternoon

Suggested Activities:

Colorado Rockies baseball game at 1:15 p.m.
Denver Museum of Science and Nature
NCAR tour in Boulder

GLOBE gives back

Wednesday 19 July

Day Four: Evening Closing Dinner and Week-in-Review

No breakfast session
Workshop #2
Workshop #3
Student experience session #3
Keynote speakers #3 (working lunch provided)
Plenary session #3
Closing session and week in review
Closing banquet

Thursday 20 July
Note: The Working Groups will have meetings all day on Sunday 16 July and on the morning of Friday July 21. RCO meetings will take place on Saturday 15 July.
 
---
Visa Support
To request a letter of support for aid in applying for a U.S. visa, email globemeetings@ucar.edu with the following information:
Full Name (exactly as in your passport)
Email address (The email associated with your GLOBE Account)
GLOBE School name (as in the GLOBE System)
GLOBE Role (GLOBE Teacher, Country Coordinator, Assistant Country Coordinator, Working Group or GISN Member)
GLOBE Country
For any other questions about the 2023 Annual Meeting, email globemeetings@ucar.edu.