GLOBE Certificates
GLOBE Certificates are provided through a template power point file and a word document containing the title and associated text for all certificate types.
The GLOBE Community Support Team has recorded a demonstration video on how to work with and customize the GLOBE Certificate Template as well as how to do a mail merge to be able to produce many certificates at once from a list of names. Visit https://youtu.be/m1bXnBIpU5M
You can also follow along with the steps presented below.
---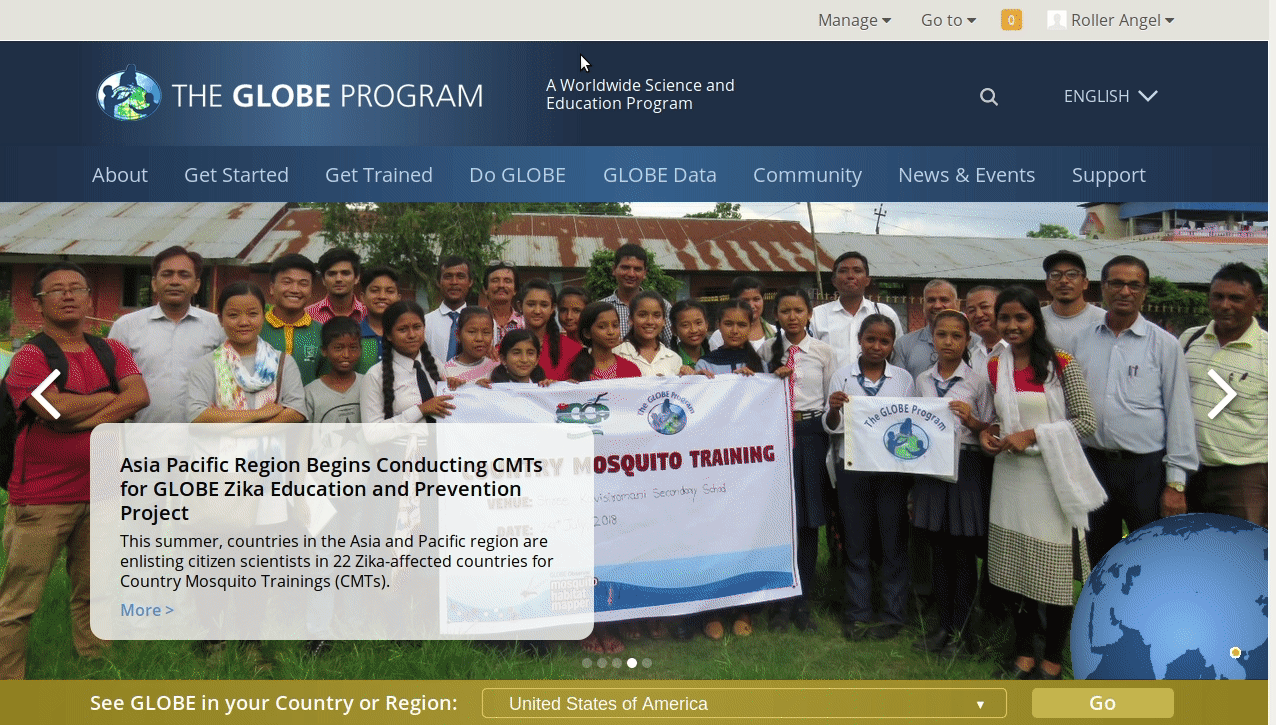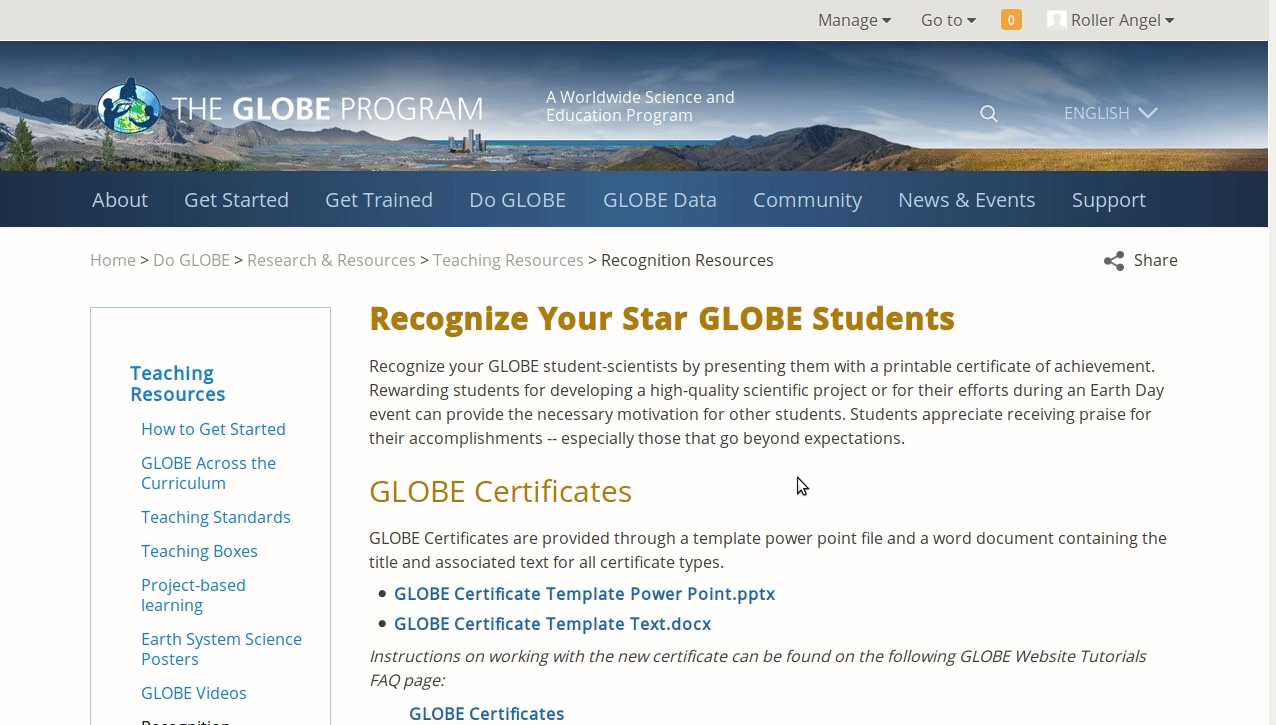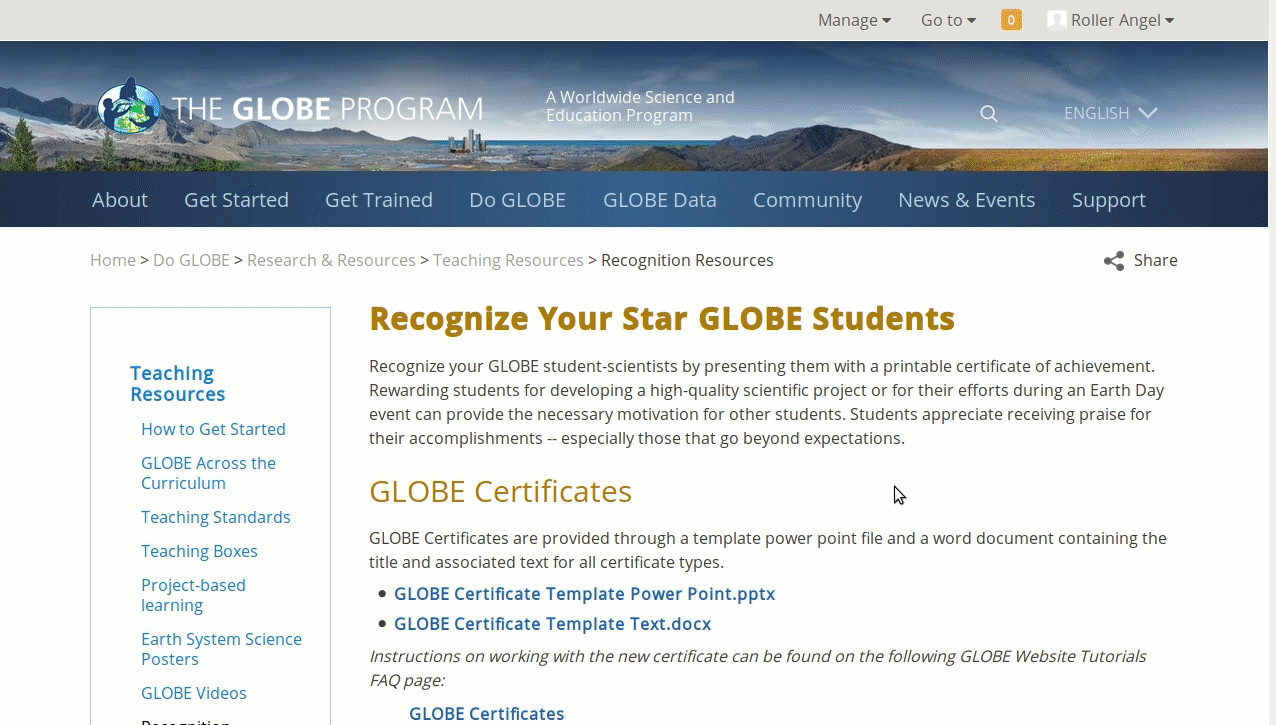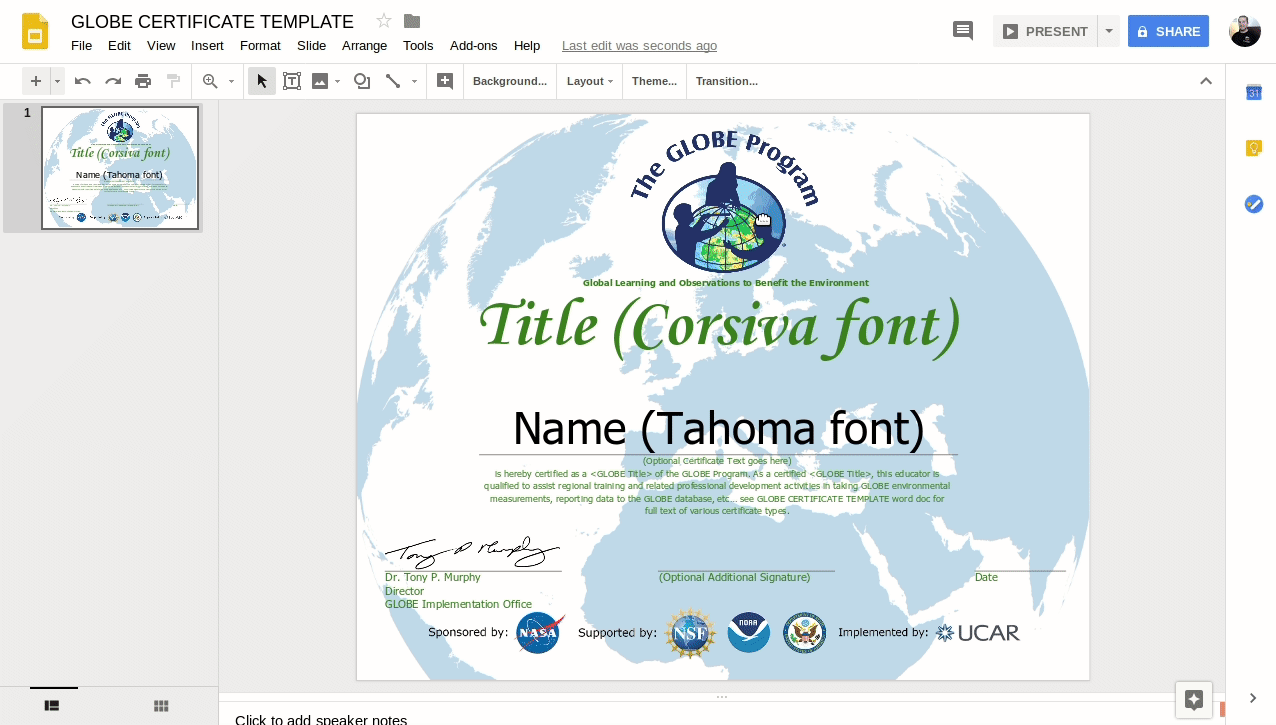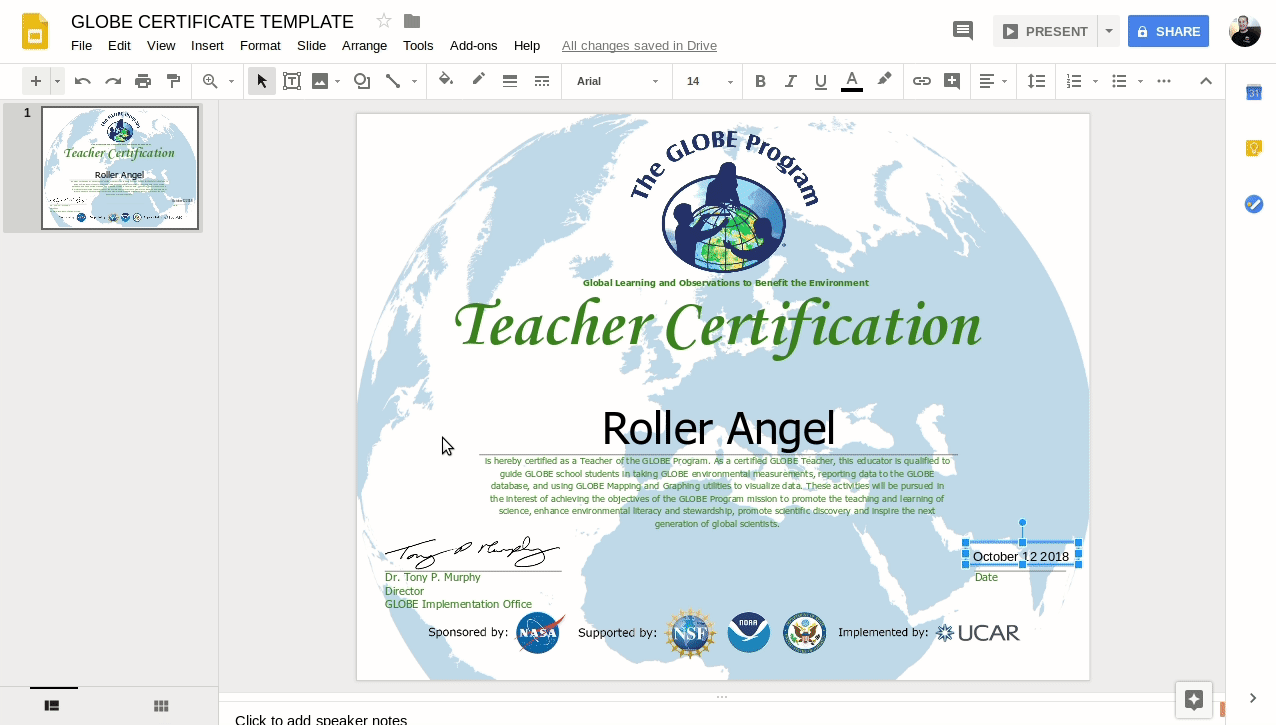 Bulk Creation of GLOBE Certificates
Workshops usually have certificates that need to be filled out for each of the participants. In large workshops, filling out each one of these certificates can be unwieldy. The following instructions show how to make the task of filling out and saving certificates manageable. To see a demonstration of how to do the following steps visit the following URL: https://youtu.be/m1bXnBIpU5M
Download an image of the certificate

Your power point program should have an 'Export' option in the 'File' menu

Save your image as the file type 'PNG'

Visit https://drive.google.com

Click on "New"

Click on "Google Sheets"

In the first row of the first column of the spreadsheet insert the word "Name". This first column is known as a column header and will be used later in this tutorial

Fill in the remaining rows of the first column with participant names

Click on "File"

Click on "Rename…" to give the spreadsheet a name

Click on "File"

Mouse over "Download as"

Click on "Microsoft Excel" (.xlsx) to download the file to your computer

Download LibreOffice (https://www.libreoffice.org/download/)

Go through the installer answering "Next" and "Yes" to the prompts

Open LibreOffice

Click on "Writer Document" in the "Create" section of the sidebar

Click on the "Page" icon in the sidebar to open it

Set the "Orientation" dropdown to "Landscape"

Set the "Margins" dropdown to "None"

Click on the "Page" icon again in the sidebar to close it

Set text to the appropriate font and size for the certificate

Click on the "File" menu

Mouse over the "Wizards" submenu

Click on "Address Data Source…"

Click on the option "Other external data source"

Click on "Next"

Click on "Settings"

Set the "Database type" dropdown to "Spreadsheet"

Click on "Next"

Click on "Browse…"

Select the .xlsx spreadsheet downloaded from Google Sheets

Click on "Finish"

Click on "Field Assignment"

Set the "First name" dropdown to "Name" where Name is the column header we set up in the first row earlier in Google Sheets

Click on "Ok"

Set the "Address book name" to a sensible name like Meeting x participants

Click on "Finish" (Answer "Yes" to the prompt if there is one)

Click on "View"

Click on "Data Sources"

In the navigation window that appears

Click on the "+" icon next to the name of participants

Click on the "+" icon next to "Tables"

Click on "Sheet1"

On the right side of the navigation window click and drag the "Name" column onto the center of the document

Using icons in the toolbar

Set text to be centered - "Center Horizontally" icon

Set line spacing dropdown to "Fixed" - "Set Line Spacing" icon

Click on "Insert Image" and select the image of the certificate

Right click on the image of the certificate

Select "Properties"

Click on the "Wrap" tab

Click on "Through"

Check the "In background" box in the "Options:" section

Click "Ok"

Click in the gray area outside the document to deselect the image (The green boxes at the corner of the image will go away)

Click in the area directly to the left of <Name>

Press "Enter" a few times to move the <Name> down the document to where you want names to appear on the certificate

Add a few spaces before <Name> if necessary to align the name to the center of the certificates name area

Click on "File"

Click on "Print…"

Answer "Yes" to the prompt

Select "File" in the "Output" section

Select "Save as individual documents"

Select an appropriate folder on your computer from the "Path" section using the "..." button

Set the "File format" dropdown to "PDF - Portable Document Format"

Click on "Ok"

All participants will now have a PDF certificate with their name on it saved to the folder that was selected in the "Path" section