2022 GLOBE Virtual Student Conference
Event Date: 11/28/2022 - 11/29/2022
Location: Online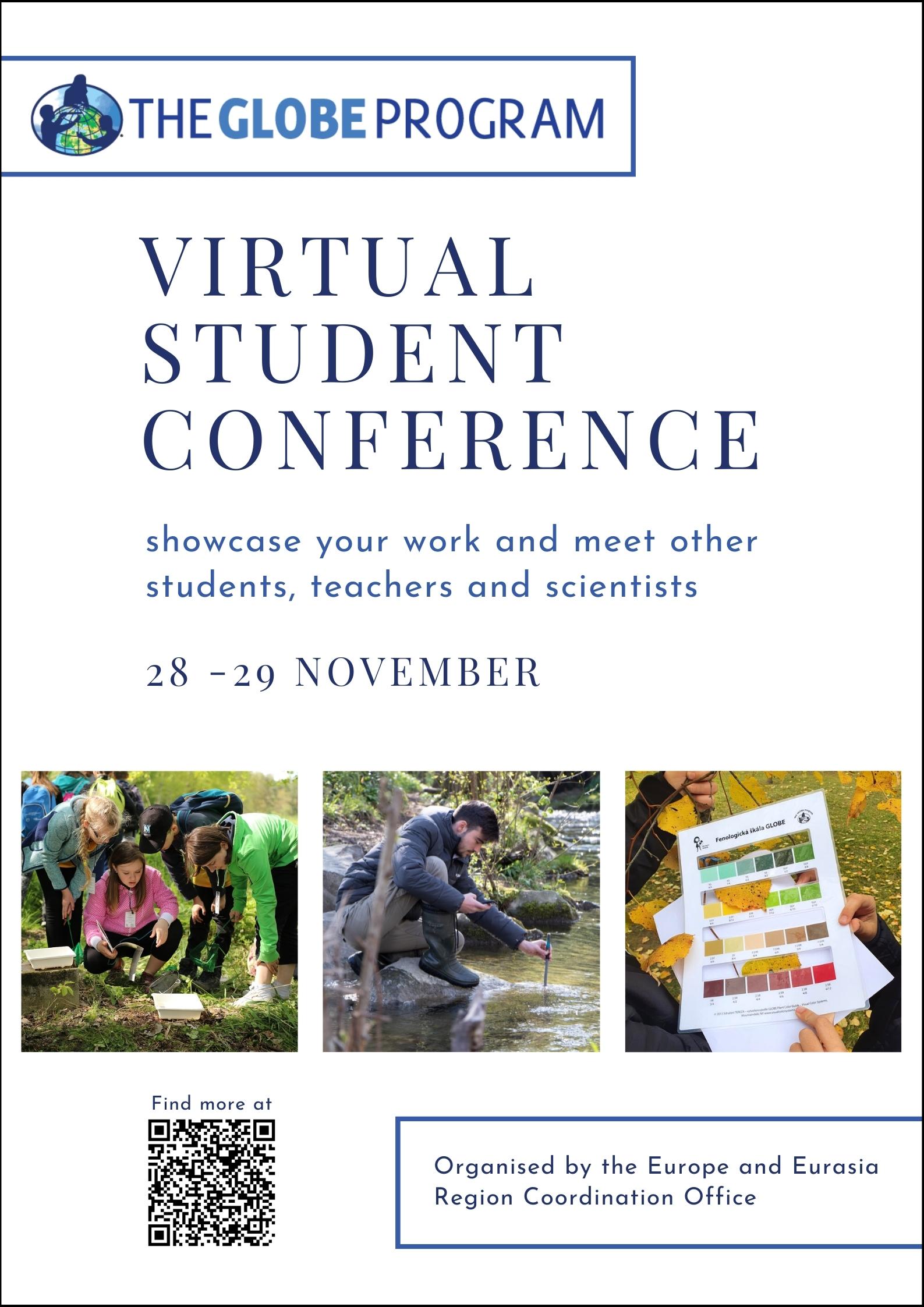 The 2022 GLOBE Virtual Student Conference will be held online on 28-29 November. The GLOBE Europe and Eurasia Regional Coordination Office would like to give voice to students who are actively involved in GLOBE. The conference will be an opportunity to showcase the results of their work, exchange ideas, meet other students, teachers and scientists, and celebrate the diversity of The GLOBE Program together.
The conference will take place on the ZOOM platform on both days between 14:00 and 16:30 CET.
GLOBE coordinators, teachers, scientists and other students and GLOBE friends are cordially welcome to join and be inspired, listen, observe or discuss.
The Virtual Student Conference program
Monday 28.11, 14:00 - 16:30

Focus on high schools

Tuesday 29.11, 14:00 - 16:30

Focus on elementary schools

2:00 - 3:10 pm CET, Part 1
Presentations:
Srednja škola Čakovec, Croatia
SSOU Dimitrija Cupovski - Veles, North Macedonia
ISIS Mattiussi Pertini, Italy
XV.gimnazija, Croatia
Srednja šola Domžale, Slovenia
High School Goce Delcev, North Macedonia

Videos:
Itis Feltrinelli di Milano, Italy
Baptist school, Israel
Gimnazija Karlovac, Croatia
Alrazi junior high school
 

2:00 - 3:10 pm CET, Part 1
Presentations:
Primary school Dubovac,Croatia
Poltava school #38, Ukraine

ZŠ Luhačovice, Czech Republic
3rd primary school Varazdin, Croatia
ZŠ TGM Moravské Budějovice, Czech Republic
SOU Goce Delchev, North Macedonia

Videos:
Elementary school Alsabeel Horfaish, Israel
Dunboyne Senior Primary School, Ireland
Gvanim, Israel
Osnovna škola Šime Budinića Zadar, Croatia
 

3:10 - 3:25pm CET, break
3:10 - 3:25pm CET, break

3:25 - 4:30 pm CET, Part 2
Presentations:
Osnovna škola Rugvica, Croatia
Česko-anglické gymnázium, Czech Republic
Elementary school Banija Karlovac, Croatia
SOU Orde Chopela, North Macedonia
E. Fermi High School, Mantova, Italy
ISIS Europa, Italy

Videos:
ISIS Brignoli-Einaudi- Marconi, Italy
Osnovna škola Vladimir Nazor Virovitica, Croatia
Petrinja High School, Croatia
Primary school Eugena Kumicica,Slatina, Croatia

 

3:25 - 4:30 pm CET, Part 2
Presentations:
OU Sv.Kiril i Metodij, North Macedonia
St.Michael School, Malta
Elementary school Josip Pupačić, Omiš, Croatia
Ivano-Frankivsk City Environmental Station, Ukraine

Videos:
The Biological Teaching Institute-Haifa and Romema Nigunim School-Haifa, Israel
SOU Bogdanci, Bogdanci, North Macedonia
Nahalal agricultural farm, Israel
Zemach Bereshit education farm, Israel
Student presentations and videos will reflect the following themes
GLOBE Benefits the Environment
GLOBE is a Platform for Collaboration
We are Climate Change Generation:
We look forward to meeting you at the conference!
Download Flyer I Download Banner
Event Topics: Meetings
Events origin: Europe and Eurasia
Comments