GLOBE Mission Mosquito Webinars
Join us for our monthly GLOBE Mission Mosquito Webinars. We have a terrific line-up of topics that'll keep you coming back. Click here to receive our newsletter and notifications of upcoming webinars!
Next Webinar
January 23, 2019
Join us as we hear from GLOBE teachers and students who are conducting research using the Mosquito Habitat Mapper for science investigations. Teachers and students will share their "Best Practices" for collecting data using the Mosquito Habitat Mapper "bundle". We will have a scientist to help answer questions and assist with research design and data analysis. Come ready to share your investigations, data, and ask questions!
---
Past Webinars:
---
Thursday, November 8
Webinar 2: Research Investigations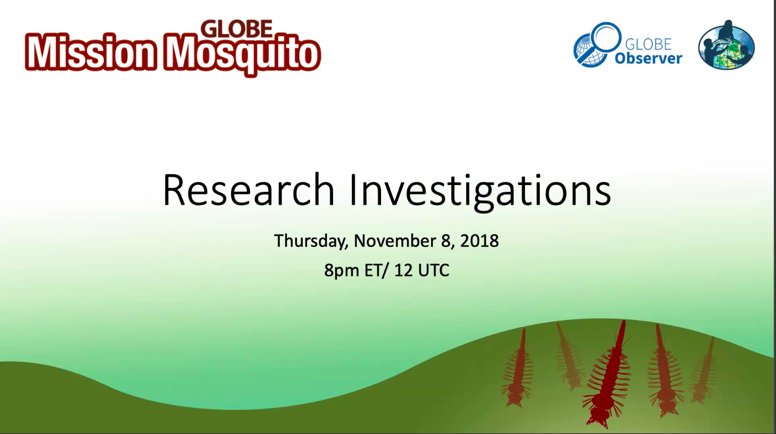 We will focus on how a variety of GLOBE protocols could be used in conjunction with the MHM to conduct science investigations. These investigations could be done as a whole class, in small groups, or by individual students. We will share some of the ways in which NASA Earth observations are being used, with the use of additional ground-based data, to predict, monitor, and respond to mosquito-related disease. We will feature a NASA scientist who uses Earth-observing satellite data to study malaria.
---
Wednesday, October 17
Webinar 1: GLOBE Mission Mosquito Field Campaign Kick Off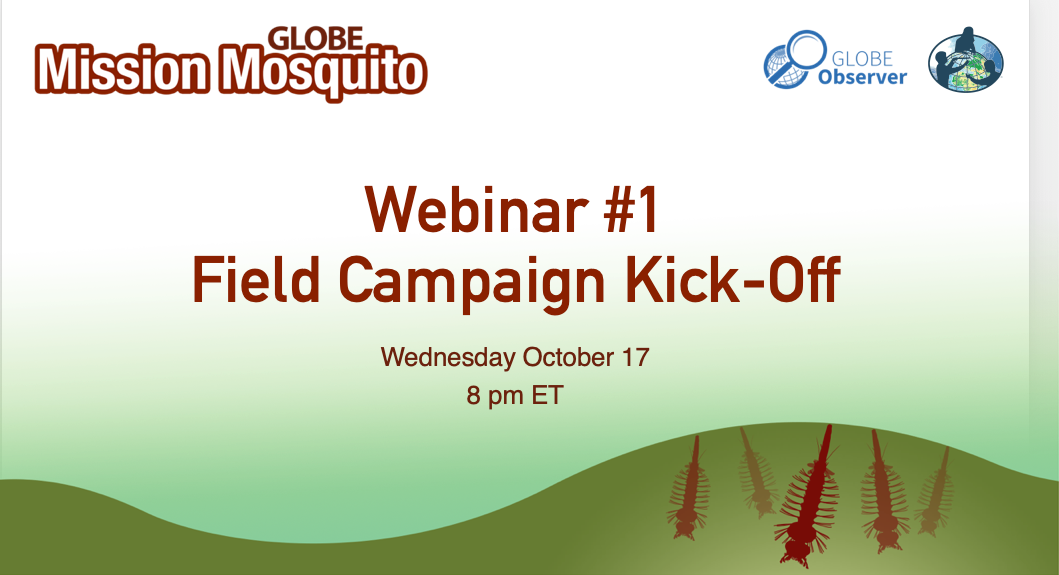 Did you know that mosquitoes are the world's most dangerous animal? Do you know that scientists around the world are finding ways to better understand the preferred environmental conditions and types of habitats that mosquitoes prefer? If you are interested in trying to make this world a better place, then join us in the "Mission Mosquito" field measurement campaign!
During our first webinar, learn the reason behind this new campaign and share some of the ways in which the data collected will be useful to both scientists and those involved in public health efforts. You will hear from scientists in the field as well as from educator specialists who have developed a continuum of ways that you can be involved. This webinar is open to teachers, students, families, citizen scientists and others who might be interested in finding out more about the many ways this campaign might be implemented in classrooms around the world.
This webinar is now archived.
Search through the calendar to find links to the archived webinar and play it back on your own time.