---
Archived GLOBE Mission Mosquito Webinars
---
Click the graphic to replay the webinar on our YouTube channel.
---
Understanding data is fundamental for research.
This webinar takes a bite-size approach and includes a Data Challenge! Find out what you can discover using GLOBE Viz.
Earth's Interconnections through Extreme Earth Events
Wildfires, tropical storms, floods, and drought- all extreme Earth events taking place now. In a webinar suitable for learners of all ages, scientist Peder Nelson connects us with NASA data products that tell the story of the summer that is helping the public to finally understand the impacts of climate change. How do mosquitoes contribute to the story? Find out!
---
GLOBE Student Investigations with NASA
Presented by team members from the NASA Earth Science Education Collaborative, GLOBE Mission Earth, Arctic and Earth SIGNS, GLOBE Implementation Office, and My NASA Data.
On August 13 students in the SEES Internship Virtual Mosquito Mapper research program shared their research.
Click to view the SEES Research topics:
---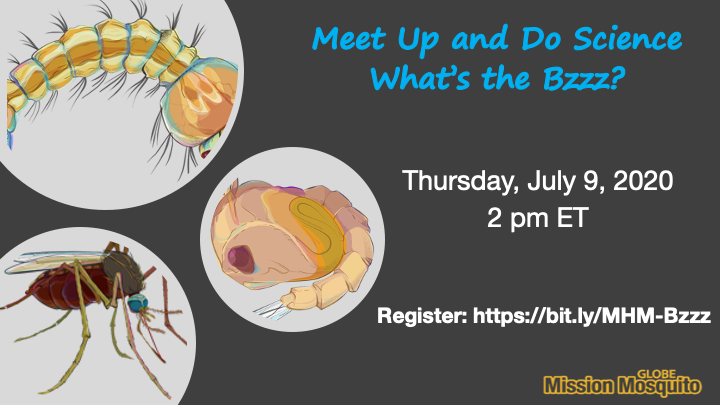 ---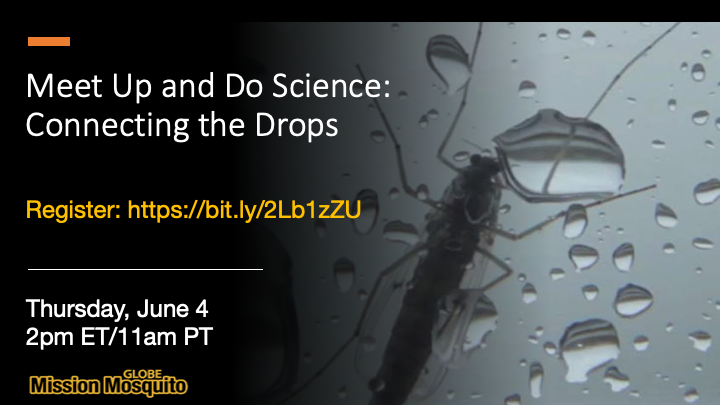 ---
We presented our three favorite mosquito-related resources as home-based / multi-age/ indoor activities.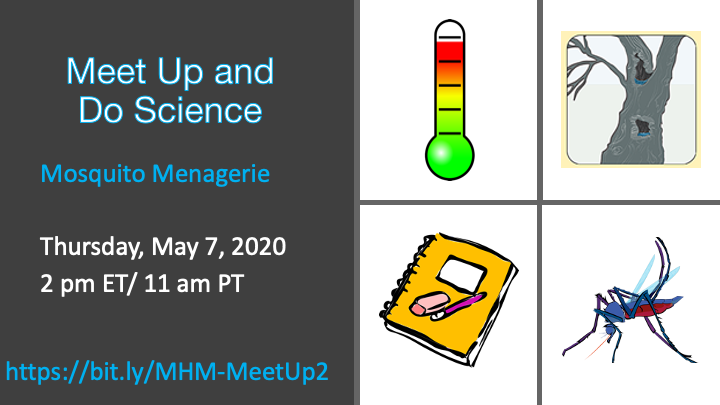 ---
April 2, 2020
GLOBE Mission Mosquito MeetUp
Meet up and do science with GLOBE Observer and Do your own spatial analysis of a mosquito breeding site.

In this hands-on workshop, participants will take part in learning how to do your own spatial analysis of a satellite image of a GO MHM breeding site.
How accurate are citizen scientists when they take on an analysis task usually conducted by experts?
How can GLOBE Observer data be used to improve the accuracy of land cover classification?
You will get firsthand experience in image classification and leave the session with access to a paper version of this activity that you can use with students.
March 10, 2020

Better Together: Pairing GLOBE Observer's Mosquito Habitat Mapper and Land Cover. Along with temperature and precipitation, Land Cover is proving to be an important environmental parameter in disease risk modeling. Peder Nelson will share how and why collecting both Land Cover and Mosquito Habitat Mapper observations are a nice pairing of information.
Presenters: Peder Nelson & Rusty Low
---
February 6, 2020
What to do with your Mosquito Data? Join Dr. Becky Boger as she shares a tutorial on using map tools and data portals to create a context for the data you collect. Ana Prieto shared her mosquito research in Argentina.
---
January 9, 2020
Citizen Science and Mosquitoes: Welcome to Mission Mosquito's 2020 Campaign. Find out what we learned about last year's mosquito season, and how you can be involved in 2020 Mission Mosquito data discovery!
Presenters: Dorian Janney and Dr. Rusty Low
---
December 5
Presenter: Anita Schiller, Director of the Biological Control Initiative, Harris County, Precinct 4, TX, shares how they are using native mosquito predators, aka mosquito assassins, in pest management.
Featured Resource: Liz Burck, IGES, will share how to use the Mosquito Tellers as an inquiry learning and mosquito biology resource.
---
November 7
The Mosquito's Climate Dance. The IPCC reports that Mosquito vector-borne diseases are the infectious diseases most sensitive to changes in climate.
Presenter: Dr. Russanne Low
Featured Activity: Phenology Guide, Liz Burck
---
Citizen Science - September 25, 2019
Behind the Scenes: What happens to your data.
Dr. Helen Amos, NASA Goddard Space Flight Center, will discuss data quality and give hints how to ensure your reported data is the best it can be.
---
Education - September 4, 2019
Back to School with Mission Mosquito
How are teachers around the world are integrating the GLOBE Mission Mosquito tool into their ongoing curriculum and into after school activities? Hear from Jeff Bouwman and Erquinio Taborda as they describe "Best Practices" for engaging students in both formal and informal educational settings.
---
Citizen Science - August 21, 2019
Mosquito Science Engagement
Dr. Lisa Gardner from the University Corporation for Atmospheric Research will present her cartoon series, "Zika Zine," and discuss effective science communication techniques. The Southwest Oklahoma City Public Library will share their mosquito programs and lessons learned. Library partners are especially encouraged to attend.
---
Education - August 7, 2019
Around the World with Mission Mosquito
Enjoy some armchair travel as we hear from GLOBE Mission Mosquito data collectors from four different countries around the world will share: about the mosquitoes in their region, when they are active, what types of mosquito-transmitted diseases are contracted there, the protection and prevention measures they use, and
how they are using the Mosquito Habitat Mapper with their community.

Presenting schools include:
Princess Chulabhorn Science High School, Trang- Thailand
St. Scholastica Catholic School- Nairobi, Kenya
Minas Gerais School, Rio de Janeiro- Brazil
Notre Dame School, Santo Domingo- Dominican Republic
Shumate Middle School, Gibraltar, Michigan- U.S.A.
---
July
Citizen Science - July 24, 2019
How can mosquito citizen science data protect communities from disease?
This webinar will discuss how GO MHM data and other mosquito apps are working to reduce the risk of disease in communities. Presentation of a new educational resource by GMM team member Liz Burck, Institute for Global Environmental Strategies.
---
Education - July 9, 2019
Using NASA Earth Observations for Mosquito-borne Disease Applications
Ever wonder how and why NASA Earth observations might be used to predict, monitor, and respond to mosquito-transmitted disease? Dr. Ben Zaitchik will describe the research he is doing to learn more about malaria transmission in south America. Introduction on how to access NASA data sets that could be used in this type of research.
---
June
---
Citizen Science - June 19, 2019
Making Maps: Introduction to data reporting mapping tools.
Guest scientist Dr. Becky Boger will conduct a mapping tutorial using GLOBE MHM data and free online mapping tools.
---
Education - June 5, 2019
Students as Scientists: IVSS Mosquito-related Research Projects
We heard from GLOBE students who submitted science fair projects related to this campaign. They described their research and gave us some ideas for how to conduct research projects for the next school year. We shared some ideas for how to use the Mosquito Habitat Mapper with summer school, summer camp, and with families.
View the slides
---
May
---
Citizen Science - May 29, 2019
Mosquitoes, Land Cover and GO on a Trail
There are many factors that help us understand where mosquitoes breed. Land cover is one of them. Peder Nelson, lead scientist for the GLOBE Observer Land Cover tool, will show you why collecting both mosquito data and land cover data using the GLOBE Observer app provides important data for scientific analysis. Get ready for this summer's GO on a Trail citizen science campaign, launching June 1, by participating in this informative webinar.
---
Education - May 8, 2019
Protection and Prevention
Getting a mosquito bite is no fun and can sometimes turn deadly. We'll share some preventative measures to avoid being bitten along with steps to control mosquitoes indoors and outdoors.
Thinking about hosting your own Mosquito Prevention and Preparation Awareness Campaigns? We've got you covered. Brian Prendergast, Mosquito Control Project Manager for the Maryland Department of Agriculture, will talk about how they plan and prepare for active mosquito season.
---
April Webinars
---
Citizen Scientist - April 17, 2019
Tools for analyzing data
Collecting mosquito data is fun but what's way more fun? How about seeing your data in an entirely new way. This webinar will show you how to use GLOBE Viz, ADAT, and Google.
View slides
View chat
---
Education 6 - April 10, 2019
Who am I? (or How to identify larvae)
Now that we are gearing up for active mosquito season in the US, our focus is on how to collect, sample, and identify mosquito larvae. Science Lead, Dr. Rusty Low will share Best Practices when collecting larvae and describe how to sample and identify larvae, pupae, and adult mosquitoes using an inexpensive clip-on magnifier for a cell phone and school microscopes, which are generally available. Learn how scientists and public health officials are planning to use the data we collect for their research and response to the threat of mosquito-related disease.
View chat
---
March Webinars
---
Citizen Science 3 - March 27, 2019
Citizen Science in your community
Sharing the data collected so far by citizen scientists. Included will be a presentation by our guest scientist on mosquito identification.
\
View slides
View the chat
---
Education 5 - March 13, 2019
When will you find mosquitoes and how to make a larvae trap.
When and where we can expect to see active mosquito seasons occurring in the next few months? Participants will learn more about the environmental parameters that help us predict when mosquitoes hatch. GLOBE teachers and students from around the world will share their predictions and explain their reasons for making the predictions. We will learn how to make larval traps, observe mosquito larvae safely, and review the precautions to take to ensure safety during mosquito season.
---
February Webinars
---
Citizen Scientist 2 - February 20, 2019
Build a Trap!
This webinar will step you through using the GO Mosquito Habitat Mapper app and building your mosquito trap so you can look for mosquitoes right outside your front door. Learn how to contribute to our new mosquito seasonality map project as a researcher in the field!
---
Education 4 February 6, 2019
How to complete science projects and examine research outcomes.
As students are finishing up their investigations for this year's science projects, we will hear from GLOBE students and teachers who will be submitting research projects to the IVSS that are related to this campaign. We will offer suggestions for completing science fair projects as well as answer questions for how to write up the final reports. Our science lead, Dr. Rusty Low, will be on hand to answer questions and guide research conclusions. Also joining from GIO is Dr. Julie Malmberg to answer questions about the IVSS.
---
Citizen Science 1 January 30, 2019
What is citizen science? Get involved in the GLOBE Mission Mosquito (GMM) 2019 Mapping Project and find out more!

This first webinar is for anyone who is interested in being part of the GLOBE Mission Mosquito Campaign. We will introduce the free mobile app you will use, show you how to make a citizen scientist account and talk about why this work is so important and how you can make a difference.
Informal science outreach educators and the general public are encouraged to attend!
---
Education 3 January 23, 2019
The focus of this webinar was on using NASA Earth observations to predict, monitor, and respond to mosquito-related disease. We'll talk about learning how you can use GLOBE protocols in conjunction with the GO MHM to conduct classroom research. Join in the discussion and share your suggestions on using the GO Mosquito Habitat Mapper Tool to enhance your research. Dr. Peder Nelson will share information on the Land Cover tool, and Oscar Garza will describe some ways he is using this mosquito habitat mapper with his library patrons in Texas.
---
Education 2 Thursday, November 8
We will focus on how a variety of GLOBE protocols could be used in conjunction with the MHM to conduct science investigations. These investigations could be done as a whole class, in small groups, or by individual students. We will share some of the ways in which NASA Earth observations are being used, with the use of additional ground-based data, to predict, monitor, and respond to mosquito-related disease. We will feature a NASA scientist who uses Earth-observing satellite data to study malaria.
View the webinar chat
---
Education 1 Wednesday, October 17
Did you know that mosquitoes are the world's most dangerous animal? Do you know that scientists around the world are finding ways to better understand the preferred environmental conditions and types of habitats that mosquitoes prefer? If you are interested in trying to make this world a better place, then join us in the "Mission Mosquito" field measurement campaign!
During our first webinar, learn the reason behind this new campaign and share some of the ways in which the data collected will be useful to both scientists and those involved in public health efforts. You will hear from scientists in the field as well as from educator specialists who have developed a continuum of ways that you can be involved. This webinar is open to teachers, students, families, citizen scientists and others who might be interested in finding out more about the many ways this campaign might be implemented in classrooms around the world.