U.S. High School Students and Educators: Microgravity University for Educators Invites You to Design, Build, and Test Devices in NASA's Unique Facilities – First Information Session 09 November!
Nov 09, 2017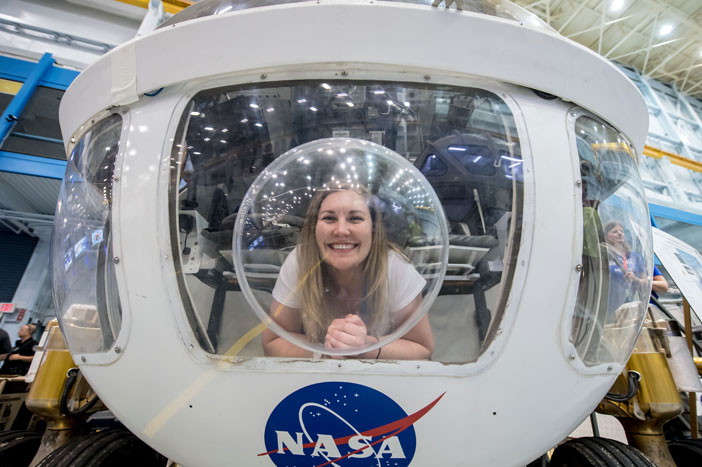 Microgravity University for Educators (MgUE) invites teams of U.S. educators and high school students to solve technical problems by designing, building, and testing devices in NASA's unique facilities at the Johnson Space Center in Houston, Texas. The deadline for 2018 proposals is 13 December 2017.
Overview
MgUE is an authentic learning experience requiring application of scientific and engineering practices that creates exposure to STEM career pathways. The process begins with the submission of a proposal from a team including a commitment from the supporting institution.
Challenges involve student-derived solutions to technical problems, or improvements to existing solutions, identified by NASA scientists and engineers who use simulated microgravity environments in their work. Examples include designing a docking device, designing a grapple structure, and/or designing a satellite deployment.
Selected teams (ten teams from across the country) will design and build their device prior to testing it at a NASA field center. To help with the challenge, teams will be paired with a NASA mentor who will help them integrate student-derived solutions with the selected test facility.
Educators will have the opportunity for professional development during the online and onsite portions of the activity. Professional development hours may include online meetings, webinars, field center tours, interactions with subject matter experts, and learning experiences unique to NASA.
While at NASA, teams will:
test designs using NASA's simulated microgravity environments;
participate in authentic learning experiences such as, but not limited to, simulating a spacewalk or a docking maneuver;
learn to incorporate NASA Education resources and experiences in the learning environment; and
earn professional development hours.
Information Sessions
Tune in to an online information session that includes tips from the MgUE team:
Thursday, November 9, 2017 at 6:30 pm Central
Tuesday, November 14, 2017 at 6:30 pm Central
Thursday, November 30, 2017 at 6:30 pm Central
Tuesday, December 5, 2017 at 6:30 pm Central
Visit the NASA MgUE booth at the following conferences:
National Science Teachers Association Regional Conference – Milwaukee, Wisconsin, USA: 09-11 November 2017
Conference for the Advancement of Science Teaching – Houston, Texas, USA: 09-11 November 2017
National Council of Teachers of Mathematics INNOV8 Conference – Las Vegas, Nevada, USA: 15-17 November 2017
National Science Teachers Association Regional Conference – New Orleans, Louisiana, USA: 29 November – 02 December 2017
To learn more about MgUE, visit http://go.nasa.gov/nasamgue, including information on proposal guidelines, sessions, and due dates. All questions can be directed to JSC-EPD@mail.nasa.gov.
Join the social conversation! #NASAMgUE
type: globe-news
News origin: GLOBE Implementation Office
---
Comments