The Hook: Benefits of the SMAP - GLOBE Partnership
WHAT IS SMAP?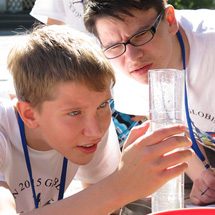 SMAP Benefits from the partnership with GLOBE through the collection of "ground truth" measurements by GLOBE students. These measurements will contribute to the SMAP calibration and validation program. Additionally, SMAP will receive feedback from students on how soil moisture information provided by SMAP can be useful to their communities. Through this partnership, the public can participate in and become more aware of SMAP's societal contributions and the availability of high quality SMAP data products.
GLOBE benefits from the partnership with SMAP through SMAP scientists providing guidance on GLOBE soil moisture protocols and measurement procedures, reviewing the data contributed, and interacting with the GLOBE community. Students can become engaged with a NASA mission and learn how satellite information can improve our knowledge of Earth.