2019 Southeast GLOBE Student Research Symposium Highlights
Jul 30, 2019
The Southeast U.S. GLOBE Student Research Symposium took place on May 10-11, 2019 at the Atlanta Metropolitan State College, Atlanta, GA. GLOBE Partner Garry Harris, from the Center for Sustainable Communities, SMART Academy Center for Excellence hosted 26 GLOBE students and 9 teachers. Attendees traveled from Alabama, Arkansas, Georgia, Tennessee, and Mississippi. Students presented a total of 11 GLOBE research projects to their peers and local scientists.
Friday evening began with a representative from the U.S. Environmental Protection Agency Environmental Justice Academy getting things started with interactive icebreakers followed by a series of student-focused interactive speakers and presenters. The welcome and opening remarks included representatives from the Atlanta Metropolitan State college, the GLOBE Implementation Office, and the U.S. GLOBE Program Partner Forum and Jennifer Bourgeault, the U.S. GLOBE Country Coordinator. Revered Gerald Durley, an environmental justice and civil rights leader, and Juliet Hall, a women and STEM equity advocate, were the inspiring keynote speakers. In celebration of Rev. Durley's birthday, the evening concluded with song and cake in tribute to civil rights, and his legacy to environmental and social justice.
The next morning began with peer review from fellow students and fifteen academic, engineering and professional scientists from participating organizations. The STEM professional reviewers included individuals from:
100 Black Men of Atlanta, STEM and Engineering Academy

Georgia State University

Georgia Power

Georgia Institute of Technology

Atlanta Metropolitan State College

U.S. Environmental Protection Agency

Kennesaw State College

Georgia Space Grant Consortium

NASA Science Mission Directorate, Earth Science Division

Khafra Engineering
While the students were engaged in peer review, a teacher and community professional development session was held with a focus on the urban heat island effect. Presenters included David Padgett, Tennessee State University, and senior researchers from Georgia Institute of Technology and Emory University. Dr. Padgett reviewed the use of GLOBE protocols and outcomes based on his own recent community-based research. Additional presentations detailed the detrimental effects of the urban heat island effect on minority and lower income populations.
During lunch, several speakers addressed the students. Dr. Stephen Ruffin, Chair of Graduate Program, Department of Aerospace Engineering, and Chair, Georgia Space Grant Consortium, talked about the focus and impact of Space Grant. Dr. Allison Leidner, NASA Science Mission Directorate, gave a presentation demonstrating NASA's satellite capability, data collection and impact on GLOBE classroom learning. Dr. Julie Malmberg, from the GLOBE Implementation Office discussed its role in helping to ensure the proper deployment of GLOBE throughout the world and connecting young researchers.
The afternoon offered the students their choice in activity. Some participated in an exciting Mini-College Fair and Interactive Science Venue with hands-on learning activities from Atlanta Metropolitan State College, Make Your Music, the U.S. Environmental Protection Agency, DeWitt STEAM and Publishing, Georgia Space Grant Consortium and STEM Teacher Talk. Others took an exciting tour of Johnson Research Laboratory, a working and highly acclaimed research facility known for its comprehensive robotics and stem education facility. This group was treated to a special appearance and addressed by Lonnie Johnson, the founder and inventor of the world-renowned Supersoaker water gun!
During this same time period, a special session was held for Non-GLOBE Teachers, community leaders, students, potential partners and citizen scientists to familiarize participants with the GLOBE educational focus, protocols, and data collection scheme. Participants practiced collecting data using the GLOBE Cloud protocol and GLOBE Observer, among other educational activities.
Saturday afternoon concluded with a recognition ceremony to recognize and uplift students on their research endeavors.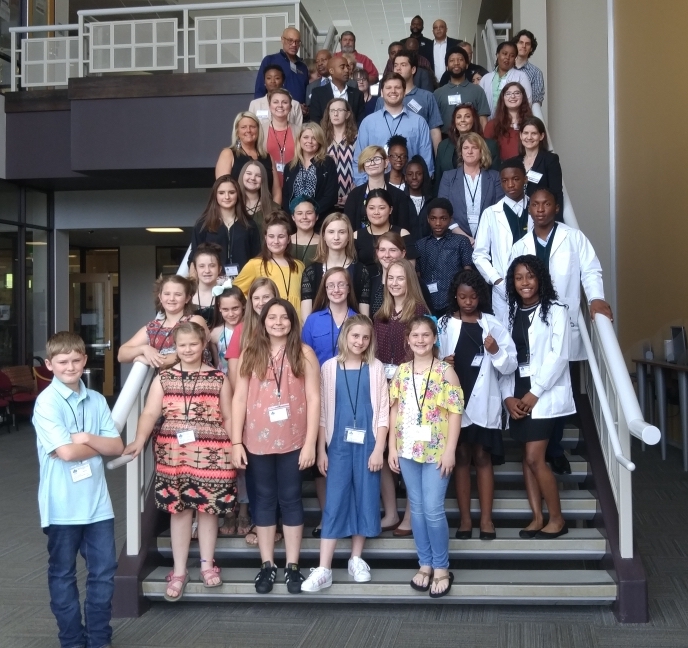 The Southeast GLOBE Student Research Symposium was planned and executed based on collaboration between a local planning group and a GLOBE expert team. The local planning team consisted of representatives from the Center for Sustainable Communities, Atlanta Metropolitan State College, and AMSC-RCE Environmental Justice Academy. The GLOBE expert team consisted of four (4) GLOBE Partnership representatives, including Garry Harris, Lynne Hehr, David Padgett, and Lynn Reeves. In addition, Allison Leidner (NASA Headquarters), Julie Malmberg and Jamila Rockette (GIO), and Valerie Brownlee (AMSTI Partnership) helped to make the event a success. Other contributing partners included Georgia Tech Serve Learn and Sustain Program, Regional Center for Expertise in Education for Sustainable Development-Youth Network, and Forestry Suppliers.
*See photo highlights from the event here!
type: globe-news
News origin: United States of America