Read Latest Guest Blogs on NASA SMAP Soil Moisture Measurement Field Campaign
Dec 03, 2015
There are many schools participating in the current GLOBE/SMAP Soil Moisture Measurement Field Campaign. This week, GLOBE is featuring guest blogs from two of the participating schools collecting measurements.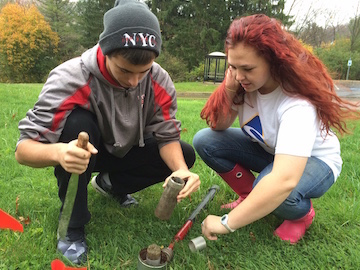 On Monday, 30 November, the guest blog featured Alfred State College in Alfred, New York: "Guest Blog by Alfred State College: From Milking Cows to Taking Soil Moisture Samples."
On Tuesday, 1 December, the guest blog featured Medford Memorial Middle School in Medford, New Jersey: "Guest Blog from Medford Memorial Middle School: Testing and Finessing Soil Moisture Measurements."
The NASA SMAP Soil Moisture Field Campaign began 1 October 2015 and will run through 30 April 2016. A SMAP Block Pattern Soil Moisture Protocol has been created so that GLOBE students can collect soil moisture measurements just like the SMAP satellite. With this campaign, GLOBE will offer webinars and blogs, as well ongoing interactions with NASA scientists.
Please join us in this exciting campaign! You can find all documents from this campaign here.
type: globe-news
News origin: GLOBE Implementation Office
---
Comments