GLOBE Mission Mosquito Webinars
February 9, 2 pm ET,
Bring your questions, students, and mosquito research, and questions to this interactive participant-driven webinar. The IVSS (International Virtual Science Symposium) deadline for project submissions is right around the corner. The GLOBE Mission Mosquito team is here to help get your project to the end and submission!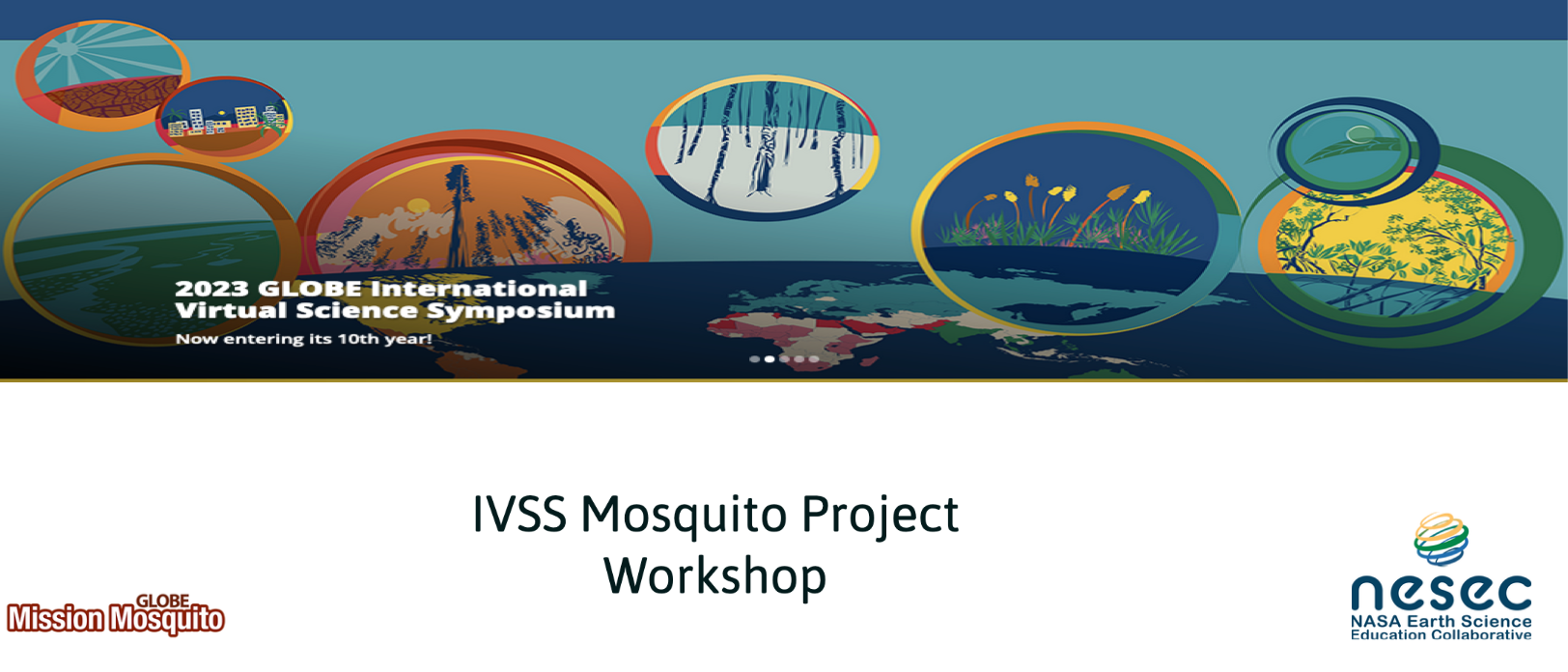 Register at https://bit.ly/MHM-IVSSWorkshop
Email cassie_soeffing@strategies.org with your suggestions for future webinars.
---
---
---
2023 Webinars
Sara Kirn, Citizen Science Strategist, NASA, to provide a broad overview of the NASA citizen science initiative-what it involves, why it is important, and a bit about her role in it and the role you, as citizen scientists can play in science projects, like GLOBE Mission Mosquito.
Links to the resources in the webinar:
---
2022 Webinars
Dr. Rusty Low shares her citizen science and GLOBE Observer efforts in Brazil, as a Fulbright Fellow. Her specific focus includes example resources that could be beneficial to students and teachers planning for GLOBE's 2023 International Virtual Science Symposium.
Links to the resources in the webinar:
Enjoy a demonstration of this self-paced activity guide as you learn about the deadliest animal on the planet for humans.
Completing the guide prepares you to participate in GLOBE Mission Mosquito. This international field campaign is connecting citizen scientists of all ages to monitor changes in the frequency, range, and distribution of potential disease vector mosquitoes by reporting observations using the GLOBE Observer Mosquito Habitat Mapper.
Download a copy here: https://bit.ly/MHM-LHtraining
GLOBE Observer Updates from Holli Kohl
One-week Pacing Guide from Marilé Colón Robles
Mosquito Habitat Mapper Pro Tips from Dr. Rusty Low
---
2021 Webinars
---
2020 Webinars
2019 Webinars
---
2018 Webinars
Learn how NASA scientists use Earth Satellite data in research about mosquito-borne diseases
Did you know NASA Earth satellite observation data is used to predict, monitor, and respond to mosquito-related diseases? Dr. Mike Wimberly will explain how he uses NASA data to study West Nile virus. Then, learn how your students can conduct their own science investigations using GLOBE protocols and the Mosquito Habitat Mapper tool. A GLOBE teacher will share tips on getting started!
GLOBE Mission Mosquito campaign kick-off webinar
During this kick-off webinar, we will explain the reason behind this new campaign, and share some of the ways in which the data collected will be useful to both scientists and those involved in public health efforts. You will hear from scientists in the field as well as from educator specialists who have developed a continuum of ways that you can be involved. This webinar is open to teachers, students, families, and others who might be interested in finding out more about the many ways this campaign might be implemented in classrooms around the world.