GLOBE US Partner Forum
The US is divided into six GLOBE regions. Each region has one representative on the US Partner Forum, who works closely to guide the future of GLOBE in the United States. The representatives for each region are listed below. If your region does not currently have a representative on the US Partner Forum, please contact the representative from a neighboring region.
IMPORTANT: US Partner Forum (USPF) members generally have monthly meetings via Zoom. This requires a functioning internet connection. Members are expected to attend at least 75% of the meetings over the course of a year. USPF members also meet at the North American Regional Meeting. To be productive, functional, and representative of their region, members need to fully participate in both the online meetings and any email correspondence each year of service. While a typical term of service is one to three years, members who do not fully participate in the groups, can be asked to step down from the group.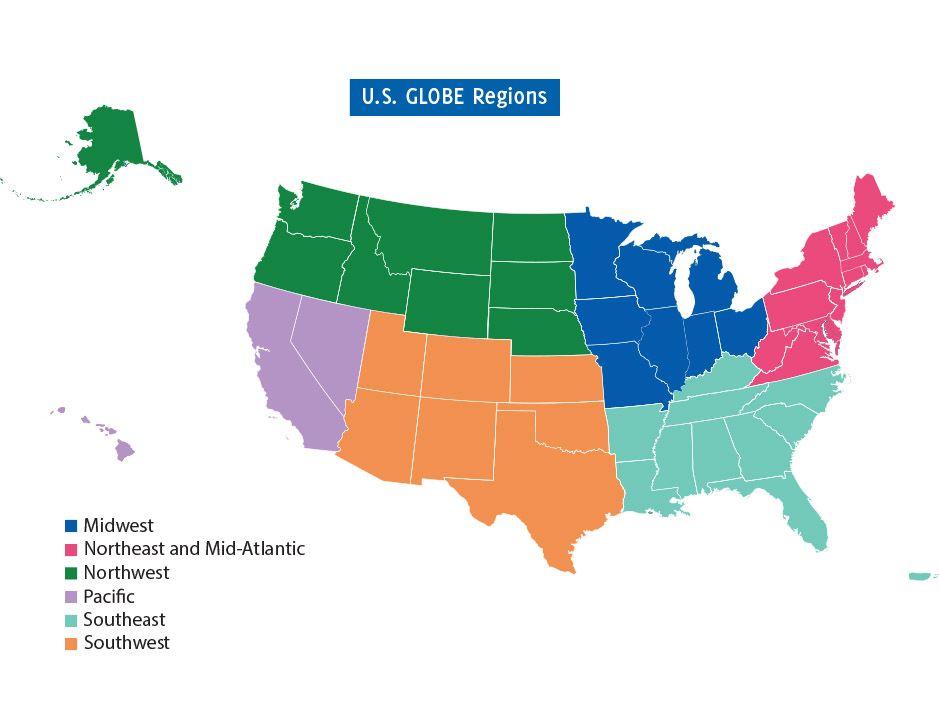 US Geographic Area
Representative Name
Partnership
Organization
Email
Service Years
Pacific:
California, Nevada, Hawaii
Tracy Ostrom
California
WestEd/UC Berkeley

tostrom (at) berkeley.edu

2018-2024*
Midwest:
Illinois, Indiana, Iowa, Michigan, Minnesota, Missouri, Ohio, Wisconsin
Sarah Nern
Indiana
Purdue University

snern (at) purdue.edu

2018-2024
Northeast and Mid-Atlantic: Delaware, DC, Connecticut, Maine, Maryland, Massachusetts, New Hampshire, New Jersey, New York, Pennsylvania, Rhode Island, Vermont, Virginia, West Virginia
Michael Griffith
New York
Berks Nature

michael.griffith (at) berksnature.org

2023-2025*
Northwest:
Alaska, Idaho, Montana, Nebraska, North Dakota, Oregon, South Dakota, Washington, Wyoming
Peder Nelson
Oregon
Oregon State University

peder.nelson (at) oregonstate.edu

2022-2025
Southeast:
Alabama, Arkansas, Florida, Georgia, Kentucky, Louisiana, Mississippi, North Carolina, South Carolina, Tennessee, Puerto Rico Territory
Kimberly Davis
Florida
Florida Agricultural and Mechanical University

kimberly.davis (at) famu.edu

2021-2024
Southwest:
Arizona, Colorado, Kansas, New Mexico, Oklahoma, Texas, Utah
Michael Odell
Texas
University of Texas Tyler

mrlodell (at) gmail.com

2023-2026
At Large
Jodi Haney
Ohio
Bowling Green State University

jhaney (at) bgsu.edu

2020-2026*
NASA
Tina Harte
Maryland
NASA Langley Research Center

tina.r.harte (at) nasa.gov

2020-2026*
*SECOND TERM