Resources
GLOBE Mission Mosquito has many resources available for download.
---
"
Beyond the Bite
" is designed as a reference guide to seven mosquito-borne diseases. Use it in both formal and informal education settings.
Zika Zap Bingo - This Mosquito habitat game can be used after a map-a-thon (how many of these habitats did we find?) or to build familiarity of the wide variety of places that mosquito larvae can be found. Once you are aware of the many types of breeding sites, you'll never look at the landscape the same way again!
Zika Zapp Bingo Game Call Slides: present the different habitats with a projector as players locate the habitats on their game cards
Zika Zapp Bingo Playing Boards: Includes 40 game cards and instructions
Mosquito Tellers - There are six mosquito tellers. Each is available in full color and gray scale.
Build a Mosquito Trap - This simple DIY trap will allow you to set up sites for ongoing monitoring of mosquito
breeding that can be reported using the GLOBE Observer Mosquito Habitat Mapper tool. Click on the image to download a PDF.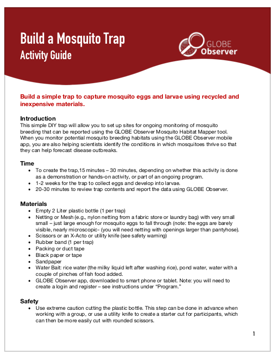 Mosquito Habitat Audit - Lead participants on an outdoor walk. Identify and eliminate potential mosquito
habitats along the way.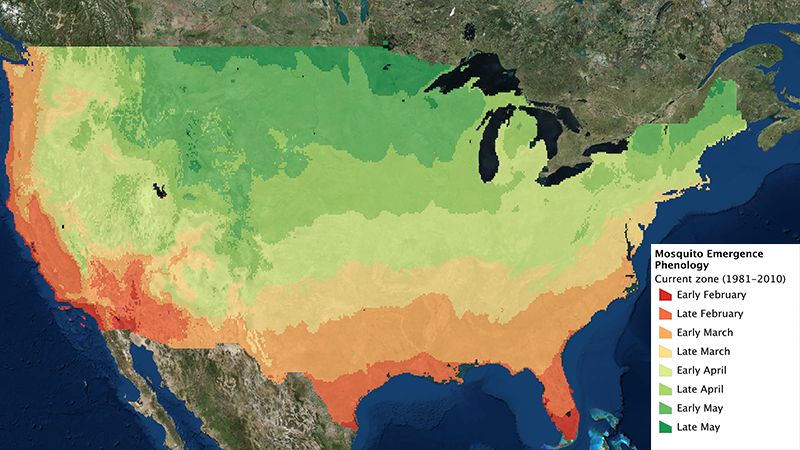 During the
March 13 Educator's Webinar,
Liz Burck, a GLOBE Mission Mosquito team member, introduced attendees to our recently developed investigation entitled, "
Local Mosquito Seasonality: Phenology (Educator's Guide)
."
Phenology is the study of the timing of biological events in the life cycle of an organism. In this investigation, students will gather data on the beginning, duration, and end of mosquito season in their locality, and compare that data to daily temperature readings. An analysis of the patterns and changes in those data sets will allow students to then interpret the impact of climate change on mosquito seasonality and range.
Zika Zine
About the Zika Zine
The fictional mosquitoes in the Zika Zine do the same sorts of things as real Aedes mosquitoes, which carry Zika virus. Read the Zine, learn how Aedes mosquitoes live, and you'll discover how to reduce the number of places where mosquitoes can survive. You'll also find out how citizen scientists are helping NASA by documenting mosquito habitats with GLOBE Observer. After you've read the Zika Zine, download the coloring pages, How to Draw Wanda in 9 Easy Steps and Make Your Own Zika Zine Comic and create your own mosquito pictures and stories.
The Zika Zine is an outreach effort ofUCAR/NCAR Center for Education, the GLOBE Zika Education and Prevention Project, an initiative of the GLOBE Implementation Office in partnership with the US Department of State.
Download the Zika Zine
Click on the image to download a PDF of the Zika Zine. Additional languages are available from UCAR/NCAR Center for Education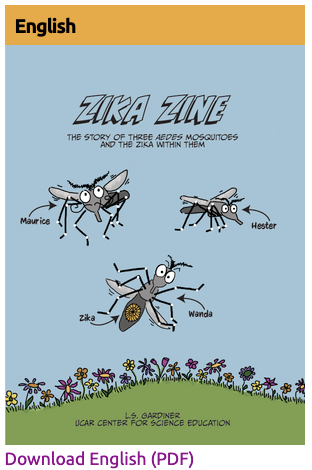 ---
GLOBE International Virtual Science Symposium
You've set your mosquito traps and successfully gathered and photographed larvae, used the Mosquito Habitat Mapper app to identify larvae and learn more about them, and collected data on potential breeding sites. Now you are wondering "so what's next?" Look no further than the 2019 GLOBE International Virtual Science Symposium (IVSS). The IVSS is a way for students from all GLOBE countries to showcase their hard work. Click here to learn more.
Science Fairs
Maybe you're not sure where to start but would like to know how to begin investigations and research for a science fair project. Click here to learn more.
General Mosquito Questions
Perhaps you just need an answer to a mosquito-related question. We've got a place just for your questions - Ask a Scientist.
More NASA datasets
Visualize NASA data in near-real time with Worldview.