An Assessment of the Role Urban Trees Play in Modifying Weather in a City Park
Student(s):Mohamedhussin Najaf, Zaher Damen, Anas Saleh
Grade Level:Secondary School (grades 9-12, ages 14-18)
Contributors:
Report Type(s):International Virtual Science Symposium Report, U.S. Student Research Symposia (SRS)
Protocols:Air Temperature, Barometric Pressure, Relative Humidity, Surface Temperature, Wind, Biometry (including Tree Height)
Optional Badges:Be a Data Scientist, Be a STEM Professional
Language(s):English
Date Submitted:03/10/2020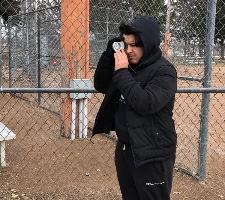 To assess the role trees play in modifying microclimates, an investigation was developed to measure the size (height and DBH) of over 120 trees at a park in Dearborn, Michigan. With the help of a professional forester, trees were identified by names for future research. The GLOBE Observer App helped to collect and submit the data. In addition, two PASCO weather stations helped to determine how trees modified selective weather parameters like wind speed, temperature, and relative humidity of two different sites in Levagood Park. Site 1 was an area centered among a group of trees, while Site 2 was in an open short grass field without surrounding trees. Students would go to the sites, place their devices, and begin recording simultaneously for approximately 15 minutes. The data was then used to make graphs for comparing the two data sets. After analyzing the data, multiple correlations were found between them. We found several similarities and differences between the two sites. Although the data was collected during the winter with no leaves on trees, we hope to continue our research during the active growing season of 2020 to compare the effects with leaves to the data collected in the winter.
Comments