The Effects of Native Tree Species on Ambient Air and Surface Temperatures in Southeastern Michigan
Student(s):Zeina Jebara Itidal Bazzi
Grade Level:Secondary School (grades 9-12, ages 14-18)
Contributors:
Report Type(s):International Virtual Science Symposium Report, U.S. Student Research Symposia (SRS)
Protocols:Air Temperature, Surface Temperature, Biometry (including Tree Height)
Optional Badges:Be a Data Scientist, Make An Impact
Language(s):English
Date Submitted:03/10/2020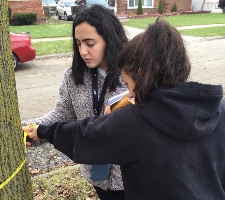 Gathering data is essential when developing strategies to improve an understanding of the impact urban trees potentially have in helping to mitigate the urban heat island effect. The GLOBE Observer App for trees was used to obtain tree height and circumference and a Pasco weather station was used to record weather data. All of the data was entered through the GLOBE data entry portal. Preliminary analysis showed that of the trees sampled, basswoods (Tilia americana) had the largest ability to reduce surface and air temperatures while the red maples (Acer rubrum) appeared to have a smaller effect. This research indicates that this tree species, when planted in a greater number in urban settings, might help to mitigate the warming effect that many anthropogenic structures and surfaces have in cities to a greater degree. As more and more people move to urban areas, it will be important to consider simple and inexpensive ways to keep them cool. By understanding which native tree species are the most suitable for reducing the urban heat effect, we can help mitigate some of the negative effects of climate change. Although most trees have the ability to reduce temperatures, this research sought to determine if some native tree species are a better choice than others. Further research must be conducted to evaluate other native tree species suitable for city plantings.
Comments