What are the ideal environmental conditions for a successful turtle nest?
Student(s):Hannah Vella, Mariah Borg, Thea Sultana, Julian Saliba, Audrey Micallef, Maya Bajada, Neil Mizzi, Daniel Grech, Andrew Zerafa
Grade Level:Middle School (grades 6-8, ages 11-14)
Contributors:Marvic Refalo, Claudia Caro Vera
Report Type(s):International Virtual Science Symposium Report
Protocols:Air Temperature, Barometric Pressure, Clouds, Relative Humidity, Surface Temperature, Soil Temperature
Optional Badges:Be a Collaborator, Be a Data Scientist, Be a STEM Professional
Language(s):English
Date Submitted:03/10/2021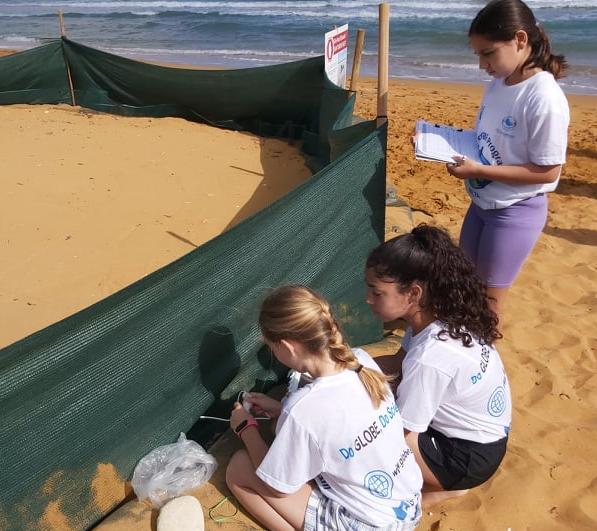 On Friday 29th May, at around 10pm, a loggerhead turtle was noted laying eggs on Ramla Bay in Gozo. The turtle came out of the sea at around 10pm and left around 11.30pm. This was the first recorded and confirmed nest in Gozo after 70 years. GLOBE students attending Gozo College Middle School started collecting data from the turtle nest site at Ramla Bay, Gozo. The purpose of this study was to investigate the ideal environmental conditions which result in a successful hatching rate. This study investigated the turtle nest site, sand temperature, weather conditions and cloud cover. The students measured air temperature, humidity and barometric pressure and the GLOBE Observer App and Observation Cloud chart to measure the cloud cover following the steps of the GLOBE Protocols (GLOBE, 2014). The main objective was to find out the sand temperature around the nest and how it affects the hatchings during the incubation period. Using an Infra-Red thermometer and 3 data loggers students measured sand temperature at a depth of 20cm and 80cm, surface temperature, air pressure, humidity and air temperature. Cloud type and cover were also observed and recorded through the GLOBE Observer App.
Comments