Have App, Will Travel! Read the Latest Community Blog: "Live From the Field: Mosquito Habitat Mapping in Honolulu, Hawaii, USA"
Feb 27, 2019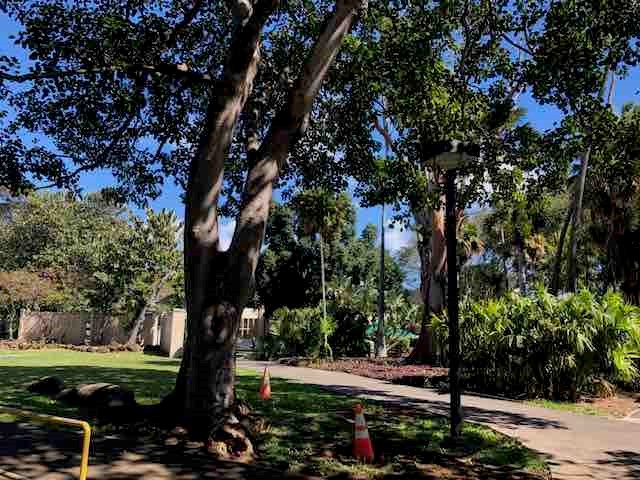 In a recent GLOBE Community Blog, Dr. Russanne (Rusty) Low, GLOBE Mission Mosquito Science Lead, describes her field experience at the campus of the University of Hawaii, Manoa, collecting data using the GLOBE Observer App.
"I had the good fortune to meet Dr. Floyd Reed, a professor in the Department of Biology," Dr. Low explained in her blog. "His lab is involved in modifying strains of Culex mosquitoes so that they are unable to transmit avian (bird) malaria, a disease responsible for the ongoing extinction of many of Hawai'i's native bird species."
"Dr. Reed agreed to go out and collect mosquitoes with us this morning, using the GLOBE Observer Mosquito Habitat Mapper. One caveat: he made us promise to not dump out water or mitigate the site, because the site he was going to show us was his "nursery" where he obtained specimens to use in the lab. Of course, we agreed – he is raising mosquitoes for science."
To find out how this GLOBE Mission Mosquito field experience unfolded, read Dr. Low's blog!
To read other recent community blogs, click here.
What's your GLOBE story? As a vital part of the GLOBE community, you are cordially invited to blog on the GLOBE website. Respectfully voice your opinion, ask questions, share tips and tidbits – and make meaningful connections with members of the community today!
The GLOBE Community Support Team (CST) has recorded a new, updated, demonstration video on how to create your blog post. To watch the video, click here. We want to hear your GLOBE story today!
type: globe-news
News origin: GLOBE Implementation Office
---
Comments