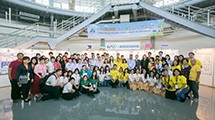 10/17/2018
2018 GLOBE Taiwan Science Festival
For three days in July (20-22) the GLOBE Taiwan Office hosted the 2018 GLOBE Taiwan Science Festival in Taichung, Taiwan. 76 teachers and students from Taiwan, Thailand and the Philippines participated in this event.
>>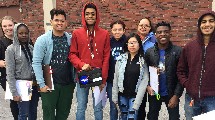 06/05/2018
Lexington School for the Deaf Students (New York, USA) Discover their Power to Contribute to Science in a Significant Way
In March 2018, GLOBE students at the Lexington School for the Deaf (located in East Elmhurst, New York, USA) began participating in the GLOBE U.S. Air Quality Student Research Campaign. Raising their focus to the sky, the high school students soon became adept at using GLOBE's atmosphere protocols and Calitoo sun photometers to gather their elevated observations. Along the way, they also discovered their ability – as individuals and as a team – to make significant contributions to science.
>>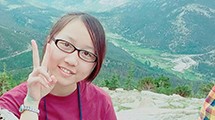 06/15/2017
Tzu-Ying Yang -- STEM Stories: GLOBE Taiwan
"We not only got to share what we learned and what we loved with participants from all over the world, but we also had the opportunity to listen to reports from many experts and other students. Everyone there showed great passion for GLOBE. This made me have even more enthusiasm for learning science and participating in science activities. GLOBE has inspired me a lot. I know now that I want to study Earth Science further."
>>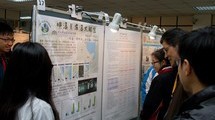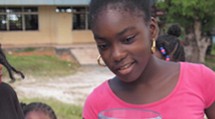 02/15/2017
Educating Students in Suriname: GLOBE Atmosphere Protocol
GHFS presented on and educated the children in the GLOBE Atmosphere Protocol. Their aim was to provide the villagers of Brownsweg a better understanding of the Earth's climate. The students participated by taking weather station measurements, making rain gauges and thermometers from plastic bottles, art-inspired projects on clouds, and doing data entry on the GLOBE website.
>>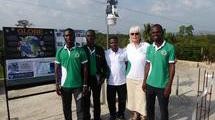 01/26/2017
GLOBE Weather Station Installed During Teacher Training in Ghana
Heyne-Mudrich brought a new weather station to the Westphalian Senior High School in Oyoko, Ghana. (This weather station was sponsored by the Gymnasium Schloß Neuhaus in Paderborn, Germany.) The weather station was successfully installed on the roof of the school's new laboratories.
>>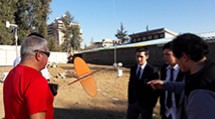 01/11/2017
Conducting Atmospheric Experiments and Raising Awareness in Chile
The meterological campaign conducted by Professor Nicolás Huneeus Ph.D involved a cycle of measurements at three sites in Santiago, Chile to record the standard environmental parameters of temperature, atmospheric pressure, relative humidity, wind, and wind direction.
>>