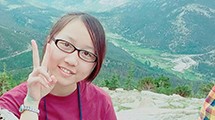 06/15/2017
Tzu-Ying Yang -- STEM Stories: GLOBE Taiwan
"We not only got to share what we learned and what we loved with participants from all over the world, but we also had the opportunity to listen to reports from many experts and other students. Everyone there showed great passion for GLOBE. This made me have even more enthusiasm for learning science and participating in science activities. GLOBE has inspired me a lot. I know now that I want to study Earth Science further."
>>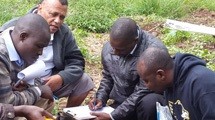 01/12/2016
GLOBE Teacher Training Workshop in Kenya
During December of 2014 the GLOBE Program in Kenya successfully conducted a five-day international GLOBE teacher training workshop. The workshop took place at the Centre for Mathematics, Science and Technology Education in Africa (CEMASTEA) in Nairobi, Kenya.
>>
04/25/2012
Second Geoscience Alliance National Conference Strengthens GLOBE Tribal Collaborations
GLOBE has a long history of Tribal College collaboration, initiated through activities with Stone Child, Diné-Shiprock, Little Big Horn, Salish Kootenai, Dull Knife, Blackfeet Community, Fort Peck, and Fort Belknap Colleges of Montana; Crownpoint Institute of Technology of New Mexico; Haskell Indian Nations University of Kansas; and White Earth Tribal & Community College of Minnesota.
>>
04/13/2012
Sound to Sea Program Educates Student Scientists through GLOBE Protocols
For thirteen years GLOBE Partner Sidney Post has worked closely with the Sound to Sea program in North Carolina to integrate GLOBE protocols into the program's backbone, leading to a wealth of information for students and researchers to use. His partnership, the Watershed Action Team, is responsible for recruiting GLOBE schools in the Hope Mills area of North Carolina, training GLOBE teachers, and mentoring GLOBE students in the Cape Fear River Basin.
>>
04/05/2012
Uruguay Students Look for Life in the Miguelete Stream
Since Uruguay joined the GLOBE Program in 1995, students and teachers have been involved in intensive research projects that aim to improve understanding of the environment amongst themselves and their community. The Republic of India Primary School No. 85 is one of the most productive in Uruguay thanks to the work of dedicated GLOBE teacher Patricia Píriz. Since 2010 students in this school have been involved in a research project to verify the presence of aquatic macroinvertebrates in the Miguelete Stream, one of the most important water sources in Montevideo. The stream measures ​​22 kilometers in length and crosses the city from north to south. It was at one time a preferred site for locals to walk and relax, but has become so polluted in recent years that in 2003 it was categorized as a "dead water course" by "Geo-Uruguay Juvenil," the document on the state of the Environment in 2003. The same was reported by the "Primer Informe Ambiental Montevideo" (IMM) in 2001 when the only existence of an arthropod, an annelid, and a mollusk was reported in the Miguelete.
>>
03/30/2012
OPF Girls College in Pakistan Conducts Studies Built on GLOBE Curriculum
Students and their teachers at Overseas Pakistanis Foundation (OPF) Girls College conduct ongoing GLOBE activities in their Earth Science classes. The school is located in the urban center of Islamabad, and attending students range from four to 24 years in age. Islamabad is the 10th largest city in Pakistan, and currently houses over 1.7 million people.
>>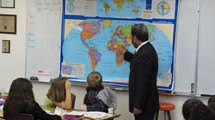 10/19/2011
Students View Climate Differently From the Summit of Mt. Kilimanjaro
Mt. Kilimanjaro stands 5,895 meters or 19,341 feet above sea level. From this vantage point, the inquiring minds of GLOBE students went to work alongside dedicated educators and scientists who all gathered in Tanzania, Africa for the 3rd annual Kilimanjaro Xpedition––a climb up the largest freestanding mountain in the world.
>>