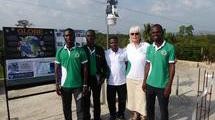 01/26/2017
GLOBE Weather Station Installed During Teacher Training in Ghana
Heyne-Mudrich brought a new weather station to the Westphalian Senior High School in Oyoko, Ghana. (This weather station was sponsored by the Gymnasium Schloß Neuhaus in Paderborn, Germany.) The weather station was successfully installed on the roof of the school's new laboratories.
>>
07/16/2008
International Honors for Young Climate Scientists in Germany
Students of the Max-Planck School in Kiel, Germany, entered the GLOBE community relatively quietly, but just one year after joining, they happily found themselves involved in the program at a level they had not anticipated. In 2006, the school became part of the pilot project "Global Climate Exchange Education for School Children" between Germany, Cameroon and Estonia.
>>
02/12/2008
GLOBE Germany 2007 School of the Year
Gymnasium Schloß Neuhaus in Paderborn was awarded the prize as GLOBE Germany School of 2007. This honor was bestowed on students and headmaster of the school on 17 November in Bad Hersfeld during the yearly GLOBE Conference. The Award was presented by Professor Seybold, who founded the first GLOBE groups in Germany and started the first evaluation for GLOBE.
>>
11/29/2005
The 6th GLOBE Germany Students' Congress at the DLR School Lab in Cologne Porz
The Project Department "Agenda 21 in schools and youth work" at the North Rhine-Westfalia institute for schools, which is in charge of the NRW Globe-Germany schools, hosted the Globe-Germany Students' Congress for the second time on June 8, 2005, together with the DLR School Lab in Cologne-Porz. This was the 6th congress since 2000 and the third one at DLR.
>>
02/28/2000
Realschule Cuxhaven, Cuxhaven, Germany
GLOBE students in Cuxhaven Germany are truly taking a "global" approach to their environmental studies. Since the summer of 1999, the Realschule Cuxhaven has been is in contact with researchers at three South Pole scientific stations - learning about the life and climate conditions 13,839 km away.
>>
01/07/2000
Mittelschule Elsterberg, Elsterberg, Germany
Mittelschule Elsterberg was one of the first GLOBE schools in Germany, selected as part of the country's initial GLOBE pilot project of 27 schools. Their contributions to science have been recognized by local media, and their work has been featured on television several times.
>>
11/08/1999
Lise-Meitner Gesamtschule Koeln-Porz, Koeln, Germany
GLOBE students in Germany demonstrated their impressive understanding of global climate issues during the recent visit of a U.S. diplomat to their school. Assistant Secretary of State for Oceans and International Environmental and Scientific Affairs David Sandalow visited the Lise-Meitner-Gesamtschule in Koeln as part of his trip to Germany for discussions with world leaders on environmental issues.
>>
10/18/1998
Greek Teachers Tour Germany
On Sunday, October 26, twenty GLOBE teachers from Greece arrived in Koeln City, Germany accompanied by their support team from the University of Athens: Nektaria Adaktilou, Nektarios Chrysoulakis, and Athanasios Andritsos.
>>