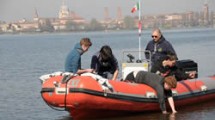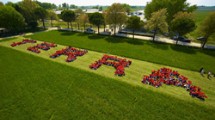 07/08/2011
GLOBE Students Across the World Celebrate Earth Day 2011
Sixteen years ago, on Earth Day, 22 April 1995, the GLOBE program was launched. In 2011, the international GLOBE network has grown to include 111 participating countries, with each country implementing GLOBE into local schools and communities.
>>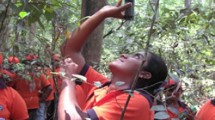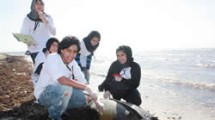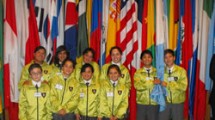 06/29/2011
GLOBE Chile Promotes Leaders for the Future
In December 2010, students, teachers, scientists, government representatives, and Chilean authorities gathered at the United Nations Building in Santiago, Chile, to share the results of GLOBE research conducted in two of the country's watershed areas.
>>
06/17/2011
2011 Europe & Eurasia GLOBE Annual Conference in Kiev, Ukraine
The Europe & Eurasia GLOBE Annual Conference and national training event was held from 1-6 June in the National Ecology and Nature Center in Kiev, Ukraine. Representatives from 20 countries including Croatia, Cyprus, Czech Republic, Estonia, Finland, France, Hungary, Iceland, Israel, Italy, Latvia, Lithuania, Netherlands, Norway, Poland, Russia, Switzerland, U.K., U.S. and Ukraine attended to discuss future regional activities for GLOBE and exchange ideas.
>>
04/15/2011
Teachers in Udaipur, India, Receive Field-Based GLOBE Training
The Indian Environmental Society, along with the support of the Public Affair Section of American Embassy in New Delhi, organized a GLOBE Teacher Training Workshop in Udaipur, Rajasthan, India. Teachers from various schools across the state of Rajasthan participated in this program from 27-30 January 2011.
>>
04/07/2011
University Students Use GLOBE Data to Carry Out Climate Research
Second year meteorology students from Peru's National Agrarian University in La Molina carried out a research project concerning the latitudinal variation of the Earth's air temperature using data from GLOBE Schools located in different parts of the world. This research was conducted by students with the guidance of GLOBE Teacher and Master Trainer Claudia Caro Vera.
>>
04/05/2011
GLOBE Estonia Brainstorms New Teaching Methods at Seasons and Biomes Workshop
On 10-13 March 2011, GLOBE Teachers, Trainers and Scientists from Belgium, Estonia, Switzerland, and the United States met in Estonia for a four-day Seasons and Biomes workshop. The organizing team consisted of Dr. Elena Sparrow, PI of the ESSP Seasons and Biomes project as well as the Alaska UAF GLOBE Partner Coordinator, Ms. Martha Kopplin, Project Coordinator for the Seasons and Biomes project and GLOBE Trainer, and GLOBE Scientist Mr. Bill Kopplin.
>>