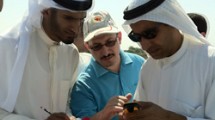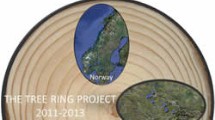 10/19/2011
Students View Climate Differently From the Summit of Mt. Kilimanjaro
Mt. Kilimanjaro stands 5,895 meters or 19,341 feet above sea level. From this vantage point, the inquiring minds of GLOBE students went to work alongside dedicated educators and scientists who all gathered in Tanzania, Africa for the 3rd annual Kilimanjaro Xpedition––a climb up the largest freestanding mountain in the world.
>>
08/22/2011
GLOBE Students Practice Sun Photometer Use in Kiskunhalas, Hungary
On 26-28 May 2011, six Hungarian schools came together in Kiskunhalas, a city in southern Hungary located about 130km south of Budapest, to share research and discuss proper use of the sun photometer, an instrument used to collect data when performing the GLOBE Aerosols Protocol.
>>
03/08/2011
GLOBE on the Border: Student Achievements in El Paso, Texas, and Sunland Park, New Mexico
Approximately 350 million people cross the U.S./Mexico border each year, making the stretch of land between the Pacific Ocean and the Gulf of Mexico the most frequently crossed international border in the world. GLOBE schools have monitored this area for many years, producing amazing research reports and sharing their results with community members on both sides of the border. Two of the most active border cities, El Paso, Texas, located on the banks of the Rio Grande River across the U.S./Mexico border from Ciudad Juárez, Chihuahua, Mexico, have long operated as a solitary community, with residents shuttling back and forth for both work and leisure.
>>
02/28/2011
AMSTI-GLOBE Promotes GLOBE Days and Science on a Sphere at ASTA Conference
AMSTI-GLOBE a Partnership between the GLOBE Program and the Alabama Math, Science, and Technology Initiative (AMSTI), was busy last year with a host of events. On 12-13 October, fifth through eighth grade Stevenson Middle School students spent two days exploring Earth and environmental science activities during GLOBE Days in Stevenson, Alabama. GLOBE was integrated through Hydrology, Land Cover, and a number of GPS activities including geocaching, races, and mapping games.
>>