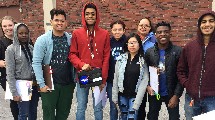 06/05/2018
Lexington School for the Deaf Students (New York, USA) Discover their Power to Contribute to Science in a Significant Way
In March 2018, GLOBE students at the Lexington School for the Deaf (located in East Elmhurst, New York, USA) began participating in the GLOBE U.S. Air Quality Student Research Campaign. Raising their focus to the sky, the high school students soon became adept at using GLOBE's atmosphere protocols and Calitoo sun photometers to gather their elevated observations. Along the way, they also discovered their ability – as individuals and as a team – to make significant contributions to science.
>>
09/02/2010
New York Teachers Learn Implementation Techniques at GLOBE Training
The Daily Star recently featured Dr. Todd Ellis, Director of the Central New York GLOBE Partnership and Assistant Professor of Meteorology at The State University of New York (SUNY) in Oneonta, for a GLOBE Training Workshop on Environmental Teaching Strategies held at the university for both teachers and education students.
>>
04/02/2010
GLOBE Students Make a Splash in the Big Apple
Science Cluster teacher Fran Bosi took a leap and jumped in to discover what lurked under the water in a local pond. Employing the GLOBE Freshwater Macroinvertebrate protocol, and working with Peter Schmidt, Associate Director of GLOBE NY Metro, Bosi led two fifth grade classes, from the Alexander Graham Bell School in Bayside Queens, on an investigation involving animals living in a pond at Alley Pond Park.
>>
12/09/2008
From Eyesore to Eden: New York City GLOBE Schools Monitor Historic Conversion of Landfills to Parkland
For decades, garbage trucks deposited New York City's waste in two large landfills adjacent to Jamaica Bay on the south shore of Brooklyn and Queens just minutes from John F. Kennedy International Airport. The combined 400-acre Pennsylvania Avenue/Fountain Avenue landfill site was a local eyesore, to say nothing of its effects on the nose and throat, and requited Superfund cleanup that began in the late 1980s. Today, years of renovation work by the New York City (NYC) Department of Environmental Protection and New York State (NYS) Department of Environmental Conservation are nearing the goal of converting these former environmental disasters to a remarkable park that will be turned over to the National Park Service, Gateway National Recreation Area, for the enjoyment of all New Yorkers.
>>
09/08/2005
The GLOBE School for Environmental Research, Region 2 (East Bronx), New York City
The GLOBE School for Environmental Research opened its doors this September to 216 sixth grade students in the Wakefield neighborhood in East Bronx. This middle school (Grades 6-8) is one of 54 new small schools approved by the New York City Department of Education from more than 100 proposals, and represents a partnership among the Department of Education, Region 2, Queens College's GLOBE NY Metro Partnership, the YMCA of Greater New York, and the New York Botanical Gardens.
>>
03/07/2002
GLOBE at the United Nations
In her address to an international audience at the United Nations early this year, 8-year-old Kahja Reid talked about the weather. She described how her third-grade class set up their GLOBE weather station (with a little help from a couple of fellows named Ken and Renzo from a local fence company) and how they do atmosphere protocols.
>>
03/14/2000
Middleport Elementary School, Middleport, NY, United States
GLOBE students at Middleport Elementary School in New York are living examples of what teamwork can accomplish. Students with a wide range of physical and learning challenges and abilities are working cooperatively to learn about their local environment and share their observations through the GLOBE Web site.
>>
05/13/1999
GLOBE Stars in New York
From the stately halls of the United Nations Building in downtown New York City to the backwoods of rural New York State, GLOBE Teachers Patsy Cicala and Wayne Gilchrest are working with hundreds of students to expand global and local knowledge about the Earth's environment.
>>