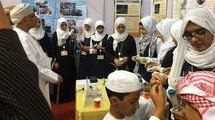 02/08/2017
GLOBE Students Present at Science Fair in Oman
Between 20-22 March 2016, GLOBE Oman held the Scientific Student Inventions of Artificial Intelligence and GLOBE's Environmental Research Fair at the Ministry of Education's stage. The number of participating students in the event this year reached an impressive 118, with 30 of those students presenting in an entire wing for the GLOBE program.
>>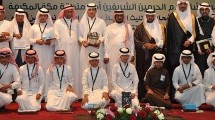 04/12/2016
GLOBE Saudi Arabia Cloud Competition
GLOBE Saudi Arabia recently held a cloud competition, inviting all GLOBE students in the country to increase their knowledge of clouds by observing them and submitting their best photos and videos.
>>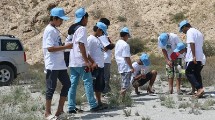 02/23/2016
GLOBE Oman Student Camp 2015
120 students, 50 teachers, and about 30 supervisors and staff members participated in a three-day event in March of 2015 at the GLOBE Oman Student Camp.
>>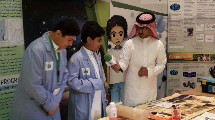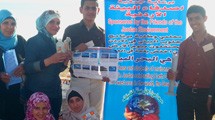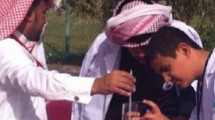 04/29/2015
GLOBE Training in Saudi Arabia
Approximately 150 teachers and local coordinators representing all Educational Directorates in Saudi Arabia, came together in Al-Ahsa to be trained in basic GLOBE protocols in Atmosphere, Hydrology and Soil, as well as GPS and data entry.
>>
06/17/2014
Oman Hosts Its First GLOBE Science Fair
The Ministry of Education in Oman organized a five-day training event for teachers and supervisors from 22 schools, including ten new schools, to the Sultanate's GLOBE Program. With the addition of these new schools, the GLOBE Program is now active in every region in Oman.
>>
12/19/2012
Saudi Arabia Field Study Engages Girls in GLOBE Research
Saudi Arabia joined GLOBE in 2002 and was implemented into boys schools across the country. In 2011, GLOBE implementaion expanded to 24 Saudi girls schools in 12 educational districts; and in 2012 this number increased to 43 active schools at 22 educational districts. Al-Kharj is one of the 12 educational districts that implemented GLOBE in two girls schools in 2011: Al-Hayathem Intermediate and Secondary Girls School and the 9th Secondary Girls School.
>>
07/31/2012
First National Environmental Competition for Girls in Saudi Arabia
On 27 – 28 February 2012, Saudi Arabia celebrated its first National Environmental Competition for Girls. During the 2011-2012 school year, the nation announced this competition as one of many interactive GLOBE projects being implemented in Saudi schools. GLOBE Deputy Country Coordinator and member of the GIAC Mrs. Norah Ibrahim Al Nasser organized the event and Mrs. Naemah Al Alwani, Head of the Department of Student Activity, supervised the final stages with the assistance of Competition Coordinator Mrs. Somayah Al Nazawi.
>>