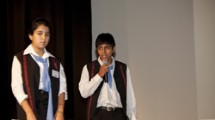 06/13/2011
GLOBE Students Run for Water in Buenos Aires
Each day millions of people in many countries walk an average of six kilometers a day to access drinking water. In 2010, a series of 6K run/walks aimed at raising awareness about the need for water rationing took place over 24 hours in 200 cities across 180 countries and six continents.
>>
07/26/2010
Pujato Community Makes Global Impact at International Book Fair
The 36th Buenos Aires International Book Fair took place 22 April-10 May 2010 at La Rural Exhibition Center in Buenos Aires, Argentina. The fair is considered one of the most important cultural events in Latin America and is one of the largest expositions in the Spanish-speaking world.
>>
03/15/2010
Argentina Workshop Introduces Educators and Environmentalists to GLOBE
Professors at the University of La Punta (ULP) in San Luis, Argentina, were introduced to GLOBE in a training workshop hosted on campus to familiarize local educators with GLOBE protocols in the areas of atmosphere/climate, hydrology, land cover/biology, soil, and phenology. These ULP faculty, participating in "Todos los Chicos en la Red" (All Kids Online), will use tools they created in the workshop to perform GLOBE protocols, relaying results through the use of computer and internet technology.
>>
07/23/2009
Students in Argentina and USA Discuss Research on the Impact of Fire on Climate
On 24 April 2009, GLOBE students from CEI "San Ignacio Junín de los Andes" in Patagonia, Argentina, and Desert View Elementary School in New Mexico, USA, met online through Skype conferencing. Their discussion, in Spanish, was facilitated by GLOBE teachers Ana Prieto in Argentina, and Albert Álvarez Ortiz and Eduardo Colom in New Mexico, who saw the value of arranging a scientific and culture exchange based on GLOBE student research.
>>
04/08/2003
GLOBE Grows in Two of the World's Southern-most Countries
Teachers from six Latin American GLOBE countries and Spain came together under the GLOBE umbrella recently during two October training workshops in Chile and Argentina, which coincided with the Southern Hemisphere's springtime.
>>
12/09/2002
GLOBE Argentina Video Conference: Pondering Earth and Space
GLOBE students and teachers linked up with scientists and astronauts from Argentina and the United States at a video conference in June entitled "El Espacio, La Ciencia, y el Medio Ambiente" (Space, Science and the Environment). Video and audio equipment joined four sites: Buenos Aires, San Luis and Santa Fe in Argentina, (which also hosted GLOBE students and teachers), and the Johnson Space Center in Houston, Texas, USA. Officials from Argentina's space agency, Comision Nacional de Actividades Espaciales (CONAE) joined officials from the U.S. National Aeronautics and Space Administration (NASA) in presenting topics from manned activities in space to the latest satellite projects.
>>
03/14/2001
Teachers Trained Amid Natural Beauty of Argentina
GLOBE teachers and students get to spend wonderful hours outdoors in their studies of science. There was a particularly spectacular setting for a special GLOBE training in the Reserva Ecologica Costanera Sur, an ecological reserve in the heart of Buenos Aires, Argentina.
>>