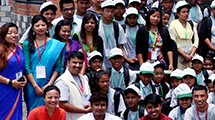 07/19/2017
National Child Club Conference in Nepal
During the conference the students learned how they can take part in practical science and how to view and analyze data collected from around the world.
>>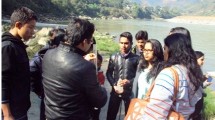 02/28/2015
UNESCO-GLOBE Learning Expedition in Nepal
Teachers, students and scientists from India, Nepal and Sri Lanka joined together in a collaborative learning experience, the UNESCO-GLOBE Learning Expedition.
>>
07/12/2012
Nepal Water Classroom Marks a Milestone in Hydrology Studies
Shree Yashodhara Bauddha Secondary, a GLOBE School in Lalitpur, Nepal, has the privilege of hosting the Water Classroom, where students, educators, and others can stop by and learn about water. GLOBE is instrumental to this initiative as the program helps enhance the Water Classroom through hands-on protocols and the program's relationship with the environmental science community both locally and internationally.
>>
11/27/2007
Nepali Students Help Ensure Quality of Life in the Kathmandu Valley
The Bagmati River is the principal river of the Bagmati River Basin in central Nepal. Fed by springs, monsoon rainfall and a number of tributaries, the river originates in the north of Kathmandu Valley and flows on to North India, where it empties into the Ganges. For centuries it has been celebrated in music, poetry and literature because of the importance it holds in the cultural traditions of the Nepali people.
>>
01/12/2001
GLOBE Reaches Great Heights in Nepal
More than 80 teachers, scientists and educators from eight Asia-Pacific countries came together at the GLOBE International Teacher Training Workshop in Kathmandu, Nepal to learn how to teach students program protocols and how the earth works as a system.
>>