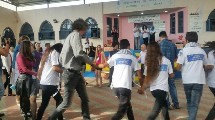 07/13/2012
Netherlands Hosts GLOBE Europe and Eurasia Regional Meeting
On 11-14 June 2012, GLOBE Country Coordinators from 18 countries (Belgium, Cyprus, Czech Republic, Estonia, Finland, France, Greece, Hungary, Italy, Latvia, Netherlands, Norway, Poland, Portugal, Russia, Switzerland, UK, and Ukraine) gathered in Utrecht, Netherlands, for the 2012 Europe and Eurasia Regional Meeting. The meeting was held in conjunction with the INESPO Sustainability Olympiad (held 9-15 June) where more than 300 students ages 13-18 came together from 43 countries to present proposed solutions for environmental problems.
>>
04/05/2001
Life-long Learners Help GLOBE Grow in The Netherlands
Six adult volunteers were trained in the GLOBE protocols recently in Bennekom, The Netherlands, so they can support GLOBE activities in their communities. The Dutch program aims specifically at training post-career adults who have enough free time to be able to assist GLOBE teachers and students. These volunteers - four men and two women-help school children to perform their GLOBE protocols, and - very importantly-- to enter their data on the GLOBE website for scientists and other GLOBE students to analyze.
>>
04/04/2000
International College Edith Stein
Serving as ambassadors for the GLOBE Program, students from International College Edith Stein in The Netherlands recently participated in an international gathering of professionals devoted to the preservation and enhancement of the global water environment. On March 21, the students shared their contributions to monitoring the world's water bodies with participants representing 155 countries at the the World Water Forum in The Hague.
>>
11/11/1998
Greek Teachers Tour The Netherlands
After visiting Germany, the Greek teachers crossed the border to the Netherlands, where they were introduced to the Dutch GLOBE Program by Country Coordinator Martin Bosch. The two groups sang a song composed in Holland, "GLOBE Homepage, Here We Come!" The Greek participants were inspired to begin composing their own GLOBE tune!
>>