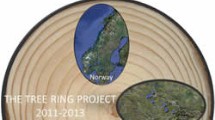 12/09/2010
Teachers Represent GLOBE at International Polar Year Oslo Science Conference
The International Polar Year (IPY) Oslo Science Conference, the largest ever Global Impact Gathering, took place from 6-12 June 2010. The event included polar and climate scientists from all over the world, members of indigenous peoples from Scandinavia and Russia, dignitaries from Norway and other European countries including Crown Prince Haakon as well as Prince Albert of Monaco, young polar scientists from the Association of Polar Early Career Scientists (APECS) and many GLOBE community members including GLOBE Program Seasons and Biomes phenology scientist and U.S. Partner, Dr. Elena Sparrow, who also served on the overall conference organizing committee.
>>
06/13/2006
Norwegian GLOBE School Passes its 100,000th Measurement Mark!
In the seven years since the Vang barne-og ungdomsskule (K-10) in Valdres, Norway, started the GLOBE Program, they have amassed over 100,000 measurement points. On 30 May the school celebrated the momentous occasion with a big party, during which seven students together pushed the button to enter the 100,000th measurement. With enthusiasm and pride, they watched a special video message from GLOBE acting Director Ed Geary congratulating them on their accomplishments.
>>
04/20/2004
GLOBE Arctic POPs Project Moves Forward
Since 2001, 15 GLOBE schools in Canada, Finland, Iceland, Norway, Russia, Sweden, and United States have been working on a joint research project to better understand the distribution of Persistent Organic Pollutants, commonly called POPs, in the Arctic region. Teachers and students at these schools have been working closely with two scientists, Eldbjorg Heimstad and Geir Endregard, at the NILU Polar Environmental Centre in Tromso, Norway.
>>
12/21/1998
Rogne skole, Rogne, Norway
GLOBE students at the Rogne Skole in Norway are working hard to learn more about the local and global environment, and to share their knowledge with the entire community!
>>