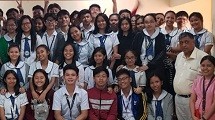 03/29/2019
GLOBE Asia and Pacific Orientation Seminar
The GLOBE Asia and Pacific Regional Coordination Office in collaboration with GLOBE Philippines organized a GLOBE Program School Orientation Seminar on January 31, 2019.
>>
10/03/2007
GLOBE Philippines Explores the Inner Space of the Celebes Sea
GLOBE cooperating organizations The National Oceanic and Atmospheric Administration (NOAA), National Geographic Society and Filipino and American scientists are currently on a deep sea expedition to learn about the marine biodiversity in the 'Coral Triangle,' a largely unexplored area in the Celebes Sea, south of Mindanao Island, Philippines.
>>
05/18/2006
GLOBE Program in Philippines trains Schools to Monitor the Manila Bay Coastline
Aimed at creating a network of GLOBE Program Schools along the coastline of Manila Bay to gather data relevant to its environmental state, the GLOBE Program in Philippines, in cooperation with the Indiana University Alumni Foundation (IUAF) Philippines, Inc. and the Philippine Science High School (PSHS) Main Campus, conducted a teacher training workshop entitled "Environmental Monitoring of Manila Bay using GLOBE Protocols."
>>
02/04/2000
Philippine Science High School Western Visayas, Iloilo City, Philippines
GLOBE students at Philippine Science High School Western Visayas in Iloilo City didn't want to wait for their weather station to arrive to start making and reporting observations. Eager to get started, they contacted scientists at the Philippine Atmospheric Geophysical and Astronomical Services Administration (PAGASA) and got permission to establish a GLOBE study site and report data using their instrumentation site until the school has its own.
>>