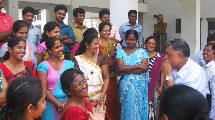 11/16/2016
Teachers, Trees and Trainings in Sri Lanka
Between 2-3 October 2016, GLOBE Sri Lanka held a teacher training for the teachers of the 12th GLOBE teacher group at the National Institute for Education (Maharagama, Colombo, Sri Lanka). During the two-day training, teachers were instructed in the biosphere protocol.
>>
11/02/2012
Symposium Raises Urban Lake Awareness in Sri Lanka
GLOBE India and GLOBE Sri Lanka recently came together for the International Workshop and Symposium on Urban Lake Monitoring and Management. Held at Sri Lanka's University of Peradeniya, a group of 50 GLOBE teachers and other participants gathered to hear researchers present papers on urban lake monitoring.
>>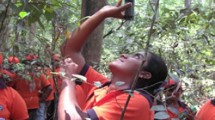 01/09/2008
Sri Lankan GLOBE Club Develops Tools for Outreach and Collaboration
The official Web site of the GLOBE Club of Maliyadeva College in Kurunegala, Sri Lanka, was ceremoniously launched 5 December 2007 by Mr. R.M.M. Rathnayake, the Principal of the College. With guidance from the Ministry of Education and other GLOBE Clubs in Sri Lanka, the Maliyadeva GLOBE Club is the first to launch a Web site dedicated to furthering information about GLOBE activities in Sri Lanka.
>>
01/31/2006
The GLOBE Campaign and GLOBE Day, Maliyadewa College, Kurunegala, Sri Lanka
The GLOBE Program in Sri Lanka organized a National GLOBE Campaign and GLOBE Day on 20-21 October 2005, at Maliyadewa College, Kurunegala. The event was a residential program including more than 275 students representing 32 schools and 60 teachers. The GLOBE Campaign and GLOBE Day were organized to increase awareness of the GLOBE Program among school children as a measure to expand student participation in GLOBE activities. These GLOBE activities were designed to share the experience gained by senior GLOBE students with newly enrolled students to the GLOBE program in the schools.
>>