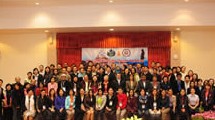 02/18/2010
From Earth's Atmosphere to the Deep Sea: Students and Teachers Collaborate in Thailand
On 6 - 14 January 2010, the Climate Change Education and Earth System Science (CES2) conference took place in Phuket, Thailand. GLOBE teachers and students participated in a variety of inquiry-based learning activities to inspire new ideas and develop relationships with peers and colleagues. Scientists and staff members investigated the relationship between clouds and climate, how seasons and biomes are changing around the world, and deep ocean ecosystems. The conference introduced innovative learning methods that teachers will implement into classroom projects.
>>
12/22/2008
Thai Students Work with Alaskan Seasons and Biomes Team
From 11-18 November 2008, Seasons and Biomes team members from the University of Alaska, Fairbanks, --Dr. Elena Sparrow, Professor and Education Outreach Director of the International Arctic Research Center, Ms. Martha Kopplin, Education Outreach Specialist at the International Arctic Research Center, and Dr. Leslie Gordon Science, Math Education Specialist, Seasons and Biomes co-PI-- traveled to Thailand to conduct GLOBE workshops for Thai students, teachers and scientists, using Season and Biomes activities in development.
>>
05/09/2007
Students in California and Thailand Find Innovative Ways to Incorporate GLOBE
In Redding, California, GLOBE students are learning about science in innovative ways, while expanding their knowledge and awareness of the world. At Evergreen Charter School, GLOBE science has been integrated into all aspects of the curriculum: art, music, language arts, and science. Terri Lhuillier, a GLOBE-certified fifth grade teacher, has been implementing GLOBE protocols for two years, creating new ways to engage her students across the curriculum, through science.
>>
10/16/2006
Enhancing GLOBE through Partnerships
We all have experienced a few outstanding teachers who made a difference in our lives, teachers who were able to motivate us to do our best, and to instill a love of learning that continued beyond the classroom. Good teachers engage students through passion for the subject, creativity in the classroom and constant encouragement. They use a wide variety of methods, experiences, assignments and materials to be sure that their students are achieving cognitive objectives. In many schools, it is GLOBE activities that provide teachers with the scientific tools they need to teach students about the environment in which they live, but the GLOBE classroom becomes most dynamic when the teaching of science enhances the development of a diversity of skills.
>>
09/20/2006
GLOBE Master Trainer Receives Prestigious Science Award
The GLOBE Program is pleased to recognize Dr. Mullica Jaroensutasinee, recipient of the 2005 TWAS (The Academy of Science for the Developing World) Young Scientist Award in the field of Biology, presented by the National Research Council of Thailand. Dr. Jaroensutasinee is an Assistant Professor at Walailak University, Thailand, in the Institute of Science. A distinguished research scientist committed to sharing her expertise with young people in the classroom, Dr. Jaroensutasinee is also a GLOBE Master Trainer for Hydrology!
>>
05/30/2001
Thailand GLOBE: Quick and Creative Start
Neither delays nor barriers have gotten in the way of GLOBE-Thailand's quick and creative start of the Program. Soon after Thai trainers attended the GLOBE International Training Conference in Nepal, they translated the entire Teacher's Guide and all the training charts into the Thai language.
>>