Exploring Multiple Ways of Studying Clouds for Blind and Sighted Students Alike
Student(s):Naudia Graham
Grade Level:Secondary School (grades 9-12, ages 14-18)
GLOBE Teacher:Rosalba Noemi Giarratano
Contributors:
Report Type(s):Standard Research Report
Protocols:Clouds
Language(s):English
Date Submitted:09/15/2022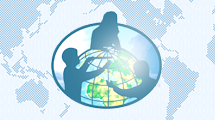 This project explores multiple ways of studying clouds that can be used by blind and sighted students alike. First, the use of an app called "Be My Eyes" to participate in the NASA GLOBE CLOUD GAZE citizen science program will be discussed. Then, the development of a tactile cloud identification chart will be illustrated. Finally, the benefits of adding audio description to clouds' science videos will be highlighted.
Comments