Initial research on mosquito and mosquito larvae characteristics, comparing mosquitoes in urban and suburban areas of Ha Hoi, Vietnam
Student(s):Nguyen Quynh Anh Quang Thanh Thu
Grade Level:Secondary School (grades 9-12, ages 14-18)
Contributors:
Report Type(s):International Virtual Science Symposium Report, Mission Mosquito Report
Protocols:Mosquitoes
Optional Badges:Be a Data Scientist, Make An Impact, Be a STEM Storyteller
Language(s):
Date Submitted:04/09/2019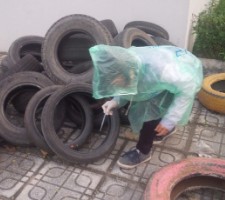 Mosquitoes are familiar in Vietnam, like other tropical region. Mosquitoes often appear in March and April in Hanoi, Vietnam; mostly between spring and summer when there are high humidity condition. along with high population density, houses with small structure of houses, some people live under the first floor so mosquitoes often fly in the house and mosquitoes appear as a daily habit of people, at night go to sleep, if not using mosquito nets, mosquitoes will buzz uncomfortable, and bite young children. Furthermore last year, in 2018, some classmates in our school have dengue fever in the classroom, making their tired of affecting the health and education and increasing the financial resources for families. With the aim of reducing the number of mosquitoes and larvae, leading to reducing dengue fever to families and communities, increasing awareness for the community about diseases, the research team chose the time of the study to be the beginning of the season to provide effective ways to prevent diseases, study mosquito larvae, identity characteristics of three types of mosquitoes including aedes, anophenles and culex, which are the cause of about 17% of the total cases global infection according to ROB Grenfell CISRO. By spreading out mosquito traps. The study provides a practical, diverse approach to the location, sampling at places such as the school, sewages, and following the methods of sampling, collecting, statistics and consultation community. Thereby giving the results of mosquito place, recommended prevention of epidemics to different communities.
Comments