Letter to the Community
21 April 2017
Hello Everyone,

I hope you were able to tune into the YouTube Hangout, earlier today. In anticipation of Earth Day, I had invited GLOBE teachers to contribute a short 3-minute video showing how GLOBE is implemented in their classrooms. As I had expected, the videos flowed in -- more than 100 from Saudi Arabia alone! Each of the six GLOBE Regional Coordination Offices (RCOs) selected one video to represent their region. You can see the recorded 20-minute presentation, which includes the six charming videos along with my Earth Day message, at https://www.youtube.com/watch?v=LmovNlNrvzo. Thanks to everyone who took the time to contribute a video.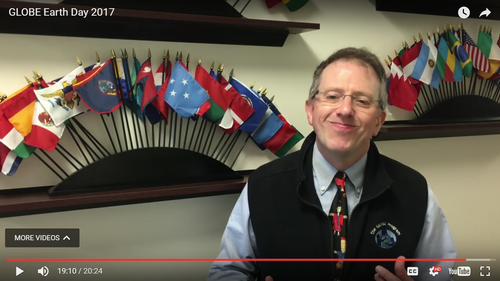 On another note, the International Virtual Science Symposium keeps growing each year! In 2017 we have our largest number of entries yet; more than 140 projects have been submitted and for the first time, from all six regions. I congratulate all the GLOBE students who committed time and energy to research and upload a project, using GLOBE data to support their findings.

On May 12th I will conduct a drawing from among all qualified entries to award several stipends to both U.S. and International project teams, to help defray the cost of attending (and presenting their projects at) the 21st GLOBE Annual Meeting and Student Learning Experience in New Haven, Connecticut, USA. That event will take place 30 July - 3 August 2017. It's not too early to register for the meeting. You can find the link on the 2017 GLOBE Annual Meeting web page.

Next week we'll be announcing a new data entry challenge focused on collecting and entering data related to the ENSO Campaign. One of the real learning opportunities of GLOBE right now can be had from participating in the ENSO Campaign. We are pinning the next intensive data entry period on this Campaign. More, on the website, next week!
- - - - -
Two weeks ago, about 40 members of the GLOBE Community were invited to a Strategic Planning meeting in Washington D.C. Taking part were our sponsors, the Regional Office Coordinators, chairs of the Working Groups, GIO staff members, and various other supporters of GLOBE directed by a team of professional facilitators.

The task for the group was to identify goals for the next five years of the program and strategies for achieving them. This was the first of several opportunities for members of the community to be part of the Strategic Planning process.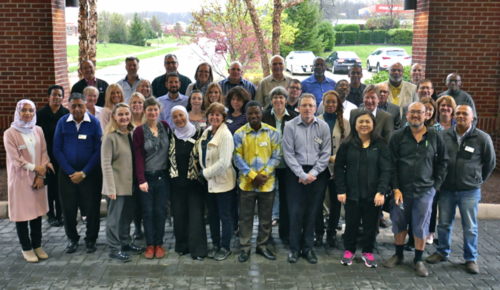 I was struck with the intensity and seriousness of discussion, commitment to maintaining focus on the exercises, and level of determination to "get it right." It was a remarkable group effort and made me realize how far we have come in creating a community that is inclusive, respectful and supportive of one another. In the GLOBE community everyone has a voice, every individual can share his or her unique perspective and can contribute to this great global experiment of ours! It's an exciting time to be a part of The GLOBE Program. Thanks to you for being a part of it.
And of course, given that it is the 22nd celebration of the establishment of the Program, all of us here at GIO want to wish everyone in the community a wonderful Earth Day.
Sincerely,





Dr. Tony Murphy
Director, GLOBE Implementation Office
tmurphy@ucar.edu