GLOBE/SMAP Soil Moisture Field Campaign Updates
Jan 25, 2016
There is now a SMAP L3 Data Layer on the GLOBE Data Map. Students participating in the Soil Moisture Field Campaign (which began 1 October 2015 and will run through 30 April 2016) can choose to look at specific SMAP data for a particular day – and then compare it to their school data.(See graphic below for step-by-step instructions.)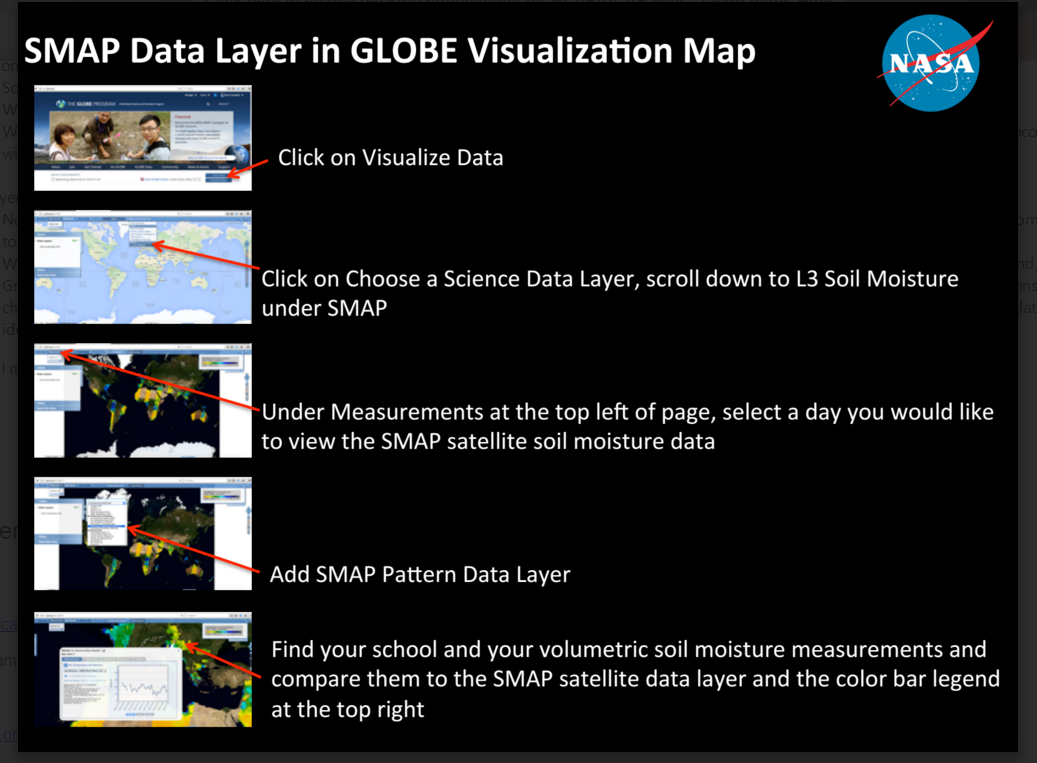 Also, when you enter data into GLOBE, there is now an option for "Soil State." Selections for this are:
Measureable
Frozen ground
Snow on ground
Graupel on ground
Hail on ground
Frozen water on ground
If "Measureable" is chosen, regular data entry will continue. If any of the other selections are chosen, a dialog box with "Non-measureable soil state selected" will pop up, and this soil state will be submitted and no soil moisture collection data is identified.
Help Us Reach a Goal of 1,000 measurements by 29 January!
SMAP has already received over 500 protocol measurements – with a total of over 900 received since the launch of SMAP.
The goal is to reach 1,000 measurements by the end of this week – to help celebrate the 1-year anniversary of the launch of SMAP (which launched on 31 January 2015)!
For More Information
Visit the GLOBE/SMAP Soil Moisture Measurement Field Campaign web pages to follow all of the current campaign information and updates -- including past webinars, blogs, and everything you need to know about collecting soil moisture measurements using the SMAP Block Pattern Soil Moisture Protocol, as well as view the new protocol instructional video.
Upcoming Webinars
And mark your calendars for the next webinar on Tuesday, 02 February at 4:00 p.m. ET (9:00 p.m. UTC), "1 Year of the SMAP Mission and Global Shout-Outs to all the GLOBE schools/teams collecting SMAP soil moisture data." The webinar will highlight one-year of the SMAP satellite in space; discuss the campaign measurements with SMAP scientists; and have a report out by teacher Vicky Gorman from the Medford Memorial Middle School in New Jersey, USA and teacher Marina Barišić from the Ill. Osnovna skola Varazdin in Croatia. The link to the webinar is: https://zoom.us/j/7578241037 (This webinar will use the Zoom program. When you click on the webinar link above, Zoom will prompt you to download the required plug-in. After it is installed, you will be good to go. You can do this at any time before the webinar. You can also join the webinar by phone at +1 415 762 9988 (U.S. Toll) or +1 646 568 7788 (U.S. Toll). The meeting ID is: 757 824 1037. International numbers are available: https://zoom.us/zoomconference?m=xxERXDggtvnHd32IHAEUQ_mKDQs5zVkL)
There will be a webinar with the Osnovna Skola Varazdin in Croatia at 9:00am ET Thursday, February 4, 2016. This will be with Erika Podest discussing the value of the SMAP data with the school students and their teachers. The link to this webinar is https://zoom.us/j/7578241037.
type: globe-news
News origin: GLOBE Implementation Office
---
Comments