Check Out the GLOBE Observer "Clouds Wizard"
Jun 18, 2020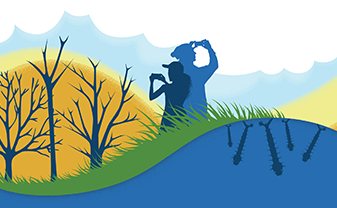 In April, NASA's GLOBE Observer (GO) launched the new GLOBE Observer "Clouds Wizard." application encourages citizen scientists and members of the GLOBE community to use their mobile phone to make measurements of the world around them. One component in the application supports users with the ability to photograph and identify the clouds they see in their sky.
The new GO Clouds Wizard is a tool that walks users through the process of identifying cloud types. The interactive wizard will make it easier for users to more accurately identify clouds through the use of a series of yes/no questions. The final results are sent to GLOBE and compared with NASA's satellite data to provide ground based observations which align with satellite flyovers. To date more than 150,000 users have submitted over 700,000 clouds measurements with the GO app.
Remember, always follow guidelines from your local officials regarding current pandemic-related conditions, and only participate in GLOBE activities or use the GLOBE Observer app if it is safe to do so.
For more information, click here.
type: globe-news
News origin: GLOBE Implementation Office
---
Comments