GLOBE Students from India, Thailand and the U.S. Assemble at a Science Festival in New Delhi
Dec 12, 2012
On 29-31 October 2012, the GLOBE Asia and the Pacific Regional Help Desk Office and the Indian Environmental Society organized a GLOBE Science Festival at Vishwa Yuvak Kendra (World Youth Center), New Delhi, that brought together approximately 2,000 students and teachers from GLOBE schools in India, Thailand, and the United States. Local scientists and members of the environmental community also attended the Festival, which provided a platform for exhibiting GLOBE projects and research achievements. The theme of the Festival was "Don't just read about Science…Do Science!" Students were encouraged to use scientific data to explore and formulate original research questions. The GLOBE Science Festival provided a large platform for students to share their GLOBE activities and projects, the status of the GLOBE Program in their respective schools, and defining characteristics of their varying cultures.
In addition to the project presentations and competition, students were encouraged to display Earth science posters related to their projects. Student posters and models related to water, soil, biodiversity, climate change, Earth systems, and various GLOBE protocols. The event also included field demonstrations of GLOBE instruments used to gather data. All students and teachers from Thailand as well as the U.S. team visited two schools – one GLOBE school in Delhi and one prospective GLOBE school in Agra, and also visited the Taj Mahal in Agra. According to Asia and the Pacific Regional Help Desk Office Representative Dr. Desh Bandhu, "GLOBE neither begins nor ends with data collection." He stated, "Teachers are encouraged to stimulate and reinforce their students' natural interest in their surroundings. Student interest can take form in questions that they want to answer, and taking data is part of addressing those questions."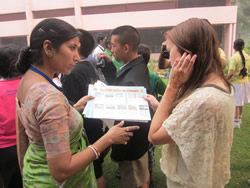 This is the first time GLOBE students and teachers from the United States have participated in an event hosted in the Asia Pacific region. Ms. Nandini McClurg from the GLOBE Program International Division Office at the University of Texas at Tyler in Tyler, Texas, along with sixth grade GLOBE teacher Ms. Audra Edwards from Hawkins Middle School in Hawkins, Texas, escorted a delegation of four local High School students to the Festival to present their GLOBE budburst research. The Hawkins team was comprised of Alyson Edwards (freshman), Madison Jaco (freshman), Elijah Turner (senior), and Lauren Haney (junior). An alternate student, Hope Hughes (freshman) was also selected in the event that one of the other students was unable to travel. Prior to the trip, the students were assisted in their research through Skype sessions with GLOBE Scientists Dr. Elena Sparrow and Ms. Martha Kopplin (Alaska), GLOBE Seasons and Biomes Earth System Science Project. "It was gratifying for us as scientists to work with these students and their teacher, Ms. Edwards, at the Hawkins Middle School. They were enthused in asking questions, doing, learning and communicating science," stated Dr. Elena Sparrow. Several meetings were also held in Hawkins to prepare students for the Festival as well as their travel to India.
Upon taking the stage in India, Hawkins students performed a Texas style line dance, presented their budburst research and held a question and answer segment. Students and teachers from Thailand and India asked questions such as, "What type of trees do you study," "How often are the data collected?" and "How are the student assessments in High School Science conducted?" The Hawkins students had fun answering questions from the audience about culture and music in the U.S. In turn, Indian and Thai students presented a panorama of Indian and Thai culture and heritage to the American students.
One evening the Indian students demonstrated the art of henna for the American students by filling their arms with elaborate designs. They explained the traditions behind henna and showed the American students how to apply a few of the simple designs so they could share the custom with their loved ones back at home. The Hawkins delegation held Skype sessions with their classmates back home throughout their trip to fill them in on their experiences.
According to Hawkins students, "One of our favorite things we did in India was visit East Point High School in New Delhi. The students and administration shared their wonderful culture with us. We played games, learned a dance, and had some delicious homemade Indian food." They also visited the historical home of former Prime Minister Indira Gandhi, the Taj Mahal, and the American Embassy.
Dr. Teresa Kennedy, Director of the GLOBE Program Office International Division, stated, "This event clearly demonstrated the powerful global connections made when GLOBE students, educators and scientists come together to share their local and regional science research projects and to share their cultural heritage."
Funding for the Texas delegation was provided by the U.S. Embassy New Delhi, The Indian Environmental Society, and The University of Texas at Tyler.
The GLOBE Science Festival was sponsored by Public Affairs Section of the U.S. Embassy, in New Delhi, India; with support from various organizations in India such as Ministry of Environment and Forests, Department of Science and Technology, UNESCO, Council of Scientific and Industrial Research; and UT Tyler, located in Texas.
The GLOBE Science Festival aimed to make a difference in education by initiating a dialogue across nations that will produce a more globally cohesive approach to science research. It also encourages hard work among students by providing a platform for them to present their research to their scientists, educators and peers.
Visit the "Hawkins High School Goes to India" Facebook page.
Read more GLOBE Stars from India:
Symposium Raises Urban Lake Awareness in Sri Lanka
GLOBE Students Learn About Biodiversity at India Youth Forum
GLOBE India Teacher Attends Space Academy for Educators
12 December 2012
Comments